North Carolina State's Basketball Champs Get White House Honor 33 Years Late
by
North Carolina State players denied 1983 visit because of cost

Obama ranks that championship among the greatest college games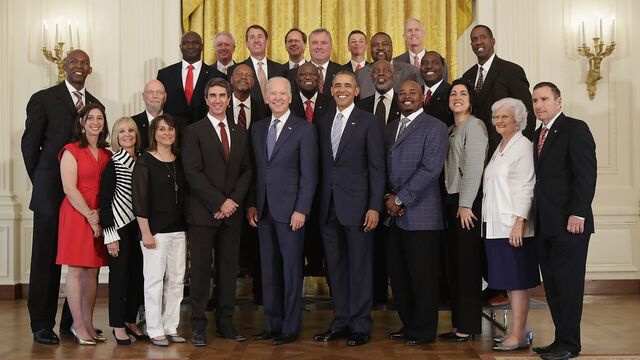 It's now routine that men's and women's college championship teams follow their victories with a visit to the White House for a chance to hear the president extol their accomplishments. For the 1983 North Carolina State men's basketball champions, the wait finally ended on Monday after 33 years.
President Barack Obama welcomed most of the surviving members and coaches of that storied team to the East Room, saying he vividly remembers the buzzer-beater shot that sent the favored University of Houston to defeat. As exciting as the game was -- the same year Obama graduated from Columbia University -- NC State's athletic department refused to pay the bus fare for the team to get to Washington, players told Obama in the East Room.
"This is my cohort. This is my peer group," Obama told the team. Obama recalled the 54-52 victory as "one of the greatest college games of all time."
The underdog team was coached by Jimmy Valvano, who died of cancer in 1993 and in whose memory was established The V Foundation for Cancer Research. Valvano made a now iconic run around the court following the win on a dunk by Lorenzo Charles, who was killed in a bus accident in 2011.
The idea for a makeup visit came up at a team reunion several years ago, Thurl Bailey told reporters after meeting the president, Vice President Joe Biden and Senator Orrin Hatch, a Utah Republican, who helped broker the event.
"That day has come," said Bailey, who had an NBA career with the Utah Jazz and Minnesota Timberwolves. "All it took was a little perseverance and a letter to the president."
Valvano, in partnership with ESPN, founded the V Foundation for Cancer Research before his death. He was diagnosed with cancer at age 46. The foundation says it's awarded more than $150 million for cancer research.
Biden this year announced a "moonshot" initiative to research cancer cures after losing his son Beau at age 46 to brain cancer. The players noted the cancer tie between the White House and the NC State team.
Before it's here, it's on the Bloomberg Terminal.
LEARN MORE