Lew, Lawmakers Intensify Puerto Rico Bill Push After Default
by and
Last week's missed debt payment adds to urgency of crisis

Treasury secretary visiting the island for one-day visit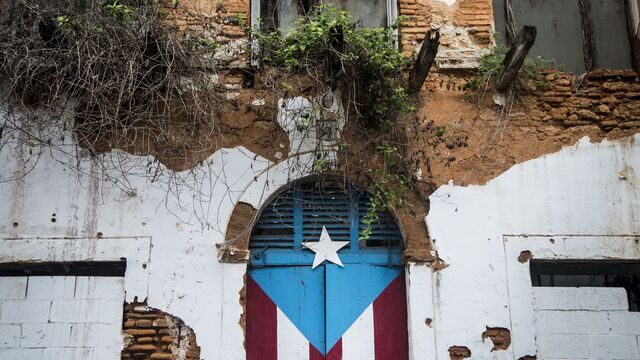 Lawmakers have missed one deadline to prevent Puerto Rico from defaulting on its debt, and they're trying to figure out how to build support for legislation that could prevent a second missed payment.
Republicans are seeking to produce a revised bill as early as Wednesday, while U.S. Treasury Secretary Jacob J. Lew and the top Democrat on the House Natural Resources Committee are separately visiting the commonwealth Monday to keep up the pressure for Congress to act.
"There's an urgency because the situation is one that will just get worse and worse if it doesn't get resolved," Lew told reporters in San Juan on Monday afternoon.
All sides are under pressure after a week-long congressional recess, punctuated by Puerto Rico's default a week ago on most of a $422 million debt payment. Puerto Rico is in an economic recession that's poised to worsen as residents continue to leave, threatening to deepen the fiscal crisis that's pushing the island to default on a growing share of its $70 billion of debt.
House Natural Resources Chairman Rob Bishop of Utah plans to revise Republican-drafted legislation that would create a federal oversight board to help manage the island and supervise a debt restructuring. It will be similar to an earlier version, H.R. 4900, that ran into snags, according to a committee aide who asked for anonymity to discuss the matter, who said that the measure could be advanced by the panel as early as next week.
The top Democrat on the panel, Raul Grijalva of Arizona, is heading to Puerto Rico to discuss the debt crisis and highlight the island's social problems. He said he's not sure Republicans will be able to agree on legislation by Wednesday. He and other Democrats have begun to link the impact of the debt crunch to the strain on public services for an island grappling with a health crisis brought on by the mosquito-borne Zika virus. 
"The conditions in the schools and the conditions of daily life in Puerto Rico don't leave a lot of room for things to get worse," Lew said during a visit to a school. "The kinds of fiscal decisions that are made necessary because of the very difficult circumstances take you from what we see here today in only one direction -- it can only get worse."
The next deadline in Puerto Rico's $70 billion debt crisis is July 1, when a $2 billion payment is due, including $805 million for the island's general-obligation bonds, which are seen as its most sacrosanct debt.
Clarifying Roles
The committee aide said the new version, while similar to the last one, will better clarify the role of the control board in protecting existing creditors' priorities and liens. Another aide familiar with the talks, who also asked for anonymity, said negotiators are seeking a better definition of the efforts that must occur before attempts at a voluntary restructuring are ended and Puerto Rico's new oversight board could instead access a court-supervised restructuring as an alternative.
After last week's default, Democrats accused House Republican leaders of moving too slowly in the face of opposition from more-conservative lawmakers and outside groups who see the intervention as a bailout.
The default was "as predictable as it was avoidable," said Senator Robert Menendez, a New Jersey Democrat. "We have known for months now that Puerto Rico's debt is simply unsustainable, yet congressional Republicans continue to sit on their hands -- content to watch the island burn."
"It constitutes one of the most significant debt defaults not just in the history of Puerto Rico but in the entire history of the municipal bond market," Senator Richard Blumenthal, a Connecticut Democrat, said in a statement. "If Congress does not act immediately, the government of Puerto Rico risks being literally unable to keep the lights on. We cannot let that happen."
QuickTake: Puerto Rico's Slide
The first versions of the bill ran into objections from Republicans, as well as Democrats and U.S. Treasury officials. Republicans have worried about elements that resemble bankruptcy protection, as well as provisions they say could allow an outside authority to prioritize repayment of debt-holders.
Daniel Hanson, an analyst with Height Securities LLC who is tracking the debate, said it's increasingly likely the Republican-led Congress will complete Puerto Rico legislation before the next big debt deadline. Last week's default highlights the need to act, and Republican leaders also have incentive to dispense with this and reserve time closer to the November elections for other issues that would better rally voters.
"It's going to become clear to them that they have to do something on Puerto Rico fast," Hanson said. He said it's not clear how soon the Senate might act if the House clears its version, and that leaders there may simply take up the House bill and make changes on the Senate floor. Among other things, senators want to add protections for general obligation bond holders that are lacking in the House bill, he said.
U.S. House Majority leader Kevin McCarthy of California said before the recess he is "hopeful" to have the new version of the bill pass by July 1.
Grijalva said Republicans can't afford to lose Democratic support for the new version. He said he fears House Speaker Paul Ryan of Wisconsin might promise his rank and file he won't put it on the floor unless most Republicans in the chamber can support it.
"That would require it to be even more extreme than the original draft that didn't go anywhere," he said. "That would almost signal that Democrats would oppose it."
Before it's here, it's on the Bloomberg Terminal.
LEARN MORE