Campaign Wrap: West Virginia May Not Alter Democratic Calculus
by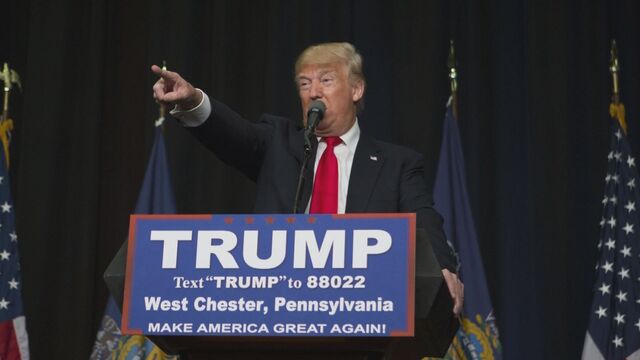 While polls show Bernie Sanders with a small lead over Hillary Clinton in West Virginia's Tuesday primary, the outcome likely won't change the delegate math very much.
37 delegates are at stake in tomorrow's vote, while most of the state's eight superdelegates already support Clinton
Clinton's strong pledged-delegate lead already gives her an advantage that Sanders most likely cannot make up
A MetroNews West Virginia poll shows Sanders leading Clinton 47%-43% among the state's likely Democratic voters, a margin that won't give the Vermont senator many more pledged delegates than Clinton, or make much of a dent in her overall lead.
Clinton has 1,701 pledged delegates, while Sanders has 1,412, according to the AP via the Bloomberg delegate tracker; 2,383 delegates are needed to clinch the nomination
Still, after Sanders' upset win in Indiana win last week, even a small victory in West Virginia would buttress his reasons to stay in the Democratic contest and delay Clinton's claim on the title "presumptive nominee."

ON THE TRAIL
Trump on CNN walked back his comments about restructuring U.S. debt
"I said if we can buy back government debt at a discount—in other words, if interest rates go up and we can buy bonds back at a discount—if we are liquid enough as a country, we should do that"
He also said tax rates for wealthy might be higher than he had earlier proposed, but won't rise above current level
Sanders in Atlantic City, N.J., denounced "the greed and the recklessness that we are seeing from people like Donald Trump and Carl Icahn"
Icahn responded in a website post, saying he's saved thousands of jobs in Atlantic City by keeping the Taj and Tropicana in business, while the Sanders-backing union UniteHere has "forced five casinos to close with thousands of jobs lost"
Clinton advisers Gene Sperling and Jake Sullivan slammed Sanders after the Tax Policy Center found his domestic proposals would increase deficit by $18 trillion by 2026
"There never has been a more reckless and risky tax proposal put forward," Sperling said of Sanders' plan

CONVENTION CHAOS
Ted Cruz supporters are looking to control the Republican platform and rules governing the national convention, according to a New York Times report
Top Cruz aide Ken Cuccinelli sent e-mail to pro-Cruz convention delegates saying it's "still possible to advance a conservative agenda at the convention"
Cruz will host a conference call this evening where officials discuss what delegates can do to "protect" the platform
House Speaker Paul Ryan says he's willing to step down as the convention's chairman if Trump asks him to, according to the Milwaukee Journal-Sentinel

STAFF MOVES
Trump tapped Chris Christie to lead his transition team
A campaign statement says Trump "is the presumptive presidential nominee for the Republican Party and continues to take critical steps to gear up for the general election against potential Democratic nominee Hillary Clinton, or whoever"

CAMPAIGN FINANCE
Clinton has lent her name to DNC fundraising e-mails as the party prepares to take on Trump in Nov., Bloomberg's Jennifer Epstein reports
Sanders would only agree to have his prior statements quoted by the DNC for fundraising, according to committee

POLLS
MA: Trump trails Clinton by 24 points in Massachusetts in a general-election match up, according to Suffolk University/Boston Globe poll

ENDORSEMENTS
Louisiana Governor Bobby Jindal endorsed Trump in a Wall Street Journal op-ed yesterday
Jindal, who dropped out of the presidential race in November, said "I do not pretend Donald Trump is the Reaganesque leader we so desperately need, but he is certainly the better of two bad choices"

ETC.
Investment banking advisory firm Evercore ISI concludes that a Clinton administration would be "tougher on competition policy," while Trump would be better for mergers and acquisitions
"Stock baskets" to pick if Trump's elected: Ford, Coca-Cola, Altria, ExxonMobil, Schlumberger, NRG, Citi, Pfizer, Gilead, DeVry, CCA, Verizon
Clinton "stock basket": GE, Deere, Monsanto, Nike, Tesla, HCA, CHS, NextEra, D.R. Horton, Alphabet, Apple, Netflix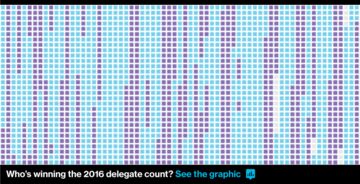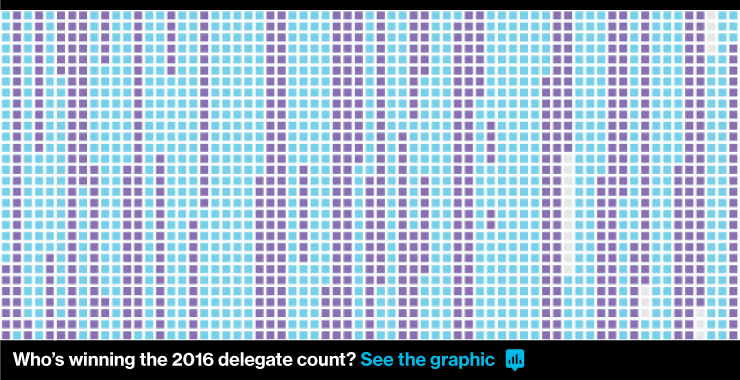 Before it's here, it's on the Bloomberg Terminal.
LEARN MORE