U.K. Labour's McDonnell Rules Out Leadership Bid Against Corbyn
by
Party lost seats in England, Wales, Scotland in May 5 vote

Terms `barmy' the suggestion he'll challenge `closest friend'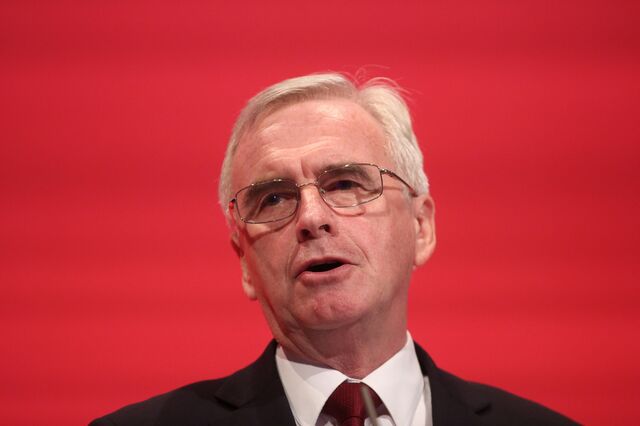 The U.K. Labour Party's finance spokesman, John McDonnell, ruled out a bid to wrest the leadership from Jeremy Corbyn, days after Labour became the first opposition party in three decades to lose seats outside of a general election year.
Labour lost 23 council seats across England in the May 5 vote, which saw more than 2,700 spots contested. The party also lost one seat in the Welsh Assembly and 13 in the Scottish Parliament. While Labour's Sadiq Khan won back the London mayoralty after eight years of Conservative rule, becoming the city's first Muslim mayor in the process, the losses elsewhere prompted speculation about Corbyn's eight-month tenure.
"No, of course not," McDonnell told BBC Radio's "The Westminster Hour" when asked if he was seeking the party leadership. Questioned if he was therefore ruling out a bid, he replied, "Of course I am."
"I have waited most of my political life for a socialist to be leader of the Labour Party and here he is, and I am doing everything I can to support him," McDonnell said. "I'm so pleased in the role I am playing at the moment. The Telegraph ran some barmy story a couple of weeks ago that I was challenging for the leadership. I said 'where have you got this from? What have I got to do?' Jeremy is my closest friend in politics over 30 years."
Before it's here, it's on the Bloomberg Terminal.
LEARN MORE