Clinton Threads Needle With Pitches to Sanders Fans, Republicans
Facing a Republican Party with a presumptive nominee and an ongoing contest in her party, the Democratic presidential-front-runner said she would reach across the political spectrum.
by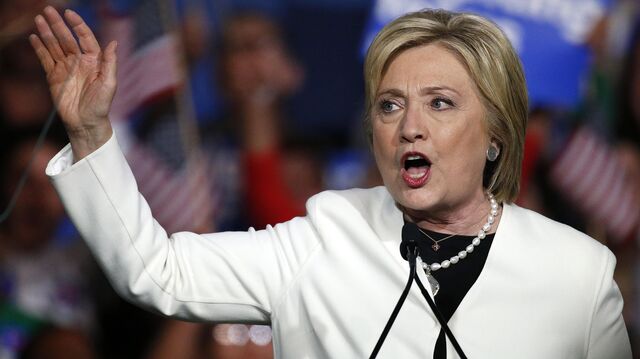 Democratic presidential front-runner Hillary Clinton said she sees "a great role" for Bernie Sanders and his supporters in a "unified party," even as she said she welcomed Republicans who are not supporting presumptive nominee Donald Trump. 
Days after Trump's remaining Republican competitors exited the race, the former secretary of state continues to battle for her party's nomination against the Vermont senator, who has taken several positions to her left on economic issues.
"Obviously I'm reaching out to Democrats, Republicans, independents, all voters who want a candidate who is running a campaign based on issues," Clinton said in an interview with CBS' Face the Nation broadcast on Sunday. 
Clinton said she and Sanders have similar views on issues, including raising the minimum wage and reining "in bad actors on Wall Street and in corporate America." She said she wants to unify Democrats around those issues. 
"I see a great role and opportunity for him and his supporters to be part of that unified party to move into not just November to win the election against Donald Trump, but to then govern based on the progressive goals that he and I share," she said.
Sanders' campaign manager, Jeff Weaver, in a May 6 interview with Bloomberg Politics podcast Masters in Politics, warned Clinton against moving back to the middle—a common tactic by presidential nominees from both parties as they pivot from the primary season to the general election. Many Sanders supporters would "just sit home, frankly" in November if Clinton shifted toward the center on important issues, Weaver said. 
While working to not alienate the party's left wing, Clinton said she'd communicated with members of the Republican Party who weren't getting behind Trump, whom she said "take their vote seriously and who really see this as a crossroads kind of election."
"I am asking people to come join this campaign, and I've had a lot of outreach on Republicans in the last days who say that they are interested in talking about that," she said.
Clinton didn't say who she'd spoken with. Several prominent Republicans, including Presidents George H.W. Bush and George W. Bush as well as House Speaker Paul Ryan, who will chair the Republican National Convention in July, have said they did not yet or could not support the real estate developer turned politician.
Asked about the high unfavorable ratings associated with both her and Trump, Clinton said she's "not going to run an ugly race."
"I don't feel like I'm running against Donald Trump. I feel like I'm running for my vision of what our country can be," Clinton said.
Polls show Clinton is viewed unfavorably by 55 percent of voters, with Trump viewed unfavorably by 65 percent, according to compilations by RealClearPolitics.
Clinton also told CBS said she had not been contacted by the FBI for its investigation into the security of a private e-mail server she used during her time as the nation's top diplomat.
CNN reported May 5 that top Clinton aides had been interviewed in the probe. "I say what I've said now for many, many months. It's a security inquiry. I always took classified material seriously," Clinton said.
Before it's here, it's on the Bloomberg Terminal.
LEARN MORE