Trump to Headline Fundraiser for Christie in New Jersey
by and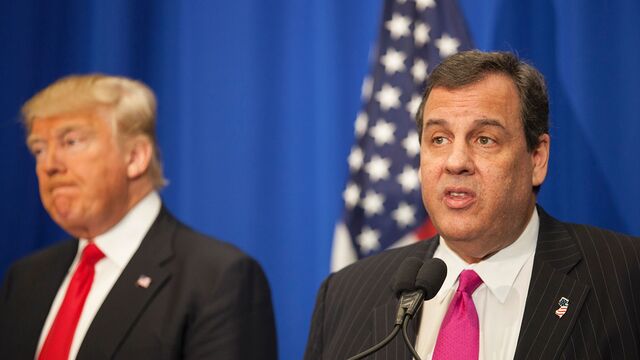 The benefits of joining Donald Trump's campaign are starting to show for Chris Christie.
After facing a furious backlash in his state for backing Trump in February, the New Jersey governor will be on the receiving end of a $200-per-head fundraiser featuring the presumptive Republican nominee on May 19, according to an invitation obtained by Bloomberg News.
The event will help pay off more than $400,000 in debt racked up by Christie's presidential campaign before it was suspended following his sixth-place finish in the New Hampshire primary, according to two people familiar with the plans.
"Join Mr. Donald J. Trump for his only visit to New Jersey before the June 7th primary!" reads the invitation, which was confirmed by multiple sources close to Christie. "We are pleased to announce that Mr. Trump is coming to New Jersey for a big New Jersey Rally!"
New Jersey's June 7 primary was made less dramatic this week when Texas Senator Ted Cruz and Ohio Governor John Kasich exited the race. But Trump faces an uphill climb in the Garden State in the general election, where Democrats hold a 700,000-voter registration edge and a presidential race winning streak stretching back to 1992. 
Still, 70 percent of the state's Republican voters in a Monmouth University poll released on May 5 said they would vote for Trump in the primary.
As of the end of March, Christie's campaign apparatus still owed $400,689 after competing in just two contests—Iowa and New Hampshire—according to Federal Election Commission reports.
On February 26, Christie became the most prominent backer of Trump when he made the surprise endorsement in Florida.
"Generally speaking I'm not big on endorsements," Trump said at the announcement. "This was one endorsement that really meant a lot. Chris is an outstanding man, with an outstanding family. He's done a great job, and I think this is the one endorsement that I felt very strongly about that I wanted to get."
Before it's here, it's on the Bloomberg Terminal.
LEARN MORE