Distressed Atlantic City Backdrop for Sanders Anti-Poverty Stage
by and
City officials angry about state stalemate over rescue package

Gambling hub visit comes as bankruptcy discussed as option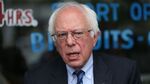 Atlantic City, the struggling casino hub weeks away from bankruptcy absent state action, is a fitting platform for Democratic presidential candidate Bernie Sanders' populist message on how corporations reap profits while urban areas are neglected.
The Vermont senator's Monday visit puts a spotlight on the New Jersey shore community, which has been hit hard by the decline of its dominant industry. Governor Chris Christie, an unsuccessful Republican candidate for president, has refused to extend aid to the city unless lawmakers approve giving the state unprecedented control over its operations and the ability to change labor contracts.
Donald Trump, the likely Republican presidential nominee, once owned three Atlantic City casinos, and has boasted of using the bankruptcy laws to his benefit there as smaller businesses owed money took losses. Christie, a Trump supporter, once pegged the state's economic recovery to the resort town and now criticizes public-worker unions for its spiral into insolvency. 
"Sanders has taken on the role of defender of the underdog," said David L. Carr, who teaches comparative politics at Stockton University in neighboring Galloway. "If there is a city besides Flint, Michigan, in the U.S. that is an underdog right now, it has to be Atlantic City."
Flint Water
Sanders visited Flint in February to discuss its lead-contaminated drinking-water crisis with local residents ahead of Michigan's primary, which he won. The senator was endorsed last month by the union that represents Atlantic City casinos workers.
Credit-rating companies are warning of the risk to other distressed New Jersey cities if the state fails to prevent a bankruptcy for Atlantic City, which would be a first since the Great Depression. Caught in the middle are the people of the city, over a third who live in poverty.
New Jersey established Atlantic City's monopoly on gambling in the East Coast in 1976. Tourists flocked to the city, which become the second-largest U.S. market after Las Vegas. But as was seen in Detroit, the home of the automotive industry that went through a record bankruptcy, reliance on one industry proved short-sighted. As neighboring states legalized gambling, Atlantic City lost business, its tax base plummeting by more than two-thirds since 2010. Four of 12 casinos closed in 2014. Other gambling parlors have successfully challenged the size of their tax bills, which saddled its 39,000 residents with more of the costs of services.
'Broken Promises'
Signs of the gambling largess aren't visible steps off the boardwalk in streets pockmarked with empty lots and sagging houses.
"There were a lot of broken promises," Council President Marty Small said of the gaming industry. "A lot of people feel betrayed."
More pain may come to the city. Officials averted an unprecedented shutdown of services in April by doubling pay periods for municipal workers to every four weeks. Mayor Don Guardian said he might have to default on bond payments due in June if forced to pick between making that and payroll, which he fears could hurt both the city and region.
"They're going to suffer even more because the city's on the verge of bankruptcy," said Howard Cure, director of municipal research in New York at Evercore Wealth Management. "It's part of the theme of corporate America running this country."
Budget Hole
The fate of the city is tied to the actions of the state -- which not only have failed to help, but have actually hurt. Christie's rejection of measures that would have diverted gambling funds to the city created a $33.5 million hole in its budget. 
On Wednesday, Atlantic City's credit rating was cut deeper into speculative grade by S&P Global Ratings, which said a default or a debt restructuring was a virtual certainty. The New York-based company lowered the grade one level to CC, two steps before default. S&P said it could cut it again since it's uncertain how the city could meet its obligations.
Statehouse Stalemate
Bills supported by Christie and the Senate's Democratic leader would provide a cash infusion to the city and give the state control over its operations. The governor has said he needs the power to negotiate union contracts in order to repair Atlantic City's finances. That's unacceptable to the Assembly's Democratic leader, who's pushing an alternative measure that calls for weaker state oversight. The officials have traded barbs for weeks.
"Bankruptcy will be the only option" if a rescue measure doesn't pass the legislature, Christie said Thursday. "While I will regret having to go down that road, it is a road that I will have no choice but to go down. I am not sending any more money to Atlantic City without the authority to fix the underlying problem."
Christie spoke about Atlantic City before the rally there was announced. Brian Murray, a spokesman for Christie, declined to comment on the Sanders visit.
Sanders, 74, plans to host a rally at New Jersey's Rutgers University in New Brunswick in Sunday before heading south to Atlantic City. The state's primary is on June 7.
Sanders, a self-described democratic socialist who won election to the Senate as an independent, is trailing Hillary Clinton by 5.8 percentage points in the RealClearPolitics average of recent national polls. Among New Jersey Democratic voters, Clinton held a lead of nearly 2-to-1 in a Monmouth University survey released Wednesday.
Before it's here, it's on the Bloomberg Terminal.
LEARN MORE