Cash Machine
Trump Risks Core Campaign Message With Fundraising Flip-Flop
The presumptive Republican nominee says he will start raising money, in part, to help the party.
by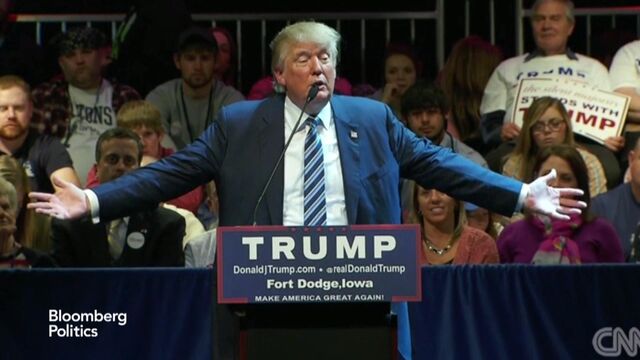 Throughout the Republican presidential primary, Donald Trump laid waste to a crowded field of rising stars and sitting governors by portraying himself as the only candidate who could shake up Washington, because he was the only one not taking large campaign donations.
"I can actually straighten out the country without having people come—special interests and everything else come—and say, 'No, no, no, you can't do that because so-and-so supported you,'" Trump said in September.
Citing his own past political contributions, he depicted campaign donors as "people that are putting it up because they want something and they're going to get something." He identified campaign cash as the root cause of politicians making "really dumb deals." He said Senator Marco Rubio was "controlled by special interests, 100 percent." His proof? That Rubio wasn't self-funding like him.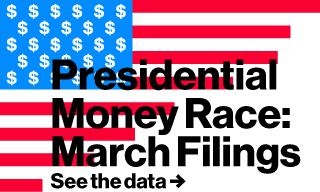 "I'm not going to take any money," Trump said last month when asked at news conference if he'd continue to self-finance beyond the primary race. 
But now, that core promise of his campaign—that he would repel the influence peddlers by refusing their contributions—is put at risk after Trump, on his first day as the party's presumptive nominee, announced that he will start soliciting donations to fund his general election campaign. 
His independence until this point from the fundraising circuit—and the inherent appearance of corruption that comes with taking money from those conducting business with the government—was a key reason voters said they attended his rallies and supported his campaign.
So how does he explain to backers his decision to accept contributions, at a time when the party has already fractured over his candidacy? 
"It's tricky," Georgette Mosbacher, a former co-charwoman of the Republican National Committee finance committee, said about Trump's decision to start raising money. "However, he's in a unique position in that everyone knows he's a billionaire."
Mosbacher, who has helped raise money for presidential campaigns, said Trump's net worth can give the appearance that "he can't be bought."
"He's going to make a case for uniting the party and raising money for the party," Mosbacher, who plans to help the campaign after the convention in July, said in an interview. "He's uniquely positioned to do that, and hold his credibility. It's not like he needs the money."
Trump's decision to start raising money is "a public relations problem for him," said Richard Skinner, a money-in-politics analyst for the nonpartisan Sunlight Foundation.
"When you've built your entire campaign on not raising money, it's potentially embarrassing for him to start now," Skinner said. "But he'll probably come up with some excuse that these are really patriotic Americans or what-have-you."
U.S. Representative Tom Marino, a Pennsylvania Republican who endorsed Trump, suggested the presumptive nominee may want to avoid certain donors.
"Maybe he can do it without going to those big, traditional donors," Marino said. "He has a lot of wealthy friends and business associates. Maybe that's a way he can generate money for the campaign without going to those individuals who have always been for the establishment."
Trump said Tuesday in an interview with the Wall Street Journal that he'll start actively raising money for the first time. Bloomberg Politics reported that Trump and the Republican National Committee are in negotiations over starting a joint fundraising committee, which would defray the costs of raising money.
He explained his decision to raise money as an attempt to unify a Republican Party bitterly divided over his candidacy.
"I'm not looking out for myself. I'm looking out for the party, so the party can compete in Senate races and House races" he said Tuesday on Fox News.
Trump's decision to reconsider self-funding his presidential run helps answer a daunting money problem.
As the New York real estate developer pivots toward the general election, he's staring down the barrel of a campaign that he estimated would cost between $1 billion and $1.5 billion. His likely opponent, Democrat Hillary Clinton, has spent decades cultivating her fundraising network.
Trump, meanwhile, is at least two years behind where previous nominees were in terms of building fundraising infrastructure at this point in the election cycle.
QuickTake How the U.S. Elects Its Presidents
When Mitt Romney and John McCain were the presumptive nominees, they had robustly developed fundraising networks that included state finance chairmen, a lengthy list of bundlers and a cadre of volunteers.
"That took two years to get to the point it was running smoothly, and he has two months," said Fred Malek, who was co-chairman of McCain's national finance committee in 2008. "There's no way Trump is going to raise that kind of money."
And it's unclear how much help Trump will get. 
Alienated by his insult-laced rants from the campaign trail, several Republican strategists and donors have promised to support Clinton. Others—including the last Republican president—said they won't help Trump.
"President Bush does not plan to participate in or comment on the presidential campaign," Freddy Ford, a spokesman for George W. Bush, said when asked if the former president would help raise money for the presumptive nominee.
Charles Spies, a Republican who set up super-PACs for both Romney and Jeb Bush, said, "traditional Republican donors are sitting on their hands."
"The burden is on him to convince party supporters that he's a Republican and he's worth supporting," Spies said.
It's unclear how much Trump would be able to spend on his own campaign. 
While he estimated his net worth at $10 billion, a Bloomberg analysis put that same calculation at $2.9 billion. 
The Bloomberg analysis includes about $225 million in cash and other assets. He also generated about $200 million by selling the remaining condominiums at Park Avenue building he owns in New York, or by taking loans out against Trump Towers, valued at $490 million.
"Do I want to sell a couple of buildings and self-fund?" Trump said Wednesday on MSNBC when asked about continuing to self-finance his campaign. "I don't know that I want to do that necessarily." 
—With assistance from Bill Allison and Kevin Cirilli in Washington.
Before it's here, it's on the Bloomberg Terminal.
LEARN MORE