Obama Commutes 58 Sentences, Extending His Clemency Record
by
Gridlocked Congress hasn't acted on an justice system overhaul

President turns to mass commutations as alternative policy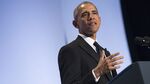 President Barack Obama commuted the sentences of 58 federal prisoners on Thursday who were convicted of nonviolent offenses, saying they deserved second chances rather than lifelong punishments.
"As president, I've been working to bring about a more effective approach to our criminal justice system, particularly when it comes to drug crimes," Obama said in a post on Medium.com. "It just doesn't make sense to require a nonviolent drug offender to serve 20 years, or in some cases, life, in prison."
The Obama administration is trying to advance bipartisan legislation to overhaul the U.S. criminal justice system and reduce mandatory sentences for nonviolent felons. While the president struggles with a gridlocked Congress, he has turned to mass commutations as an alternative policy.
Obama has shortened the sentences of 306 people during his presidency, more than the previous six presidents combined, he said in the Medium post. The vast majority were for nonviolent drug offenses, the White House has said.
Former presidents George W. Bush and Bill Clinton commuted the sentences of 11 and 61 prisoners, respectively. Obama last granted clemency in March, commuting the sentences of 61 offenders before going to lunch with a group of ex-convicts whose sentences he had previously shortened.
Before it's here, it's on the Bloomberg Terminal.
LEARN MORE