Puerto Rico Debt Measure Pressed by Democrats, Citing Zika
by
Island vulnerable to mosquito-borne ailment, lawmakers say

Health-care cuts seen creating a potentially dire outcome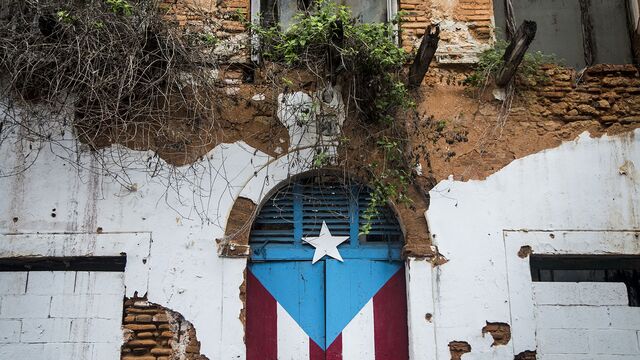 House Democrats are stepping up pressure on Republicans to advance legislation addressing Puerto Rico's worsening debt crisis by issuing a report arguing that austerity cuts can't be sustained and have made the island more vulnerable to the mosquito-borne Zika virus.
Health-care cuts in response to the $70 billion debt crisis have created a potentially "disastrous" outcome for residents and show how further sharp reductions in government spending can't be a part of a legislative solution, according to the report released Wednesday by Democrats on the House Natural Resources Committee.
"We have heard from opponents of legislation to restructure some of Puerto Rico's debt that the real solution is for the Commonwealth to just cut spending even more deeply," Representative Raul Grijalva of Arizona, the top Democrat on the Natural Resources panel, said in a statement. "This report demonstrates that calls for more cuts, while they might be easy to make, are actually irresponsible and dangerous."
Puerto Rico has been particularly hard hit by the virus, and the rainy season that started last month is creating a breeding ground for mosquitoes -- and more health-care demands. The disease can result in birth defects and miscarriages.
The Obama administration is calling for urgent action after Puerto Rico didn't make most of a $422 million debt payment Monday, the biggest default so far in the U.S. territory's intensifying debt crunch. Bigger problems are just around the corner. Congress has a handful of weeks to hammer out a legislative fix ahead of a second default on a $2 billion debt payment due on July 1.
"As Congress considers legislation to help Puerto Rico emerge from this humanitarian crisis, further austerity measures must be off the table," according to the report. "A robust public health infrastructure and health care system are essential in fighting threats like Zika and recovering the economy."
The report comes as lawmakers on the Republican-led panel are still trying to negotiate a new version of legislation, H.R. 4900, that would establish a federal oversight board to help manage the island and supervise a debt restructuring. 
Bipartisan Objections
The first versions of the bill ran into objections from Republicans, as well as Democrats and U.S. Treasury officials. Republicans have worried about elements that resemble bankruptcy protection, as well as provisions they say could allow an outside authority to prioritize repayment of debt-holders.
Democrats have said the control board is being granted too much authority and could infringe on Puerto Rico's sovereignty. The new report from Natural Resources Democrats suggests that such a board would be likely to impose stiff budget cuts on Puerto Rico, which has a population of 3.5 million.
Grijalva said in an interview Wednesday that he wants to see a provision added to the Puerto Rico legislation that would restrict the oversight board from imposing cuts to public health programs.
"This is a growing humanitarian crisis that is going to supersede this discussion of a fiscal crisis very soon if this Congress doesn't do something fair and very soon," he said.
Natural Resources Chairman Rob Bishop, a Utah Republican, said last week that he hopes to introduce a new draft of the bill, which will be generally similar to an earlier proposal that hit snags, shortly after Congress returns to work on May 10 from a one-week recess.
Call for Action
Treasury Secretary Jacob J. Lew is urging Congress to act as schools and hospitals on the island are scaling back services.
"Puerto Rico doesn't have decades, Puerto Rico has a crisis today," Lew said Tuesday in an interview on Bloomberg Television. "The need for action is urgent."
Later Tuesday, he warned that inaction risks the very outcome that many Republicans in Congress say they fear -- a taxpayer-funded bailout of the commonwealth.
"The cost of delay is you get to the point where there's nothing to restructure," Lew said in an appearance before the Milken Institute Global Conference in Los Angeles. He added that "a restructuring is an alternative to a bailout."
Zika Funding
House Democrats are bringing up the island's struggle with Zika just as Republicans in the Capitol are wrestling with an Obama administration request for $1.9 billion in broader emergency funding to combat the virus nationwide. Although most Republicans initially resisted the request, there were signs last week that some are growing concerned that inaction could backfire on them in many election-year battleground states, including Florida.
The Zika virus is emerging as a key public-health risk in Puerto Rico, with about 707 cases confirmed by late April, 89 of them pregnant women at risk of having babies with birth defects. The first Zika-related death in the commonwealth was confirmed late last month.
Puerto Rico's Department of Health is among many agencies that have scaled back services as the debt crisis has worsened, with its annual budget cut by 15 percent between 2011 and 2015, the report from Democrats on the Natural Resources panel said. At the same time, residents are highly reliant on the Medicaid health system for the poor to receive care, and Puerto Rico isn't benefiting from the same type of federal reimbursement that other low-income jurisdictions receive, the report says.
"Medicaid is only 55 percent federally funded, while low-income states are up to 74 percent funded," it says, adding that an extra $6.4 billion provided under Obamacare for Puerto Rico's medical expenses will run out in 2017.
Democrats argued that further cuts to public health "must be avoided at all costs" and that the island should have parity with low-income states on Medicaid funding.
Before it's here, it's on the Bloomberg Terminal.
LEARN MORE