North Carolina Bathroom Law Illegal, Justice Department Says
by
Governor given until May 9 to confirm law won't be implemented

Measure overrides local protections for transgender people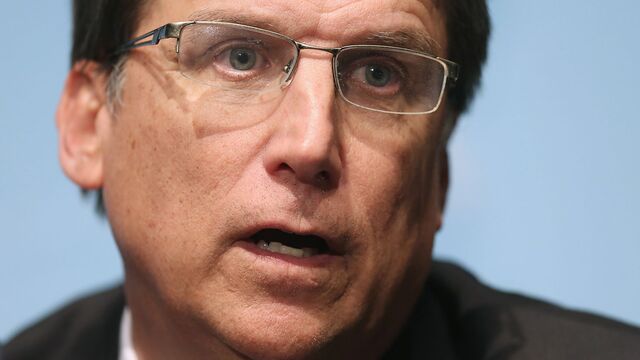 A North Carolina measure intended to limit which public restrooms can be used by transgender people violates federal law, the U.S. Justice Department told the state's Republican governor.
In March, North Carolina lawmakers passed, and Governor Pat McCrory signed, a bill overriding local laws intended to protect people from discrimination based on gender identity and sexual orientation in employment and in public accommodations such as bathrooms. The law requires transgender people to use public restrooms corresponding to the gender identification listed on their birth certificates.
The Justice Department sent McCrory a letter Wednesday saying the legislation violates the U.S. Civil Rights Act by discriminating against transgender state employees. It gave state officials until May 9 to confirm that they won't implement the law, according to a department official who asked not to be identified commenting on the letter reported earlier by the Charlotte Observer.
Since the law's passage, companies including PayPal Holdings Inc. and Deutsche Bank AG have announced they were pulling back from plans to expand in the state. Bruce Springsteen and Ringo Starr canceled concerts, and governors of New York, Connecticut and other states have ordered a halt to nonessential government travel to North Carolina.
McCrory's office didn't immediately respond to a request for comment. He has said he is open to modifying the law but that its purpose has been mischaracterized for political gain. In a video released in late March, he said North Carolina had been "the target of a vicious nationwide smear campaign" by politicians "from the White House to mayors to state capitals."
State Senate President Pro Tempore Phil Berger, a Republican, said in a Wednesday statement that the Justice Department letter is "a gross overreach." House Speaker Tim Moore, also a Republican, didn't return a call and e-mail requesting comment.
'Wonderful People'
President Barack Obama criticized the North Carolina law and a similar one in Mississippi last month at a news conference during a trip to the U.K.
Responding to a U.K. travel advisory warning British citizens about the new laws, Obama said, "The people of North Carolina and Mississippi are wonderful people. I also think that the laws that have been passed there are wrong and should be overturned."
The expansion of anti-discrimination protections by the City of Charlotte prompted lawmakers to act on the bathroom legislation. McCrory, who for 14 years was Charlotte's mayor, called the city's expanded civil-rights protections "government overreach."
Republican legislative leaders blamed the local mayor and the city council for a "radical bathroom policy."
While Senator Ted Cruz of Texas championed the state's bathroom law in his unsuccessful campaign for the Republican presidential nomination, presumptive nominee Donald Trump has said people in North Carolina should "use the bathroom they feel is appropriate."
After McCrory signed the measure, PayPal said it would cancel plans to open a 400-worker operations center in Charlotte. Deutsche Bank announced it will pull back on a 250-job expansion in the Raleigh suburb of Cary.
Before it's here, it's on the Bloomberg Terminal.
LEARN MORE