Trump, Cruz Escalate Fight as Indiana Voting Draws to a Close
Trump floats a conspiracy theory about Cruz's father, enraging him, as Republican establishment forces appear increasingly resigned to the likelihood of Trump as their nominee.
by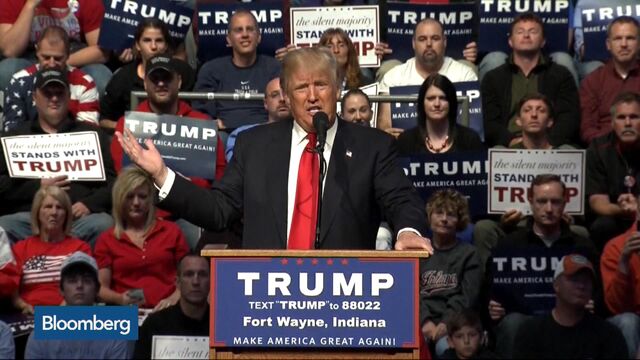 With voting drawing to a close in Indiana, Republicans Ted Cruz and Donald Trump waged an increasingly hostile battle Tuesday as they awaited the outcome of a primary that could deliver a fatal blow to the prospects of stopping the front-runner from becoming the party's presumptive nominee.

Trump floated a conspiracy theory about Cruz's father published in a tabloid, while the junior senator from Texas responded with a tirade about the billionaire that included calling him a "pathological liar," an amoral "narcissist," and a proud "serial philanderer." The voting across two time zones will end at 7 p.m. Eastern time.

Ahead of the balloting, Indiana polls showed Trump with a double-digit lead over Cruz and Ohio Governor John Kasich, while the Democratic race between Hillary Clinton and Senator Bernie Sanders was much closer.

Exit polling conducted Tuesday by the television networks and the Associated Press showed potentially positive signs for Trump. Asked if they would definitely vote for the businessman in November if he becomes the nominee, 55 percent of Republican primary voters said they would, compared to 45 percent for Cruz, according to tabulations broadcast by MSNBC.

Six in 10 Republican voters in the preliminary exit poll results said they want an "outsider candidate,'' higher than the 52 percent average in previous party primaries this year, ABC News reported. More than 90 percent of are either very or somewhat worried about the economy, exit polls show, according to the Associated Press.

MSNBC also reported that 57 percent of Republican primary voters said the nomination process has divided the party, much higher than the 22 percent of Democratic primary voters who said that.  Almost three-quarters of Democratic voters said they think the primary process has energized the party, while just 40 percent of Republicans held that view.
The outcome in Indiana could yield a deciding moment as the race enters the home stretch. The voting comes as Republican establishment forces appear increasingly resigned to the likelihood of Trump as their nominee, while the ragtag coalition of donors and others that comprise the "stop Trump" movement is making what would seem to be its last stand.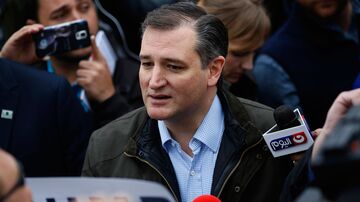 A Cruz loss could make the billionaire all but unstoppable in his quest to win the 1,237 delegates needed for the nomination, while a Trump defeat could rekindle the prospect of a contested Republican National Convention in July.
Indiana will award 57 delegates, the biggest remaining cache other than California among the remaining contests. The statewide winner will get 30, with each of nine congressional districts also awarding three each to the victor there.
If Trump were to manage a sweep or near-sweep of Indiana's delegates, he'd be well positioned to win the nomination on June 7 when California, New Jersey, and three other states hold the final contests: In the remaining nine Republican primaries, he'd need to win less than half of the delegates.

Both Trump and Cruz spent most of the past week in the state, with Trump headlining two rallies there Monday. His message has focused heavily on manufacturing losses, including 1,400 jobs at a Carrier Corp. plant in Indianapolis.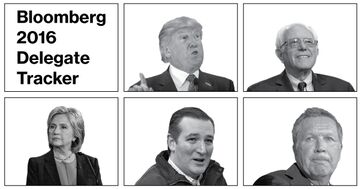 "If we win Indiana, it's over," Trump said in Carmel, a suburb north of Indianapolis. "They have no path, whereas I have a very easy path."
On Tuesday, Trump took a more personal tack, going after Cruz's father in reaction to a clip of him urging Christians to vote for his son. "I think it's a disgrace that he's allowed to do it, I think it's a disgrace that he's allowed to say it," Trump said on Fox News, mentioning a story in the National Enquirer tabloid linking Rafael Cruz to John F. Kennedy assassin Lee Harvey Oswald that the Cruz campaign has denied and labeled "garbage."
"This is nuts," Cruz told reporters in Evansville in response as he tore into Trump, who called it a "ridiculous outburst" showing Cruz's unsuitability to be president.
"It is only Indiana that can pull us back," Cruz said.
The front-runner is scheduled to appear with his supporters at Trump Tower in Manhattan on Tuesday evening, as he's done after primary wins in the last two weeks.
Trump has been on a roll since landslide victories in New York on April 19 and in five other Northeast states a week ago. If Cruz can't break that streak, it could make it nearly impossible to slow Trump's momentum.
Closing Window
Cruz's underdog status comes even after he's tried a series of headline-grabbing moves to try to shake up the race. He's criticized Trump for receiving the endorsement of "convicted rapist" Mike Tyson, who served prison time after the champion boxer was found guilty of a sexual attack on a Miss Black America contestant in an Indianapolis hotel room in 1991.
Other Cruz attempts to alter the race's trajectory included a multi-state non-compete agreement with Kasich, naming former Hewlett-Packard chief executive Carly Fiorina as his running mate, and repeatedly hammering Trump for his indifference about transgender women using women's restrooms.
Indiana's social-conservative leanings offered Cruz potentially fertile ground, but his pact with Kasich to have the Ohio governor avoid campaigning there proved unpopular with voters. He also called a basketball hoop a "ring," a major gaffe in a place where the sport is part of the state's fabric.
In the closing days of the campaign, Cruz received a less-than-full-throated endorsement from Indiana Governor Mike Pence, who praised Trump at the same time. Trump has the backing of former Indiana University basketball coaching legend Bobby Knight, as well as former Notre Dame football coach Lou Holtz.
An NBC News/Wall Street Journal/Marist poll released Sunday showed Trump ahead of Cruz in Indiana by 15 percentage points. In the Democratic race, the poll had Clinton leading Sanders 50 percent to 46 percent.
In a show of confidence about her standing in Indiana, Clinton on Monday started a two-day tour of West Virginia and Kentucky, which hold primaries on May 10 and May 17. Sanders campaigned in Indiana, in hopes of an upset win to bolster his argument for continuing his long-shot campaign.
In an MSNBC interview that aired Tuesday, Clinton said that she's on the "brink" of becoming the nominee and that Sanders "has every right" to finish the primary season.
Indiana holds what's called an "open" presidential primary. That could boost Trump, who has shown greater strength in states where independents and Democrats can cross over to vote for him. Indiana saw record high early-voting participation, and heavy turnout was expected in some suburban Indianapolis counties, the Associated Press reported.
Oran Richards, 80, a retired carpet cleaner from Elkhart who backs Cruz, said he's struggling to remain optimistic.
"I hope he wins, and I'm concerned that he just might not," Richards said. "I think a lot of people vote on emotions, and they're angry about a lot of things that have gone on in the country. They want somebody who's going to come galloping to the rescue."
Before Tuesday's voting, Trump led the delegate race with 996, followed by Cruz at 565 and Kasich at 153. Clinton had 2,165 of the 2,383 delegates and superdelegates needed to win, compared to 1,357 for the Vermont senator.
—With assistance from Mark Niquette, Terrence Dopp, Elizabeth Titus and Kendall Breitman.
Before it's here, it's on the Bloomberg Terminal.
LEARN MORE