Indiana Governor Pence Backs Cruz in Must-Win Republican Primary
by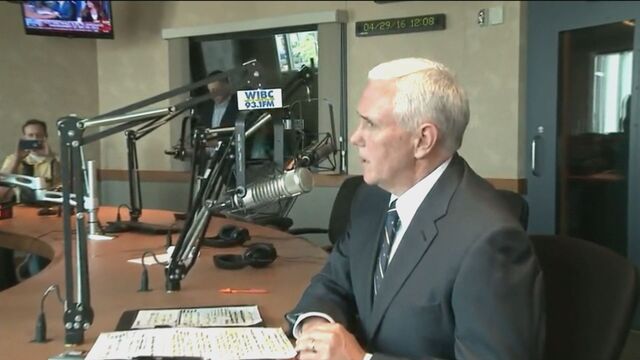 Indiana Governor Mike Pence said he's supporting Ted Cruz in Tuesday's Republican presidential primary, a boost for the Texas senator in a state he needs to win to slow Donald Trump's march to the nomination.
"I'm not against anybody, but I will be voting for Ted Cruz," Pence said Friday during an appearance on the Greg Garrison radio show on WIBC-FM in Indianapolis. "I see Ted Cruz as a principled conservative who's dedicated his career to advocating the Reagan agenda."
Pence, a former Indiana congressman who is seeking re-election to a second term this year, had said he may endorse in the presidential race after meeting privately with Cruz, Trump, and Ohio Governor John Kasich, who decided to stop campaigning in Indiana to focus on other states.
While he's backing Cruz, Pence said, he respects all three candidates and commended Trump because he "has given voice to the frustration of millions of working Americans with a lack of progress in Washington D.C." Pence has said he will support whoever is the Republican nominee so he has "a partner in the White House."
"He's a strong leader who I respect," Cruz said of Pence while speaking to reporters Friday in Indianapolis prior to Pence's announcement. "When he was in Congress, he was a strong congressional leader standing up and defending conservative principles and defending the constitution."
Pence is locked a tough re-election fight with Democratic challenger John Gregg after seeing his approval ratings fall when he signed a religious-freedom law last year that drew opposition from business executives and gay-rights groups who called it discriminatory. A WISH-TV/Ball State Hoosier Survey in November found that 47 percent of residents approved of Pence's performance.
Trump is leading Cruz by about 5 percentage points in Indiana, based on a RealClearPolitics average of recent polls in the state.
Cruz is counting on defeating Trump in Indiana to help prevent the billionaire from amassing the 1,237 delegates he needs before the party's convention in July to claim the nomination outright.
Both Cruz and Kasich are mathematically eliminated from reaching that number and are hoping for a contested convention to win on subsequent ballots. A Trump victory in Indiana would significantly ease his path, while a Cruz win would bolster him as he heads toward California's key primary June 7.
Wisconsin Governor Scott Walker's endorsement of Cruz before that state's April 5 primary helped the Texas senator defeat Trump in what was a significant boost to the campaign at the time. Walker appeared with Cruz at events in the days leading to that contest and encouraged his supporters to back him.
—With assistance from Terrence Dopp.
Before it's here, it's on the Bloomberg Terminal.
LEARN MORE