Puerto Rico's Likely Default May 1 Not Fazing House Republicans
by and
U.S. House set to adjourn for a week without advancing a bill

Lawmakers now focused on July 1, when island owes $2 billion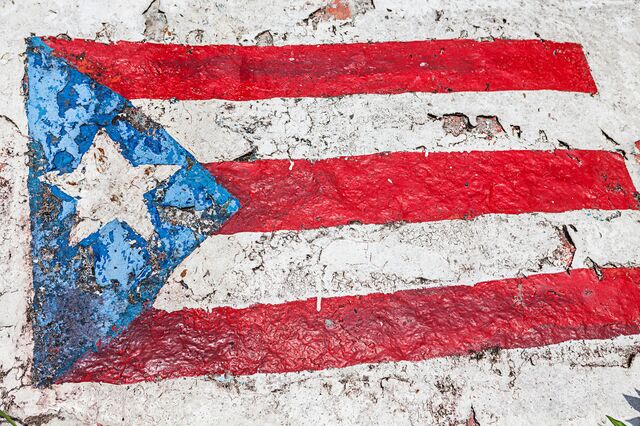 Ahead of a one-week recess, House Republicans are showing little urgency to act on a bill to help Puerto Rico deal with its debt crisis as the island hurtles toward a potential default Sunday on a $422 million payment.
 
"They got into this mess over the years. I don't think we need to add to their bad decisions," said Representative Raul Labrador of Idaho, a Republican who was born in Puerto Rico. "I think we have to do this bill right." Labrador is a member of the House Natural Resources Committee, which is working on legislation to aid the island.
The territory could still strike a last-minute deal to defer the payments due in three days, but Puerto Rico will likely default on some or all of the debt payments coming due on May 1.
Democrats and the White House continue to blast the Republicans for not acting faster.
"Some people get accused of being mañana people," said Representative Raul Grijalva of Arizona, the top Democrat on the Natural Resources panel. "There's no sense of urgency with Republicans on this."
White House Press Secretary Josh Earnest said Thursday that the longer Congress drags out the debate, "the more likely it becomes that they will have to resort to a bailout."
Eyeing July
Lawmakers said Thursday they were not oblivious to Sunday's deadline for the island. But most, like Labrador, said they are more focused on July 1. That's when a $2 billion payment by Puerto Rico is due, including $805 million for its general-obligation bonds.
Earlier this week, House Majority Leader Kevin McCarthy of California said he was "hopeful" the bill will pass the lower chamber by July 1.
The House Natural Resources Committee has released a draft bill, H.R. 4900, which would create a new oversight board for Puerto Rico and provide mechanisms for a forced restructuring of its $70 billion debt. The measure had been scheduled for committee action April 14, but was suddenly shelved after various objections raised by Republicans, Democrats and U.S. Treasury officials.
Speaker Paul Ryan -- who last fall called for a plan by March 31 -- told reporters Thursday that the Natural Resources panel and Treasury officials "are actually getting close" on a revised bill. Ryan said that he hopes members will have the new version of the bill to consider when they return to session May 10.
Default Risk
So just how concerned are lawmakers that Puerto Rico might default this time? While the deadline is Sunday, the island technically has until the end of the following business day, May 2, to make the payment.
"Certainly, it's significant," said Republican Representative Mark Meadows of North Carolina. But he said the real concern among lawmakers is the "big default" later in the summer, and he said anxiousness may build if passage of a bill languishes into late May.
As for now, said Meadows, "When I go home to North Carolina, no one is telling me to help bail out Puerto Rico." That is how such a bill is being perceived by many of his constituents, he said -- even if it's not correct. Republicans have been careful to point out that the bill does not contain any provisions allowing for a taxpayer-funded bailout.
"When did you ever see a deadline inspire Congress to action?" said Representative Tom Marino, a Republican from Pennsylvania, referring to lawmakers' well-known tendencies to wait until nearly the last minute to act. He also predicted that, however the final bill shapes up, it will be unpopular in his party, and that fewer than half of House Republicans will end up supporting it. 
"There is no getting 50 percent of the people here," said Marino.
Conservative's Conditions
Labrador said his support and that of other conservatives could would turn on two things.
First, he said the bill can't set precedents for how the U.S. government might deal in the future with states that run into their own problems with indebtedness. 
He said that lawmakers also have to ensure that "what happened in Detroit" isn't repeated. He said pensions got priority there, but if that were to happen with Puerto Rico legislation, it would hurt the bond market and affect borrowing costs for other states. 
If it does, he said investors would also have to worry such an approach would extend to other states. 
"If we can get those two things, I think most conservatives can support a bill that has the restructuring mechanisms. If these are not in the bill, there's no way that I can support it and I don't see any way that conservatives can support it," said Labrador.
Before it's here, it's on the Bloomberg Terminal.
LEARN MORE