Iraq Turmoil Greets Biden on Visit to Discuss Islamic State
by
U.S. troop levels rising in preparation to retake Mosul

Syrian peace talks break down with no resumption planned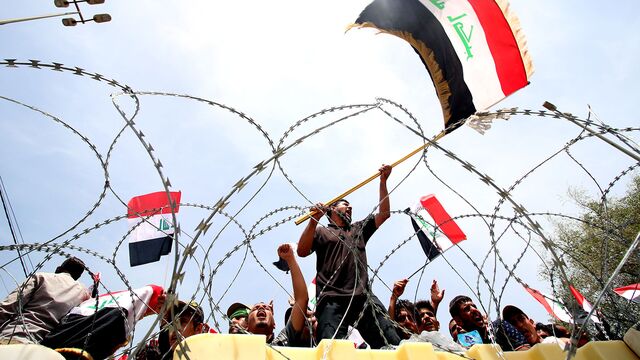 Vice President Joe Biden made a surprise visit to Iraq as a wave of fresh sectarian violence there and a breakdown of peace talks over the civil war in neighboring Syria threaten to undermine the U.S.-led campaign against Islamic State.
Biden's plane landed in Baghdad shortly after 3 p.m. local time on Thursday, in his first visit to the country since 2011. President Barack Obama hasn't been to Iraq since 2009, the first year of his presidency.
QuickTake Fighting Islamic State
Iraqi Prime Minister Haider al-Abadi is struggling to maintain his grasp on power as the country's military girds for a battle to retake Mosul, once Iraq's second-largest city, from Islamic State.
Obama has said he would like to see conditions created by the end of this year "whereby Mosul will eventually fall," though Iraqi forces are far from prepared for a siege. Across the border in Syria, fresh violence has broken out as President Bashar al-Assad's Russian-backed forces ramp up attacks near the key northern city of Aleppo.
'Descending Into Chaos'
"We see a Middle East descending into chaos," Senator John McCain, an Arizona Republican, said during a hearing Thursday in Washington with Defense Secretary Ash Carter. McCain called U.S. policy in Syria "confused," a week after the Pentagon said it would send 250 more personnel to aid allied rebels in that country.
McCain, chairman of the Senate Armed Services Committee, said the U.S. should commit 10,000 troops toward a multinational force that's 100,000 strong with participation by Sunni Arab nations to retake Mosul as well as Raqqa in Syria. Carter responded that "I have no indication from those countries, despite a lot of effort, of a willingness to do that."
While Obama has said he's concerned about the status of the Syrian peace talks, the administration has touted gains made against the terrorist group in the past year, including shrinking territory and a decline in the number of foreign fighters heading to the region. After losing ground in cities including Palmyra, Islamic State can field about 19,000 to 25,000 fighters across Iraq and Syria, the Pentagon said this week, the fewest since 2014.
'Serious' Progress
Progress against Islamic State is "real; it's serious; it's committed." Biden said at a meeting with the speaker of Iraq's parliament, Salim al-Jabouri. "In my last meeting with the prime minister we talked about the plans that are in store for Mosul and the coordination going now with all of our friends here. I'm very optimistic."
Biden's visit comes as Abadi is under fire for his handling of a financial crisis and charges of government corruption. Protesters have also challenged a new group of cabinet members he proposed last month. And Iraq's parliament canceled its session earlier this week after a failed vote on whether to retain its embattled speaker.
"Now is not the time for government gridlock or bickering," Obama said following a meeting with leaders of Persian Gulf Arab states last week. Obama said Abadi has been a "good partner" for the U.S., but that he is worried Iraq is fracturing. Abadi has sought unsuccessfully to give minority Sunnis and Kurds a bigger role in the Shiite-dominated central government.
Falling Crude
Economically, Iraq has struggled with the decline of crude prices the past two years, making it harder to fund reconstruction even in areas retaken from Islamic State. Efforts to sell bonds have been hampered by interest rates demanded by lenders, Deputy Finance Minister Fadhel Nabi said in an interview this week.
In Geneva, two-month-old peace talks aimed at brokering a political solution to Syria's five-year civil war ended, with no resumption date scheduled, after a key opposition group walked out of the talks. United Nations envoy Staffan de Mistura said last week that "urgent efforts" were needed to salvage the peace talks originally brokered by the U.S. and Russia in February.
On the Syrian battlefield, the aid group Doctors Without Borders said a hospital it supported in Aleppo was hit by airstrikes this week, killing 14 people, including one of the besieged city's last pediatricians. White House spokesman Josh Earnest called the latest attacks on Aleppo "abhorrent" and "immoral," adding that it places "more pressure on an already fragile cessation of hostilities."
Separately, the U.S. State Department has expressed concern over fighting between Kurdish Peshmerga forces and Shiite fighters in the the northwestern Iraqi town of Tuz Khurmatu. Both sides have provided critical support in the battle against Islamic State, and the worry is that clashes between the two could distract from that fight.
Moderate Rebels
To bolster what it calls moderate rebels, Obama announced during a visit to Europe that he would send 250 additional special forces and supporting troops to Syria. That followed plans to to deploy 200 additional personnel to advise and assist forces in Iraq fighting Islamic State, increasing the U.S. presence in the country to 4,087.
Thursday's trip is Biden's first to Iraq since November 2011, just weeks before the last U.S. combat troops were to withdraw from the country. The U.S. military presence has gradually climbed since then as Islamic State captured wide swaths of territory in the country and neighboring Syria.
Before it's here, it's on the Bloomberg Terminal.
LEARN MORE