Supreme Court May Raise Bar for Corruption Prosecutions
by
Justices look poised to overturn former governor's conviction

Virginia's McDonnell attends as justices weigh his case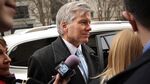 U.S. Supreme Court justices suggested they will overturn former Virginia Governor Bob McDonnell's bribery conviction and make it harder to prosecute public officials for corruption.
Hearing the last argument of their 2015-16 term Wednesday, justices from across the ideological spectrum cast doubt on the conviction. The case stems from more than $175,000 in cash and gifts McDonnell and his wife received from businessman Jonnie Williams, who was trying to get a state university to conduct important clinical tests on a dietary supplement.
The question is whether actions McDonnell took on Williams' behalf, including arranging meetings and hosting events, were enough to allow prosecution under federal law. Justice Stephen Breyer said he worried that a decision upholding the conviction would mean a member of Congress could be prosecuted for accepting lunch or a gift from a constituent and then writing a letter on the person's behalf to a federal agency.
"For better or worse, it puts at risk behavior that is common," Breyer told the Justice Department lawyer defending the conviction. "To give that kind of power to a criminal prosecutor, who is virtually uncontrollable, is dangerous in the separation-of-powers sense."
A federal appeals court upheld the conviction. McDonnell, a 61-year-old Republican who attended the argument with his wife, is facing a two-year prison sentence.
The Obama administration says that under federal law, prosecutors needed to show only that McDonnell agreed to use the power of his office to influence state government actions. The pivotal statute makes it a felony to agree to take "official action" in exchange for money, campaign contributions or other gifts.
'Categorical Carve-Out'
Justice Department lawyer Michael Dreeben said McDonnell's lawyers were seeking a "categorical carve-out" from that law for meetings and events. Dreeben said that "would send a terrible message to citizens."
The justices indicated they were more worried about the prospect of criminalizing routine government service. Justice Anthony Kennedy asked whether the president was committing a felony by helping "high-dollar donors" arrange meetings with government officials.
"Gaining access by making campaign contributions is an everyday occurrence," Justice Samuel Alito added. "And maybe it's a bad thing, but it's very widespread."
Chief Justice John Roberts pointed to what he repeatedly called an "extraordinary" brief filed on McDonnell's behalf by a bipartisan group of former top government lawyers. 
"They say, quoting their brief, that 'if this decision is upheld, it will cripple the ability of elected officials to fulfill their role in our representative democracy,'" Roberts said.
Golf, Shopping
McDonnell, once seen as a potential Republican presidential candidate, was convicted in 2014 alongside his wife, Maureen. Prosecutors said Williams showered the cash-strapped couple with gifts that included private plane flights, golf trips and a $20,000 shopping spree for Maureen, a former cheerleader for the Washington Redskins football team.
Prosecutors said that, in exchange, the governor promoted Williams's Anatabloc supplement. McDonnell was accused of pressing state medical schools to conduct clinical tests needed for its federal approval as a drug. Prosecutors said McDonnell also encouraged a subordinate to include the product in the state's health plan and hosted an event at the governor's mansion to mark Anatabloc's introduction for public sale.
McDonnell's lawyer, Noel Francisco, argued that prosecutors failed to show that the governor "put a thumb on the scale" to influence any government action. The medical schools declined to conduct the tests, and the product was never included in the health plan.
Justice Sonia Sotomayor, however, said some state employees testified they felt pressured by the governor.
"What do we do with the evidence in the case that the university individuals who were assessing whether or not to do these studies themselves felt pressured?" she asked Francisco.
Breadth of Decision
Even so, by the end of the hour, the biggest question seemed to be the breadth of an eventual decision favoring McDonnell. Roberts raised the prospect of invalidating the federal statute as unconstitutionally vague, though it wasn't clear five justices would support that outcome.
Justice Elena Kagan suggested a narrower approach that might let McDonnell be re-tried. She faulted the indictment and jury instructions for characterizing events and meetings as "official acts."
"I'm troubled by these particular charges and instructions, which seems to make every piece of evidence that you had an official act, rather than just saying the official act was the attempt to get the University of Virginia to do something that they wouldn't have done otherwise," Kagan said.
The Supreme Court last year blocked McDonnell's prison sentence while the justices considered whether to take up the case. The court is scheduled to rule by the end of June.
The case is McDonnell v. United States, 15-474.
Before it's here, it's on the Bloomberg Terminal.
LEARN MORE