Ex-House Speaker Hastert Gets 15 Months in Hush Money Case Tied to Sex Abuse
by
Former high school wrestling coach confronted by victim

Some conduct `unforgivable' no matter how old, judge says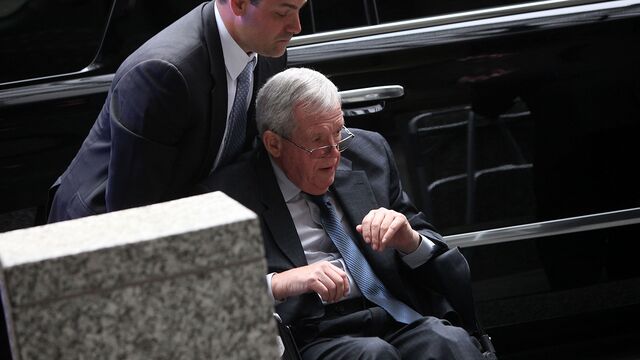 Former Republican House Speaker J. Dennis Hastert was sentenced to one year and three months in prison for a hush money scheme connected to sex abuse committed decades ago.
Hastert, 74, a high school wrestling coach in Illinois before being elected to Congress in 1986, pleaded guilty in October to evading bank reporting laws in a scheme to hide payoffs meant to keep secret decades-old sexual misconduct. Wednesday's sentencing completed the fall of a once influential U.S. politician, the highest ranking to be convicted of a crime since Vice President Spiro Agnew's no contest plea to a tax charge in 1973.
U.S. District Judge Thomas Durkin in Chicago denied Hastert's request for probation based on his ailing health. Hastert's sentence includes two years' supervised release after he completes his prison term and attendance at a sex-offender treatment program.
"The defendant is a serial child molester," Durkin said. "Some conduct is unforgivable, no matter how old it is."
Durkin noted that Hastert, who served in Congress for 20 years including the last eight as speaker, had "some role in passing" the criminal laws related to structuring bank transactions. It was "preposterous" that he didn't know of the reporting law that makes structuring a crime, the judge said.
Asked by the judge whether he sexually abused members of the wrestling team who stepped forward in the case, Hastert said he did in some cases but didn't recall at least one.
"I am sorry to those I've hurt and misled," Hastert told Durkin. "I want to apologize to the boys I mistreated when I was their coach. They looked to me and I took advantage of them."
Hastert admitted in October that he withdrew almost $1 million from bank accounts in increments below a $10,000 reporting trigger to pay an unidentified individual.
Prosecutors didn't publicly disclose the underlying circumstances of the case until this month, saying his motives behind the illegal bank transactions should be a factor in his punishment.
Extortion Claim
When confronted by investigators, Hastert told told them he was being extorted by the person, prosecutors said in a court filing. After listening to phone calls between Hastert and the man, the investigators concluded that his actions weren't consistent with extortion, according to the filing.
Prosecutors cited allegations of sexual abuse and misconduct against Hastert by four members of his wrestling team in the 1970s and 1980s while he was a teacher and coach at Yorkville High School, about 55 miles southwest of Chicago. The statements also included the sister of a fifth former wrestler who died in 1995.
The abuse of the students took place in locker rooms and in hotel rooms, prosecutors said. They cited Hastert's "stunning hypocrisy" and contrasted his political success with the troubles of his former students.
Scott Cross, 53, of Chicago, was in court Wednesday, pausing frequently as he told the judge how Hastert molested him in the high school locker room in 1979 during his senior year.
'Devastated'
"I wanted you to know the pain and suffering he caused me then and still causes me today," Cross said, weeping. "As a 17-year-old boy, I was devastated. I tried to figure out why Hastert had singled me out. I felt alone and tremendously embarrassed."
Hastert was allowed by the judge to remain free on bail until a federal prison with medical facilities for treating inmates with serious health problems is selected.
While Hastert's abuse of students occurred too long ago to bring charges, U.S. Attorney Zachary Fardon's office said in a statement that it sought to hold him accountable for crimes that could still be prosecuted.
Assistant U.S. Attorney Steven A. Block told the judge, "Had there been an opportunity to charge him for those crimes, we would have."
The case is U.S. v. Hastert, 15-cr-00315, U.S. District Court, Northern District of Illinois (Chicago).
Before it's here, it's on the Bloomberg Terminal.
LEARN MORE