Tough Crowd
Clinton's Next Campaign Is Bringing Sanders' Voters Into Her Coalition
She seeks to reassemble the Obama constituency by adding young voters and independents who've backed Sanders.
by and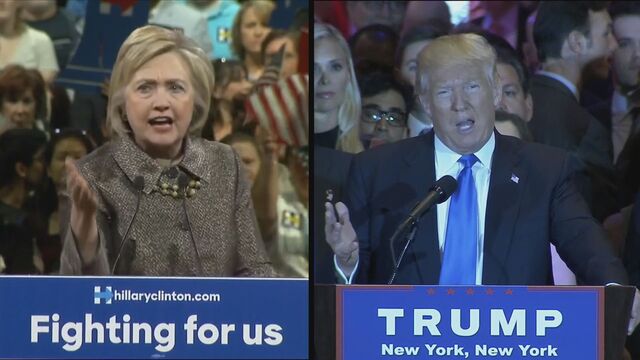 On the brink of the Democratic presidential nomination, Hillary Clinton and her advisers now must bring Bernie Sanders' millions of supporters into the fold for the general election—with or without Sanders.
Her efforts thus far have been modest, uneven and mostly rhetorical as she waits for Sanders to shift from defiance toward acceptance. But in the coming weeks, Clinton will court Sanders' voters by addressing the populist discontent over economic inequality and political disenfranchisement that was building before the Vermont senator even entered the race and became the central force that elevated him into a surprisingly strong challenger.
The first step toward a reconciliation came as Clinton claimed victory in four of the five northeastern state primaries on Tuesday night.
"I applaud Senator Sanders and his millions of supporters for challenging us to get unaccountable money out of our politics and giving greater emphasis to closing the gap of inequality," Clinton told a crowd in Philadelphia. "And I know together we will get that done. Whether you support Senator Sanders or you support me there's much more that unites us than divides us."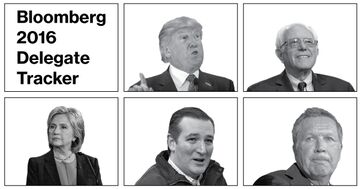 No Conversations
Up until now, there have been no conversations between the campaigns, people from both said. Nor has Clinton settled on exactly what Sanders' role at the convention in July should be. Clinton's consideration of potential running mates—a subject of interest to Sanders' supporters —is still at a beginning phase. Clinton's campaign hasn't yet evaluated the competing imperatives in picking a vice presidential nominee, whether it's more important to excite Sanders backers, take on Trump or another Republican, or appeal to key ethnic, demographic or geographic groups.
Sanders' supporters among independent voters and young people would be a powerful addition to Clinton's bloc of women and minorities for a general election contest against Donald Trump or whomever the Republicans nominate. The combination would go a long way to reconstituting the coalition that elected President Barack Obama to two terms. Trump signaled Tuesday night that he understood the significance of that voting bloc by urging Sanders to run as a third-party candidate in November—a highly unlikely move that would siphon votes from Clinton and clear Trump's path to the White House.
Whether and how Sanders concedes the race and decides to embrace Clinton between now and the party's nominating convention in July will largely define Clinton's approach. If Sanders doesn't ultimately push his backers to get behind Clinton, as Clinton did for Obama in 2008, her campaign has at least three other avenues to energize Sanders' supporters.
The first is acknowledging how Sanders' ideas have shaped the issues in the presidential campaign, and potentially incorporating more aspects of his agenda into her own.
The second is an endorsement from the Democrats held in high esteem by Sanders' voters: Obama, Vice President Joe Biden, and Massachusetts Senator Elizabeth Warren. While all remain officially neutral in the Democratic race and Clinton isn't pressing them for an endorsement, the campaign is keeping up back channel communications, via surrogates.
The third is rallying Sanders' supporters to action to stop the Republican nominee, a task Clinton's team and backers believe is easiest if that nominee is Trump. Clinton said Tuesday night that "loves trumps hate," a word-play meant to emphasize the divisive nature of Trump's campaign rhetoric. Trump has accused her of playing the "woman card," Clinton said, and if that means she supports equal pay and reproductive rights, then "deal me in." She suggested she can appeal to those wary of Trump whether they are "a Democrat, an independent or a thoughtful Republican."
Ohio Senator Sherrod Brown, a Clinton supporter, told reporters a day earlier that Trump can help motivate people aligned with Sanders, especially younger voters. "Trump scares that generation, I think," Brown said.
"The question right now isn't whether the movement behind Bernie Sanders is going to continue winning delegates and states in the weeks ahead," said Charles Chamberlain, executive director of Democracy for America, a political action committee backing Sanders, in a statement Tuesday. "It's whether the Democratic establishment is going to bring our party together by embracing our fight for a political revolution or tell us to sit down, shut up and fall in line, likely costing Democrats nationwide the critical votes we'll need in the general election."
Mixed Signals
Sanders and his campaign have sent mixed signals about how far he will go to push his supporters into Clinton's corner.
Sanders spoke for about an hour after the polls closed Tuesday, without mentioning the results or congratulating Clinton. Earlier in the day, his campaign manager, Jeff Weaver, sent an e-mail to supporters featuring a photograph of the Clinton and her husband, former President Bill Clinton, at Trump's wedding to his current wife, Melania. Meanwhile, Sanders' chief strategist, Tad Devine, said the campaign would reassess its strategy and message based on the results in Pennsylvania, Connecticut, Maryland, Rhode Island, and Delaware.
There already has been a subtle shift in how Sanders talks about the race, acknowledging the possibility he won't win and discussing what he would do to unify the party before the general election.
"I intend to do everything I can, if I am not the nominee, to make sure that some Republican does not sit in the White House," Sanders said Tuesday on ABC's Good Morning America program. "For the moment, we're going to fight all the way to the Philadelphia convention."
In a statement Tuesday night, Sanders said he would stay in the race until the last vote is cast so he could go to the convention "with as many delegates as possible to fight for a progressive party platform."
A Suffolk/USA Today poll released this week underscores the stakes in engaging Sanders' supporters: 13 percent said they'd consider voting for Trump over Clinton if those were their choices in the general election.
"We will be doing our utmost to try to win the support of those who right now may be inclined toward Senator Sanders," said Clinton press secretary Brian Fallon. "We took heart in the fact Senator Sanders has said in a general election of course he'd work hard to ensure the Republican is defeated. She has already begun emphasizing how there is so much more than unites Clinton and Sanders supporters than divides us."
Clinton needs to be "relentlessly gracious in victory" and give Sanders all the space and time he needs to make decisions about his status without trying to crowd him out, said David Wilhelm, a former chairman of the Democratic National Committee who managed Bill Clinton's 1992 campaign and now is active in energy development in Ohio.
Sanders "can either be gracious in return or rebuff the overtures," Wilhelm said. To choose the latter would be to reduce his influence going forward because it would seem "small and negative."
"Losing can make you crazy for awhile," Wilhelm said. "But with time, the pain—for both the candidate and his followers—subsides. But it takes time, and it's time that cannot be imposed from the outside."
Still Time
Clinton communications director Jennifer Palmieri said there is still plenty of time. "We understand that they're still in the primary, they're still contesting the primary," she said. "We believe that when we need to come together, that we will be able to do that."
Clinton's own lesson in losing the nomination race to Obama in 2008 is that the candidate whose window is closing goes through a series of stages in coming to terms with the shifting landscape, and that until the instinct to fight subsides, any direct outreach from the opposing campaign is premature.
Over the past month, and especially the last week after she won the New York primary, Clinton has scaled back her criticisms of Sanders and rarely mentions him during her speeches. She's focusing her attacks instead on Trump and Texas Senator Ted Cruz, the other chief Republican contender.
She's increasingly giving support to issues Sanders has advanced, most recently the $15-an-hour minimum wage, and looking for more ways to validate him and his movement that mesh with her own approaches. She's gently tested her ability to reach out to younger voters who have so enthusiastically supported Sanders.
But for all of the campaign's aspirations to appeal to Sanders' voters, Clinton still has moments of backsliding on her path to love and kindness. In an MSNBC town hall on Monday night, she said Sanders' notional path to the nomination "just doesn't add up" given her lead in votes and delegates. And in addressing Indiana voters Tuesday she renewed a largely abandoned line of attack that Sanders was against the auto industry bailout after the 2008 financial crisis.
At a Clinton rally in Delaware on the eve of Tuesday's primary, two voters' competing views about Clinton courting Sanders' supporters highlighted the complexities of the campaign's calculations. Jeremy Hebbel, 32, a Sanders supporter, said he'd grudgingly vote for Clinton in November to keep a Republican out of office if she wins the nomination but that he wants her to demonstrate she's heard the populist cry for the reforms Sanders on everything from healthcare policy to reducing the corrupting influence of big money in politics.
Tom Richards, 64, said while there may be value in Clinton engaging Sanders supporters, "it's much more important that she reach out to the other side—to Republicans" and that "Bernie supporters are a much smaller portion of the voting public." Richards said that while Clinton "needs to welcome any Bernie supporter," already he "has dragged her to the left" enough. "She's going to have to come back to the center in the general."
—With assistance from Arit John and Mark Niquette.
Before it's here, it's on the Bloomberg Terminal.
LEARN MORE