Al-Qaeda Wing Says It Murdered Gay USAID Employee in Bangladesh
Bloomberg News
Victims `pioneers of practicing and promoting homosexuality'

Bangladesh PM blames opponents, who deny any responsibility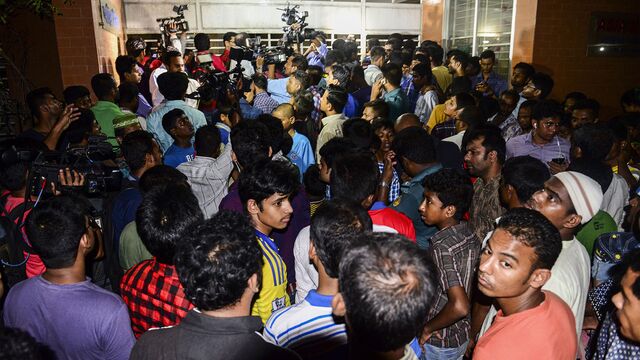 A Bangladeshi militant group linked to al-Qaeda claimed responsibility on Wednesday for murdering a gay rights activist who also worked for the U.S. Agency for International Development.
Ansar Al Islam, a banned group, said on Twitter that it killed Xulhaz Mannan and a friend in his Dhaka apartment on Monday because they were "pioneers of practicing and promoting homosexuality in Bangladesh," the Associated Press reported. Mohammad Iqbal, a police inspector in Dhaka, didn't answer multiple calls to his mobile phone.
Police are searching for five men who posed as couriers and hacked to death the two men in Mannan's apartment before escaping. Mannan, 35, edited an LGBT magazine. Police identified the other victim as Khandaker Mahbub Rabbi, 25.
A spate of high-profile killings has raised concerns that terrorism will deter investment in Muslim-majority Bangladesh, which boasts one of the fastest economic growth rates among frontier markets. The Islamic State claimed responsibility for murdering two expats in the nation in October, and machete-wielding Islamist militants have killed at least nine liberal activists over the past year.
Investor Risk
"The main risk to the sovereign credit profile of violence, whether it is related to political polarization or to extremism like the recent killings, is that at some stage it could deter foreign investors and buyers," said Thomas Rookmaaker, a Hong Kong-based director at Fitch Ratings. "So far, we have not seen this risk crystallize."
Political sparring has led to greater instability since a boycotted national election in 2014. Last night, Bangladesh Prime Minister Sheikh Hasina blamed the murders on the main opposition Bangladesh Nationalist Party, or BNP, and its ally Jamaat-e-Islami, saying they have "been engaged in such secret and heinous murders to destabilize the country."
"Everybody knows who were behind such killings," Hasina said in televised remarks on Monday night. "Those who are involved in such killings must be traced and brought to justice."
'Totally Ridiculous'
BNP Secretary-General Mirza Fakhrul Islam Alamgir called Hasina's accusation "totally ridiculous" and said the party condemns all of these killings.
"If the prime minister blames us before the start of the investigation into the killings, how can you ensure justice?" he said by phone from Dhaka.
U.S. Secretary of State John Kerry condemned the murders, calling them a "senseless act of violence." He offered support to Bangladesh in the investigation.
Mannan was one of the organizers of an annual Rainbow Rally, which had been banned by the police this year for "security reasons," inspector Iqbal said earlier. Homosexual relations are criminalized in Bangladesh.
Four slayings have been reported this month, extending a killing spree that began in 2013 and gathered pace last year.
A university professor, A.F.M. Rezaul Karim Siddiquee, 58, was killed last week, while Nazimuddin Samad, a 28-year-old student who had campaigned for secularism, was killed on April 7 as he walked home from classes. Niloy Neel, 40, who wrote about the perils of religious extremism, was killed in his home last year.
Civilian Deaths
Human-rights group Amnesty International said "not a single person has been held to account" for the 2015 attacks.
"Bangladeshi authorities have a legal responsibility to protect and respect the right to life," Champa Patel, Amnesty International's South Asia Director, said in a statement.
The targeted killings represent a new form of terrorism in Bangladesh, which has faced constant political violence over the past decade. Fatalities have dropped by more than 80 percent since 2013, with 23 civilian deaths reported last year, according to the South Asia Terrorism Portal. Seven civilians have died in Islamist terrorism-related violence through April 24, it said.
— With assistance by Arun Devnath
Before it's here, it's on the Bloomberg Terminal.
LEARN MORE