Ready, Aim, Fire
Clinton Bets Focus on Guns Will Hurt Sanders in Connecticut
Despite high profile mass shootings like the one in Newtown, Connecticut, the issue of guns remains a low priority for most voters.
by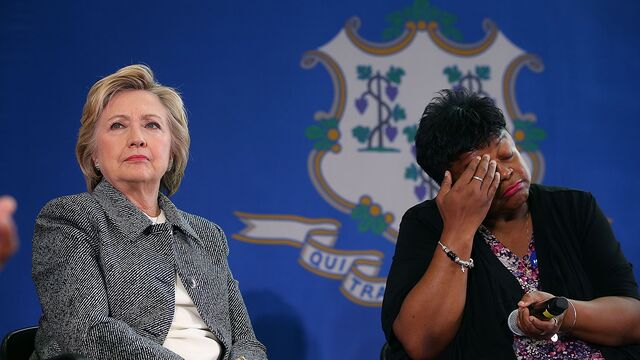 The Connecticut primary is putting a spotlight on one of the few issues where Hillary Clinton is running to the left of Bernie Sanders: gun control.
Clinton has aligned herself with families of victims of the 2012 Sandy Hook school massacre, as well as other gun control groups, featuring them at events and in television ads. Sanders, meanwhile, has been publicly criticized by family members of Sandy Hook victims, and rarely mentions the issue at campaign rallies.
The circumstances would seem tailor-made for Clinton to peel off some of the young voters and self-described very liberal Democrats at the core of Sanders's support as she tries to seal up the party's presidential nomination with Tuesday's primaries in Connecticut and four other northeastern states. But poll data and interviews with Sanders supporters show that the issue doesn't resonate with his base to the degree it does with hers, illustrating part of the challenge Clinton will face uniting the Democratic Party factions should she become the nominee.
For all the high-volume rhetoric drawn by the gun control debate in the U.S., the issue rarely rises to the top of voters' priorities. Even in Connecticut, where 20 children and six adults were killed in a mass shooting at the Sandy Hook Elementary School in Newtown, only 3 percent of likely Democratic voters named gun policy as the issue most important in deciding who to support in the nomination race, according to a Quinnipiac University poll conducted April 12-18. That was well behind the economy and jobs, the most frequently cited issue at 31 percent, health care, income inequality and foreign policy.
Sanders supporters say they are unmoved by Clinton's attacks on the Vermont senator's voting record on gun control legislation. Sanders, who represents a rural state where about a third of residents own guns, voted against the Brady Bill requiring a five-day waiting period on gun purchases. He also voted for the Protection of Lawful Commerce in Arms Act, which protects gun makers and sellers from liability for unlawful use of a firearm. But he's also voted in favor of banning assault weapons and high-capacity ammunition magazines.
While gun control advocates see Clinton as the only candidate taking a stand against the gun lobby, Sanders supporters see little difference between the candidates on the issue of guns.
"As a country we realize that there's a certain amount of attention that needs to be brought to that, but I don't think that Hillary and Bernie are too far apart on their stance with that," Melanie Jackson, a 37-year-old retail executive from Bridgeport, said at a Sanders event in the city. "I think they both want to figure out ways to sensibly control the gun laws."
Kimberlee Rackley, 39, a stay-at-home mother from Monroe, which is nine miles from Newtown, said she views Clinton's references to the Sandy Hook killings at events and in television advertisements, as opportunistic and a shift from her last presidential campaign. 
"I just feel like using a tragedy to get votes is a very deplorable thing to do," Rackley said. "Let's be real, she knows that that's a sensitive issue here in Connecticut where we had that tragedy."
Clinton's trumpeting of gun control marks a switch from 2008, when she veered to the right of then-Senator Barack Obama on the issue. Obama was put on the defensive just before the Pennsylvania primary when it was reported that he told donors at a closed fundraiser in San Francisco that working-class voters hit hard by the decline in manufacturing jobs "get bitter, they cling to guns or religion or antipathy toward people who aren't like them."
Clinton at the time called the remarks "demeaning" and "elitist and out of touch." Obama in turn mocked Clinton for talking about how her father taught her how to shoot a gun when she was a child, saying "she's talking like she's Annie Oakley" in an attempt to connect with gun owners.
Throughout this campaign Clinton has used Sanders' vote to protect gun manufacturers from liability to call him a "reliable vote for the gun lobby" and portray herself as the candidate most determined to reform current gun laws.
"Nothing can make these families whole again after losing their children and families in Sandy Hook, but they deserve a president who will fight for them, and I am committed to doing just that," Clinton said in a statement after the ruling.
While gun control isn't a top issue for most Democrats, it does resonate with minority voters and women, two groups that have been central to her biggest victories in the nomination race. 
In a 2015 Pew Research Center survey, 55 percent of women said gun control should take priority over protecting the rights of gun ownership. Among blacks, 72 percent supported gun control. The general population is roughly split between support for gun control and gun rights, including those ages 18 to 29, the prime target of Sanders' campaign.
Stephanie Mills, a 35-year-old certified nursing assistant from Hartford, said she lives in the inner city and sees the effects of widespread availability of guns every day. "Absolutely that is the reason that I am voting for her, because I feel like she can make a change, a difference, she's not just blowing smoke," she said.
Clinton's message also hits home for Gail Lehmann, a 72-year-old retired business owner from Richfield, Connecticut. Before the killings at Sandy Hook elementary school in Newtown, Lehmann said that she was like many Americans, inured to news reports about mass killings in the country. Now she's involved with several Connecticut groups dedicated to stemming gun violence, including the Newtown Action Alliance.
"Sanders has no credibility in the gun violence prevention movement," she said. "He has tried to change his perception of himself as someone who supports gun reform and those of us in the movement are not buying it. We're sorry, he came too little, too late."
Lehmann was among more than 300 Clinton supporters at a discussion on gun control her campaign held in Hartford last week. Clinton was joined by five gun control advocates including Erica Smegielski, who mother was killed at Sandy Hook. Smegielski also appears in a Clinton ad airing in Connecticut and Rhode Island, in which she says "no one is fighting harder to reform our gun laws than Hillary Clinton."
Paul S. Herrnson, a political science professor at the University of Connecticut, said that while gun control isn't a key issue for most voters, Clinton's focus on Sandy Hook, including the Smegielski ad, is about more than just gun control policy.
"It's an ad about the candidate connecting with the people," he said. "It's an ad of shared values in the broader sense, protecting citizens from harm that may come to them, supporting families with things like health care."
Of the three states voting on Tuesday where there's been regular polling­­—Pennsylvania, Maryland and Connecticut—the race is closest in Connecticut. The Quinnipiac poll showed Clinton leading Sanders there 51 percent to 42 percent.
Paul Feeney, who's running the Sanders campaign operation in the state, said Sanders has been clear about his support for background checks and banning high capacity magazines, but he's doing the right thing by keeping focused on the economy.
"The more Secretary Clinton goes out and talks about that message and tries to kind of divide folks, the more the media takes interest in it," Feeney said. "But you know when we go out and we talk door to door, people want to know if they have a job in the future."
—With assistance from Margaret Talev.
Before it's here, it's on the Bloomberg Terminal.
LEARN MORE