Obama's U.K. Trade-Deal Comment Fair, UniCredit's Nielsen Says
by and
U.S. president says `queue' for Britain may last 10 years

Comment puts pro-Brexit Johnson on `back foot,' economist says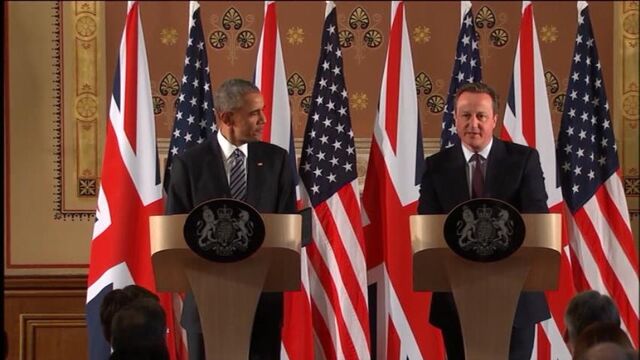 U.S. President Barack Obama's prediction that it may take as long as a decade to agree on a new trade deal with the U.K. if Britons vote to leave the European Union in June is realistic, according to UniCredit SpA Chief Global Economist Erik Nielsen.
"That seems a reasonable (if not even optimistic) estimate when you recall that it took seven years for the EU to get a trade agreement with Canada," London-based Nielsen wrote in an e-mailed note to clients on Sunday. "And no free trade agreement in the world comes close" to the EU's single market for services, "which is crucial to U.K. trade" and its financial-services industry, he said.
The 10-year forecast, and Obama's comment that Britain would be at the "back of the queue" in negotiating with the U.S., is the president's strongest public warning so far to U.K. voters against embracing a so-called Brexit from the EU. The remarks drew rebuke from those in favor of leaving. London Mayor Boris Johnson, the highest profile figure to back quitting the political bloc, said Obama's intervention was "downright hypocritical," and suggested the "part-Kenyan" president might dislike Britain's imperial legacy -- a comment that drew widespread criticism.
The president's intervention, as well as Johnson's accusation of anti-British bias, left the London mayor looking "on the back foot as poorly informed -- and that's to put it politely," Nielsen said.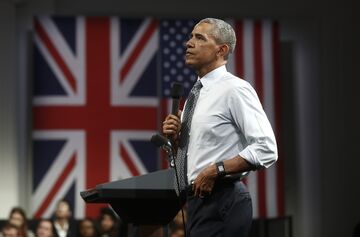 Obama's comments are a rare intervention into another nation's domestic politics. On Friday, the president stood beside Prime Minister David Cameron to admonish the British electorate about the perils of embracing an isolationist stance.
And in an interview broadcast on Saturday, he told the BBC that "the U.K. would not be able to negotiate something with the United States faster than the EU."
If the U.K. was to leave the world's largest single market, EU provisions suggest the period to negotiate a new relationship can take up to two years, but some commentators say that period could be extended if needed. There have been a wide range of forecasts of how long it would take Britain to agree new deals with its trading partners, with those in favor of leaving the EU arguing that it would be much quicker than Obama's indication that it could take up to 10 years.
"The Americans have done a trade deal with Australia, signed, sealed and delivered within 10 months," Nigel Farage, the head of the anti-EU U.K. Independence Party, said in a television interview on Sky News on Sunday. "You would've thought that one of their major trading partners in the world would be quite important to them. This is not about trade, it's purely political."
Cameron invited Obama to visit the U.K., about two months before British voters choose whether to terminate their membership in the EU in a vote set for June 23.
Ipsos Mori polling data show the British public split over whether Obama should express his opinion on the June 23 referendum, with 49 percent saying he should and 46 percent saying he shouldn't. Separately, the bookmaker Ladbrokes Plc on Friday said that 90 percent of all bets taken in the past two days have been for "Remain." The prospects of a "Leave" vote fell to 29 percent from 34 percent, it said. The Bloomberg Brexit Tracker puts the probability of a vote to quit the EU at about 20 percent.
A Pew Research Center poll in June found that 76 percent of Britons have confidence in Obama on matters relating to world affairs, and Ipsos Mori on Friday said 15 percent of Britons say his view on the referendum is important to them in deciding how they'll vote.
There has been a "significant surge" of bets in favor of Britons voting to remain in the EU since Obama made his intervention, bookmakers William Hill Plc said in an e-mailed statement on Sunday. They said their odds now indicate a 78 percent chance of the U.K. staying in the bloc, compared with 69 percent before.
Before it's here, it's on the Bloomberg Terminal.
LEARN MORE