Trump Rejects Racketeering Claims Over Namesake University
by
Presidential candidate says he didn't run school's operations

Student claims he was duped into taking real-estate seminars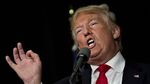 Republican presidential front-runner Donald Trump asked a judge in San Diego to throw out a lawsuit claiming his namesake real-estate education program was a racketeering enterprise, arguing he didn't run the school's operations.
The billionaire real-estate mogul didn't mislead students by promising to teach them his investing secrets as part of Trump University's seminars and relied on subordinates to operate the school, Trump's lawyers said Friday in a court filing. A judge is scheduled on July 8 to consider Trump's request, 10 days before the start of the Republican convention in Cleveland.
A second class-action suit against Trump and the school before the same judge may go to trial while he's campaigning. This week, the so-called class representative in that case was allowed to drop her lead role over Trump's objections. The judge said another student could take her place. Trump University also faces a fraud case brought by New York Attorney General Eric Schneiderman, a Democrat.
The now-defunct university has been criticized by Trump's Republican primary opponents and will likely come under scrutiny during the fall campaign if he wins the GOP nomination. Republican Senator Marco Rubio of Florida accused Trump in March of being a "con artist" who duped people into signing up for his seminars.
'Cardboard Cutout'
"There are people that borrow $36,000 to go to Trump University, and you know what they got? They got to take a picture with a cardboard cutout of Donald Trump," Rubio said on NBC's "Today" show. Rubio dropped out of the race in March after finishing second in his home-state primary in Florida.
Art Cohen, a businessman, filed suit in federal court in San Diego in 2014 seeking class-action status for his claims that Trump violated racketeering laws through his branded university's operations, in which the billionaire held a 93 percent stake. Cohen alleged Trump defrauded him and other students by failing to teach his real-estate investing secrets, design the school's curriculum or search out instructors.
Jason Forge, a lawyer for Cohen, didn't immediately respond to a voicemail message Saturday seeking comment on Trump's filing.
In court filings, Trump has maintained that the vast majority of students gave the school a good rating and said it was a positive experience.
In Friday's filing, Trump's lawyers argued that Cohen has "no credible evidence" that the billionaire exercised meaningful control over the school and can't prove the real-estate developer had a "specific intent to defraud."
The candidate also seeks to have potential witnesses in the case disqualified.
The case is Cohen v. Trump, 13-02519, U.S. District Court, Southern District of California (San Diego).

Before it's here, it's on the Bloomberg Terminal.
LEARN MORE