Campaign Wrap: Pennsylvania Delegate Rules Undercut Payoff
by
Given its population, Pennsylvania would seem to loom as the big prize in Tuesday's round of 5 primaries. But even as Donald Trump has campaigned there this week to solidify his lead in the state's polls, the potential payoff for winning the GOP primary is surprisingly small.
Pa. is the latest example of how primary rules differ by state -- only 17 of Pa.'s Republican convention delegates go to the statewide winner

Meanwhile, 54 delegates selected in the primary will be on the ballot without any indication who they support and they will not be bound to any candidate
Voters choose 3 delegates in each of state's 18 congressional districts on Tuesday
One potential delegate who has been campaigning for months is named Aldridk Gessa. She supports Cruz 

State will test Trump's retooled strategy on paying more attention to the intricacies of delegate selection
Ted Cruz is campaigning in Pa. today
The Democratic primary is more straightforward -- most of the 210 delegates at stake will be allotted to either Hillary Clinton or Bernie Sanders via the ballot results

ON THE TRAIL
Clinton said in Jenkintown, Pa., she will serve as a surrogate for women and respond to Trump for what he's said about females
"I'm gonna respond on behalf of all the people who have been the targets of his hatred and his demagoguery"
Sanders quoted VP Joe Biden's praise of him at a campaign rally in Oaks, Pa. last night, AP reports
Sanders read from New York Times interview with Biden, who said he prefers Sanders' "aspirational approach" to Clinton's "caution"
Cruz told conservative radio host Dana Loesch that if Trump loses Ind., he can't reach the 1,237 threshold to clinch nomination via the primary process
"The people of Indiana really have an opportunity to stand up and speak and for that matter"
Trump, in interview to air on Fox tomorrow, said all that Clinton has "got going is the women card"
"Women don't like her," he added

DELEGATES
RNC Chairman Reince Priebus said at a meeting of party officials in Fla. that getting a plurality of delegates isn't enough to secure the GOP nomination before the July natl convention
"We aren't going to hand the nomination to anyone with a plurality, no matter how close they are to 1,237," he said
Priebus also urged party unity amid a fractious nomination race
Some delegates are facing death threats from Trump supporters, Politico reports

ADS
Cruz campaign tweeted a video highlighting Trump's comments that he's OK with transgender people using "the bathroom that they feel is appropriate"

ENDORSEMENTS
Continental Resources CEO Harold Hamm endorsed Trump, WSJ reports
Hamm donated to Marco Rubio in Jan.; in March said he would back Trump if he ended up being the nominee

INDIANA
Indiana's early voting numbers have doubled since the 2012 cycle, according to CNHI
State holds primary on May 3

POLLS
CA: Trump leads with 41% to Cruz's 23%, John Kasich's 21%, according to Capitol Weekly poll
IN: Trump at the front of GOP pack with 37%; Cruz 31%, Kasich 22%, WTHR poll shows
Democratic race tight, Clinton 48%, Sanders 45%

ETC.
Sanders has run an "amazingly strong" campaign but "from a delegate standpoint, the race is essentially over," former White House adviser David Plouffe said
"Inclination" within campaigns for people "to believe the information they want to believe," despite facts, isn't "healthy" for democracy
Correct the Record, group backing Clinton, is spending $1m on "Barrier Breakers 2016," a task force that aims to combat people who attack Clinton on social media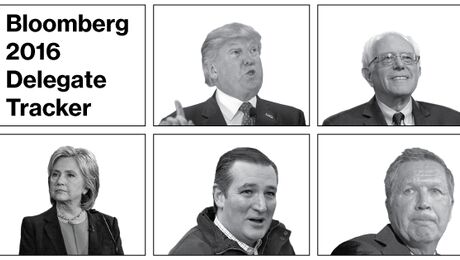 Before it's here, it's on the Bloomberg Terminal.
LEARN MORE