Supreme Court Backs Arizona Voting Map in Republican Setback
by
Commission's state legislative map constitutional, court says

Challengers said independent panel sought to help Democrats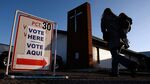 The U.S. Supreme Court upheld Arizona's state legislative districts, rejecting contentions that the map unconstitutionally dilutes the influence of Republican voters.
The justices Wednesday unanimously said the map, drawn by an independent commission, complies with the Constitution's "one person, one vote" principle.
A group of Arizona residents contended that the commission actually had partisan motivations and packed white Republicans into a handful of districts to give Democrats an edge.
The high court said there was ample evidence that the commission wasn't driven by partisan motivations but by an effort to comply with the U.S. Voting Rights Act.
The Arizona districts vary in population by as much as 8.8 percent. Under past Supreme Court rulings, courts generally uphold districts whose variations are less than 10 percent, striking down those maps only when challengers can show impermissible considerations.
Writing for the court, Justice Stephen Breyer said challenges to variations under 10 percent "will succeed only rarely."
Breyer pointed to the "inherent difficulty of measuring and comparing factors that may legitimately account for small deviations from strict mathematical equality."
The decision is the second by the court to address one-person, one-vote issues in its current term. Earlier this month, the justices ruled that map-drawers can continue their longstanding method of creating equal-sized election districts based on total population.
Conservative groups argued unsuccessfully in that case that the measure should be eligible voters, rather than total population. Had that argument succeeded, it would have marked a transformational change, reducing Hispanic voting clout and shifting some seats to more heavily Republican areas.
The case decided Wednesday is Harris v. Arizona Independent Redistricting Commission, 14-232.
Before it's here, it's on the Bloomberg Terminal.
LEARN MORE