Obama's Brexit Intervention Makes Waves in U.K., Ripples in U.S.
by and
The president will urge Britons to stay in the EU on Friday

Businesses oppose Brexit by large margins, trade group says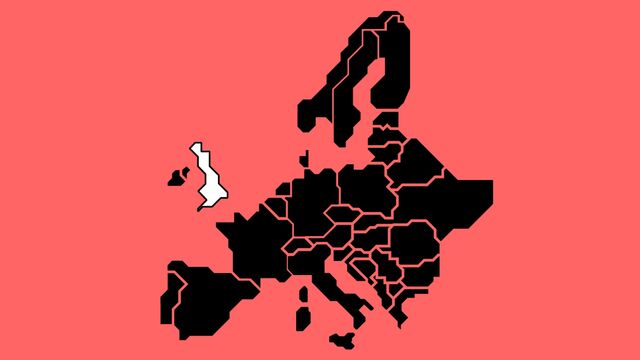 President Barack Obama will urge Britons on Friday to keep their country in the European Union, a rare intervention in the domestic politics of an ally that poses little risk to the president back home while irritating proponents of so-called Brexit in the United Kingdom.
In between lunch with Queen Elizabeth II and dinner with Prince William and the Duchess of Cambridge, Obama is expected to weigh in on Brexit at a news conference with his British counterpart, Prime Minister David Cameron. There's scant evidence that Americans are broadly aware of the debate in the U.K. or care about the outcome, and Brexit fans say they are unimpressed by the U.S. president's intervention.
"I can't think the British people will want to be told what to do by a rather unsuccessful American president who has had one of the least successful foreign policies in modern history," Jacob Rees-Mogg, a Euro-skeptic lawmaker from Cameron's own Conservative party, told the House magazine, which is distributed to members of Parliament.
Cameron has called a June 23 referendum on exiting the EU, a vote that also amounts to a test of public confidence in his leadership. Cameron's government supports remaining in the EU and is hoping that Obama's intervention can sway British voters. Cameron has also got the backing of businesses on both sides of the Atlantic, which oppose Brexit by huge margins, according to a survey by BritishAmerican Business, a trade group.
"These things can be seen as sensitive and sometimes can be seen as intrusive," Jeffries Briginshaw, CEO of the British-American Business Council, said in an interview. "We're hoping that the voice of a wise, helpful friend is the tone that prevails."
The Obama administration says that it's in the economic and security interests of the U.S. to maintain a united Europe. Cognizant of the potential to inflame the debate in Britain, White House officials have telegraphed Obama's position in advance, forecasting an analytical appeal for Britain to remain in the EU based on the economic benefits to both the U.S. and the U.K.
Nonetheless, more than 30,000 Britons signed a petition to Parliament calling on Obama to somehow be banned from speaking about the issue during his visit.
Business Opposition
U.K. voters have received plenty of American advice already. On Wednesday, eight former U.S. Treasury secretaries dating back to the Nixon administration warned in a letter published in the Times newspaper in London that Brexit would be a "risky bet."
BritishAmerican Business, which is part of Briginshaw's group and includes companies like Exxon ­­­­­­Mobil Corp., 3M Co., and Citigroup Inc., previewed a survey of its members' views on Brexit that it will publicly release April 25. The poll found that 95 percent of respondents want the U.K. to stay in the union, though 89 percent said they don't anticipate relocating from the country if voters opt to leave.
Goldman Sachs Group Inc., JPMorgan Chase & Co., Coca-Cola Co. and Ford Motor Co. are among the American companies whose executives have publicly called for the U.K. to remain inside the EU.
Within the U.S., the possibility of a Brexit has caused barely a ripple as "the American public is busy thinking about Hillary and Donald Trump and Bernie Sanders," said Mauro Guillen, who teaches international relations at the Lauder Institute and the Wharton School of the University of Pennsylvania. "Right now it's too far away for the American public to think about something that's going to happen in June that's not even directly related to their lives."
Guillen, who opposes Brexit, thinks the U.S. public will tune in closer to the referendum, which takes place after the last primary elections in the presidential campaign.
Brexit Odds
Obama's three-day stop in London comes as the British electorate is evenly split between the "remain" and "leave" camps, according to public opinion surveys. The Bloomberg Brexit Tracker puts the odds that the "leave" side wins at about 24 percent.
London's mayor, Boris Johnson, who favors Brexit, said on Tuesday that it was a "paradox" for Obama to weigh in.
"I just think it's paradoxical that the United States, which wouldn't dream of allowing the slightest infringement of its own sovereignty, should be lecturing other countries about the need to enmesh themselves ever deeper in a federal super-state," he told the Associated Press.
In the weeks leading up to Obama's visit, Cameron as well as Governor of the Bank of England Mark Carney and other officials have warned that a Brexit would harm the British economy. Chancellor of the Exchequer George Osborne said in a report released April 18 that quitting the 28-nation EU would cost each Briton as much as 2,100 pounds ($3,000) per person.
U.S. presidents have only rarely engaged so directly in a foreign election. President Bill Clinton traveled to Ottawa in 1995 to encourage voters in Quebec not to vote for sovereignty. By a margin of 1 percentage point, provincial voters sided with him. In the days before Scotland's 2014 referendum on independence, Obama expressed the hope that that U.K. would remain "strong, robust and united." Scottish voters agreed with him, opting to stay linked to Cameron's U.K.
Obama is the latest in a series of international leaders enlisted by Cameron in the EU referendum debate. NATO Secretary General Jens Stoltenberg visited the U.K. this month and expressed support for a united Europe -- while emphasizing that British voters have the ultimate say.
'Permanent Invitation'
Obama "has a permanent invitation to come," Sir Kim Darroch, the U.K.'s ambassador to the U.S., told reporters. "He's a deeply respected figure in the U.K."
Wary of appearing as meddling in what, for many, is an emotional vote, Obama is expected to take the same cautious approach as Stoltenberg, emphasizing that the decision is up to Britons.
"Most people see him in broadly benign terms and so long as he keeps it vague, any intervention might be seen in terms of friendly advice from a concerned neighbor," said Steven Fielding, professor of politics at Nottingham University. Obama benefits as well in comparison to his predecessor George W. Bush, who was viewed with something between bafflement and horror by Britons.
While those campaigning for Britain to leave the EU have argued that no one will listen to an interfering American, the energy they've devoted to rebutting Obama suggests they don't really believe it, said Simon Burns, a Conservative member of Parliament who supports staying in the EU.
"If they think no one's going to listen, why are they so upset about it?" he said.
Asked if any other international figure could have a greater impact on the outcome of the Brexit vote, Burns thought for a moment. "Maybe the Pope," he said.
Before it's here, it's on the Bloomberg Terminal.
LEARN MORE