Trump, Clinton Look to New York for Big Home-State Victories
The outcome of Tuesday's primary in the Empire State will set tone of the race in the coming weeks.
by and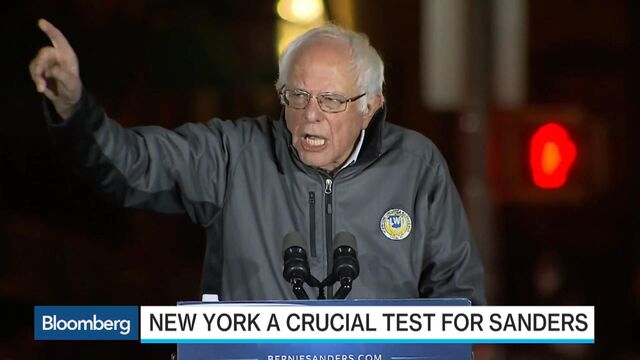 Donald Trump's campaign is poised to have its first good week in a month as the Republican presidential front-runner awaits an expected win in Tuesday's New York primary, a boost that could provide momentum ahead of five key Northeast contests next week.
The billionaire and his fellow New Yorker, Democratic front-runner Hillary Clinton, hope big victories in their home state will help them pivot away from primary losses in late March and early April and other campaign distractions.
More importantly, a strong showing in the state where Trump was born and built his business empire could help him maintain his narrow path to the 1,237 delegates needed to secure the nomination before the party's national convention in July. New York polls began to open at 6 a.m. and close at 9 p.m.
"New York is looking great, but you've gotta vote," Trump told supporters Monday evening during a raucous rally in Buffalo at the First Niagara Center, home of the National Hockey League's Buffalo Sabers.
"You're going to look back in four years, and 12 years and 25 years, and you're going to say, 'That's the greatest single vote I've ever cast.' Because, from that point on, as soon as we beat Hillary Clinton, we are going to start as a country winning again."
The Empire State competition amounts to 27 separate elections, with each congressional district awarding three delegates. A total of 95 delegates are at stake on the Republican side—the fourth most of any state—when those awarded on a statewide basis are included.
Trump's Republican rivals, Senator Ted Cruz of Texas and Ohio Governor John Kasich, have targeted specific districts they think will be more favorable to them, in hopes of blocking Trump from a clean sweep. Cruz has been dogged by opponents on both sides of the aisle for his criticism of Trump's "New York values" in a January debate.
"He does not like New York and he doesn't like New Yorkers," Trump said of Cruz on Fox News on Tuesday.
Besides awarding crucial delegates, the New York outcome will also help set the tone for a series of primaries that will be held during the next two weeks in states where Trump is expected to do well. Pennsylvania, Connecticut, Delaware, Maryland, and Rhode Island hold primaries on April 26 with a total of 172 delegates on the line. 
The biggest prize on April 26, Pennsylvania is also a wild card. With a total of 71 Republican delegates available, the commonwealth will elect 54 through a unique system where names will be listed on the ballot without information on the candidate they'd support. Those delegates also aren't bound to the winner of the primary vote on the first round of convention balloting in Cleveland.
Democratic Race
Like Trump, Clinton enjoys a polling lead in most of the upcoming states. Vermont Senator Bernie Sanders, born in Brooklyn, desperately could use a New York win to further shake the narrative that it's just a matter of time before the front-runner secures the nomination.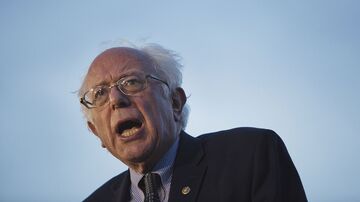 Clinton says her lead in pledged delegates over Sanders is larger than the advantage Barack Obama ever had over her in their 2008 primary fight. Including superdelegates—party leaders and officials who are free to change their support—the former secretary of state leads the delegate race 1,758 to 1,076, according to an Associated Press tally. A good showing in New York could make that math even more favorable. 
Looking to the fall election, the rhetoric on the Republican side is "scary," Clinton said at a Building Trades union conference in Washington on Tuesday.
When Trump and Cruz talk, it sounds like "they're in over their heads," Clinton said, reminding listeners that she represented New York in the U.S. Senate during the Sept. 11 attacks. "Loose cannons tend to misfire. And in a dangerous world, that is not a gamble we can afford, my friends."
While the Democratic front-runner has sought to avoid describing her nomination as a foregone conclusion, spokesman Brian Fallon put it in more pointed terms on Tuesday, saying on CNN that if his boss wins New York, the question will be whether she has "to endure in the closing weeks of this primary friendly fire from a fellow Democrat in the form of Bernie Sanders. He should not want to wrap up this nomination fight in that way."
If Clinton were to lose the primary in New York, her adopted home state where she was elected twice as U.S. senator, there would be serious questions about her strength in the party and it would be a significant boost for Sanders, said Robert Shapiro, a political science professor at Columbia University.
A Clinton victory, especially by double digits as many polls show, would tamp down momentum Sanders built by winning seven of the last eight primaries and caucuses. "It's important for her to win a majority of the elected delegates," Shapiro said.
Polls released last week by Siena College and Monmouth University show Clinton is beating Sanders in New York City and its suburbs, while he does slightly better upstate. Much of that can be explained by Clinton doing well in areas with more minority voters and Sanders in regions with more whites who are facing economic challenges, said Patrick Murray, director of the Monmouth University Polling Institute.
More than half of the state's active registered Democrats live in New York City, compared with 16 percent for Republicans, according to data from the New York State Board of Elections.
On a stroll through midtown Manhattan on Tuesday, Sanders was approached by a young man who said he supported Sanders but missed the October deadline to change his registration from independent to Democrat. Sanders said New York's primary voting laws are "unfortunate" and he hopes they will be changed.
"Today, 3 million people in the state of New York who are independents have lost their right to vote in the Democratic or Republican primary. That's wrong," Sanders said. "They're paying for this election. It's being administered by the state. They have a right to vote."
Trump Goes for Shutout
In the Republican race, the statewide voter percentage in New York will determine how 14 additional delegates are awarded. If Trump's rivals can hold him short of 50 percent, they'll get some of those. The latest RealClearPolitics average of recent polls has Trump at 53.1 percent, with Kasich at 22.8 percent and Cruz with 18.1 percent.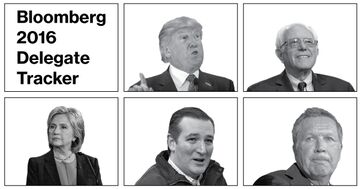 Candidates who get more than 50 percent of the vote in a congressional district will get all three of its delegates. If no candidate gets above 50 percent, then the top finisher gets two delegates and the second-place finisher gets one, so long as both win at least 20 percent of the vote.
Kasich held more than one campaign event in the 3rd Congressional District and both the 20th and 24th. Those last two include Schenectady and Syracuse, where he held town hall events on Monday.
Some of the governor's stops were in congressional districts with relatively few Republican voters. That included the 15th District that's part of the Bronx, which has only 13,270 active enrolled Republicans, according to state elections data.
Kasich can't secure the needed delegates before the convention to win the nomination, but hopes to accumulate enough to make a credible case as the most electable candidate who can unite the party. 
The next best opportunity for anti-Trump forces could be the May 3 primary in Indiana, a state with demographic similarities to Wisconsin and Ohio, where the billionaire was defeated. Fifty-seven delegates will be awarded in Indiana on a winner-take-most basis, and the state also has a strong social conservative streak that could benefit Cruz, who has shown little ability to win over more secular Republican voters in the Northeast.
A dominant win for Trump in New York could help put behind him, at least for now, some of the gaffes and distractions his campaign has suffered in recent weeks. He's recently moved to hire more campaign professionals and has shown the potential for being more disciplined as a candidate.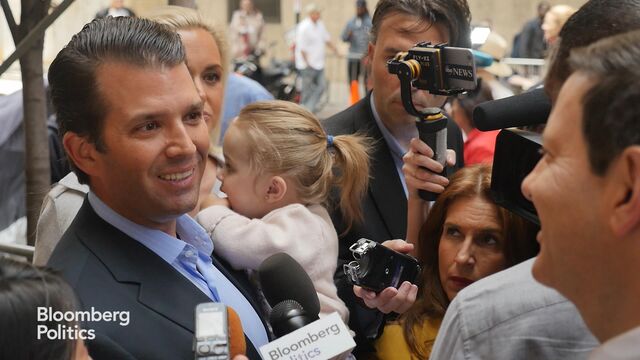 Donald Trump Jr., asked outside a New York polling place on Tuesday whether firebrand campaign manager Corey Lewandowski or delegate guru Paul Manafort was running Trump's campaign, said, "My father."
As Tuesday's results come in, Clinton plans to hold what she expects to be a victory party at a Sheraton hotel near Times Square, while Sanders is moving on to Pennsylvania on Tuesday. The Republican front-runner plans to speak after the polls close from his Trump Tower in Midtown, while Cruz and Kasich will already have begun campaigning in Maryland and Pennsylvania.
—With assistance from Jennifer Epstein, Arit John, Terrence Dopp, Ben Brody, and Angela Greiling Keane.
Before it's here, it's on the Bloomberg Terminal.
LEARN MORE