U.S. Troops Get Closer to Iraqi Front Lines After Obama Move
by and
Adding 217 troops brings force to 4,087, Pentagon says

It doesn't change `basic elements' of strategy, Earnest says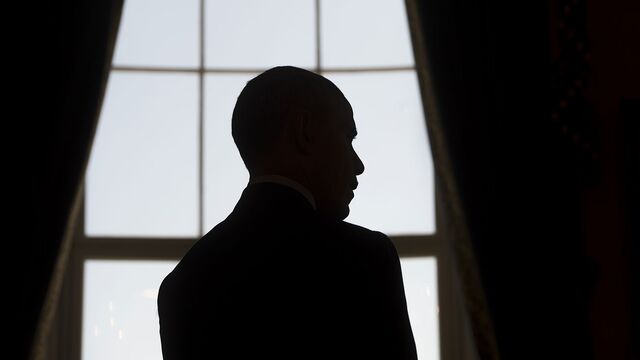 President Barack Obama's approval of Pentagon efforts to intensify the U.S. effort in Iraq may matter less for the small contingent of troops being added than for the decision to allow them closer to the front lines of the war against Islamic State.
Obama has agreed to send 217 more U.S. troops, bringing the authorized total to 4,087, and to let them "embed at the battalion level," a step closer to the fighting than previously, Captain Jeff Davis, a Defense Department spokesman, told reporters at the Pentagon on Monday.
In addition to advising Iraqi forces, the Americans will provide "force protection, fire support and aviation support," Davis said. That includes U.S.-operated Apache helicopters for the coming battle to retake Mosul, an Islamic State stronghold, Defense Secretary Ash Carter told troops during a visit to Baghdad.
"My expectation is that by the end of the year, we will have created the conditions whereby Mosul will eventually fall," Obama said in an interview with Charlie Rose that aired Monday on the "CBS Evening News."
At the White House, the challenge was to describe the moves as a significant step but not one that undermines Obama's pledge that he won't embroil U.S. ground forces in sustained combat in Iraq.
'Local Forces'
"This has to be a fight that is led by local forces," White House press secretary Josh Earnest told reporters. The moves "were announced after Secretary Carter had an opportunity to confer with Iraqi government officials" on backing their efforts, he said.
"What was announced today were ideas for intensifying that support in a rather tangible way, but it does not change the basic elements of the strategy," Earnest said.
The decision was called inadequate by Senator John McCain, chairman of the Senate Armed Services Committee and Obama's opponent in the 2008 election. McCain, an Arizona Republican, has long pressed Obama to send more U.S. troops and authorize them to play a more direct role in fighting the terrorist group.
"While the deployment of an additional 217 U.S. troops to fight ISIL is welcome, this is yet another example of the kind of grudging incrementalism that rarely wins wars but could certainly lose one," McCain said in an e-mailed statement, using an acronym for Islamic State.
Attack Helicopters
The AH-64 Apache helicopters expected to take part in a battle for Mosul were built by Boeing Co. They can attack multiple Islamic State targets at night with Hellfire missiles while hovering behind cover from miles away.
The U.S. also will continue to use its High Mobility Rocket Artillery System, Davis said. The long-range launch system is made by Lockheed Martin Corp.
Asked in Iraq if putting U.S. troops closer to combat will add to the risk of casualties, Carter told reporters "we have troops at risk here in Iraq right now every day." But he said the forces would receive adequate protection.
The Defense Department has acknowledged that the previous limit of 3,870 U.S. military trainers and advisers was often exceeded because units rotating in and out of the country frequently overlapped and the total doesn't include some troops, such as those that guard the U.S. embassy in Baghdad.
"As we see the Iraqis willing to fight and gaining ground, we must make sure that we are providing them more support, " Obama said in the CBS interview. "We're not doing the fighting ourselves, but when we provide training, when we provide special forces who are backing them up, when we are gaining intelligence, working with the coalitions that we have -- what we've seen is that we can continually tighten the noose."
Before it's here, it's on the Bloomberg Terminal.
LEARN MORE