Wish List
Despite Polls, Republicans See Sanders as an Easier Opponent
Hillary Clinton would be a more difficult opponent in the general election, some in the GOP believe.
by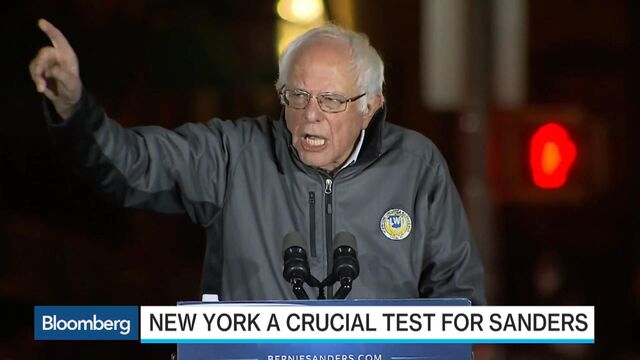 As Bernie Sanders makes his case that he is a stronger general election candidate than Hillary Clinton, he often cites polls showing him outperforming his Democratic rival in hypothetical general-election match-ups with Republicans. 
"You know, in virtually all of the general election match-up polls between Trump and Secretary Clinton and Trump and Bernie Sanders, in almost all of those polls, I do better than Secretary Clinton," Sanders said Thursday night during the Brooklyn debate, attributing his strength to independents. "We are not going to win the White House based on just long-term Democratic votes. We have got to reach out to independents and I think I am well qualified to do that."
In surveys released last week by Fox News and CBS News, Clinton leads Republican front-runner Donald Trump by 7 and 10 points, respectively; she's statistically tied with Ted Cruz; and she trails John Kasich by 9 and 6 points. The same surveys show Sanders leading Trump by larger margins of 14 and 17 points; leading Cruz by 12 points in both surveys; and besting Kasich by 4 and 5 points, respectively.
And yet, prominent Republican operatives are chomping at the bit to face Sanders, a U.S. senator from Vermont and self-described democratic socialist, in the general election, believing he'd be an easier opponent than the former first lady, U.S. senator and secretary of state.
"Republicans are being nice to Bernie Sanders because we like the thought of running against a socialist. But if he were to win the nomination the knives would come out for Bernie pretty quick," said Ryan Williams, a former spokesman for 2012 GOP nominee Mitt Romney's campaign. "There's no mystery what the attack on him would be. Bernie Sanders is literally a card carrying socialist who honeymooned in the Soviet Union. There'd be hundreds of millions of dollars in Republican ads showing hammers and sickles and Soviet Union flags in front of Bernie Sanders."
"Hillary Clinton is a much more centrist candidate in comparison," Williams said, and she would have a better chance of winning over moderate and undecided voters, despite numerous polls showing that many Americans, even in the Democratic Party, don't view her as honest and trustworthy. "Bernie's numbers are better than hers right now because she's been in the political arena for 30 years getting beat up," he said.
'Out of the Mainstream'
Doug Heye, a former spokesman for the Republican National Committee, said Clinton would be a tougher opponent due to her foreign policy fluency, "her toughness as a candidate," and the "Clinton attack machine" around her—groups like Correct the Record and Americans United for Change that are active on her behalf. He added that there's less room for the GOP to define Clinton than Sanders as "out of the mainstream."
"Her negatives are set in. There's no American out there who doesn't have a definite opinion on Hillary Clinton," Heye said. "That's just not the case with Bernie. The fact that some of his success has been looked on with bemusement, I think, speaks to that."
Believing that Sanders may be too far outside the mainstream to win the Democratic primary, the Republican National Committee is doling out reams of opposition research on Clinton, and virtually none on Sanders. (By contrast, the Democratic National Committee has continued to launch attacks on Kasich, even though he has no mathematical chance of winning the GOP nomination before the convention.) Still, the RNC's actions don't reflect its chairman's rhetoric about who it would rather face.
"I would rather run against Hillary Clinton," Reince Priebus said Friday on CNN. "I think anybody who's analyzed this knows that Hillary Clinton is in the ditch. We don't know how far into the ditch she is going to go, but she's not doing well."
'Win Every State'
Outside Republican groups have also focused their fire on Clinton. The Karl Rove-founded American Crossroads on Thursday launched a 30-second spot comparing Clinton to Richard Nixon, a move that could potentially help Sanders ahead of the contentious New York primary on Tuesday. In January, a Republican super-PAC ran a TV ad in Iowa that sought to boost Sanders with Democratic voters by touting his plans to offer "completely free" college education and to raise taxes on the "super-rich"—ideas that are popular on the left.
At a debate in January, Kasich joked that "we're going to win every state if Bernie Sanders is the nominee." The same month, RNC chief strategist Sean Spicer tweeted Sanders-friendly commentary during a Democratic debate and quipped that he was trying to "help" the underdog.
"Most Americans have only a vague image of Bernie Sanders," Jack Pitney, a political science professor at Claremont McKenna College, said in an e-mail. "They see him as a truth-telling outsider, which they find appealing. It's very likely that many voters do not know that he is a self-described socialist. Although the socialist label isn't nearly as toxic as it used to be, it is still a big negative. In a 2015 Gallup survey, 50 percent of Americans said that they would not vote for a socialist."
Williams argued that "for decades, Republicans have tried to paint Democrats as socialists and he literally is a socialist." He said Sanders, who has been powered by small-dollar donations, would have a tougher time raising the money expected of a general election candidate—in 2012, the campaigns of President Barack Obama and Romney, along with allied groups, raised more than $1 billion.
If general elections are about mobilizing one's base and winning over undecided voters, Williams argued that Sanders is less likely to win over the latter. "To borrow a phrase from President Obama," he said, Clinton is "probably likable enough where she won't lose her base in a general election."
Sanders' path to victory is narrow but plausible. He trails Clinton by 244 pledged delegates (and 682 when including the votes of party elites known as superdelegates), according to an Associated Press count. Surveys indicate Clinton leads in upcoming delegate-rich primaries in New York, Pennsylvania, and California.
Tad Devine, the chief strategist for Sanders' campaign, said the Republicans who view the Vermont senator as easier prey are mistaken.
"They are wrong, as is demonstrated by almost every single poll," Devine said in an interview in New York. "The Republicans are having a hard time understanding that America is ready for a political revolution. I think it's so far from the way they think about the world that they're having a hard time grasping it. Which is great for us—the more lead time we have to sneak up on them, the better."
Before it's here, it's on the Bloomberg Terminal.
LEARN MORE