Campaign Wrap: Trump, Clinton Look for Catapult From New York
by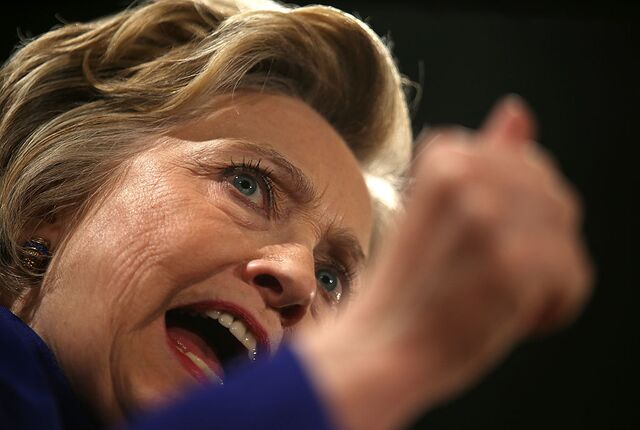 Hillary Clinton and Donald Trump both need strong wins in tomorrow's N.Y. primary to maintain their clear front-runner status in the presidential nomination races.
Clinton needs to stem a recent string of primary and caucus wins by rival Bernie Sanders and seize some momentum heading into 5 key East Coast primaries on April 26
Clinton will still have a sizable delegate lead over Sanders if she is upset in N.Y., but losing the state she represented in the Senate would be another setback

Even a narrow win could cause some of the superdelegates to the Democratic Natl Convention to seriously question her viability
A Sanders win in N.Y. also would help him achieve his uphill goal of ending up with more pledged convention delegates than Clinton and fuel his argument that superdelegates need to embrace his candidacy

The stakes for Trump are more concrete, as he needs a big haul of delegates in N.Y. to restore a credible path for him to lock up the GOP nomination before the party's convention convenes in July

A sweeping N.Y. win also could set the stage for convincing victories on April 26 in the nearby states of Conn. Del., Md., Pa., and R.I..

Trump needs to stall rival Ted Cruz, who over the wknd amassed all 14 GOP delegates at stake in Wyo. and won 32 of 42 available delegate slots in Ga.
Bloomberg's Andre Tartar and Ben Brody map out 6 credible predictions for how the N.Y. primary will turn out -- almost all of them favor Trump and Clinton victories
Check out Greg Giroux's N.Y. primary cheat sheet

ON THE TRAIL
Sanders told CBS he supports a bill that would allow the Saudi govt to be sued for any role in 9/11 attacks
President Obama's concerns about the bill are "valid," he said
Sanders also called for Obama to declassify parts of the 9/11 commission report that some believe could implicate foreign govts in financing the terrorists
Clinton backs the 9/11-related legislation and said Obama should take a "hard look" at the declassification issue
Clinton, commenting on N.Y. radio station Power 105.1, gave Trump "donkey of the decade" award
Later, she visited a car wash in Queens with workers who had recently unionized; she cited them as an example of "how real change happens. You work every day" for it
Trump's son Eric said on Fox that the GOP has a "perception problem" stemming from its delegate rules
It "really upsets people" that a candidate can win primary state and not be awarded the most delegates, he said
Cruz again had to defend his criticism of "New York values," telling ABC that he meant that Trump's views on partial birth abortion echoed "left-wing, Democratic policies"
John Kasich will campaign in R.I. on Sat., becoming the 1st presidential candidate this season to hold an event there, AP reports

GOP CONVENTION
Trump is aiming to put some "showbiz" into the Cleveland convention, Washington Post reports
He suggested he should have some control over programming
2012 convention in Tampa was "the single most boring convention I've ever seen," Trump said

ENDORSEMENTS
Sanders' lone Senate backer Jeff Merkley said on MSNBC that he doubts members of Congress who support Clinton would change their allegiance
Democratic convention superdelegates, who are usually party officials, "may be much more likely to switch sides" because "they don't have a public stance they've taken in quite the same way," he said
Ahead of tomorrow's primary, 7 N.Y. papers have endorsed Kasich: The Schenectady Daily Gazette, Albany Times Union, Saratoga-based Post-Star, Syracuse Post-Standard, Queens Tribune, N.Y. Daily News and the N.Y. Times

ADS
Priorities USA, the super-PAC backing Clinton, is reserving $35m in online video advertising in swing states starting this summer, Washington Post reports
Ads will air in Colo., Fla., Iowa, Nev., N.H., Ohio and Va. and target millennials, Hispanics, African Americans and women who use online streaming services
Spending is in addition to $90m existing TV ad buy in states

CAMPAIGN FINANCE
 Sanders' campaign alleged that the joint fundraising deal between the Clinton campaign and the DNC constitutes "serious apparent violations" of campaign finance laws
Sanders attorney Brad Deutsch sent letter to DNC Chair Debbie Wasserman Schultz questioning whether Clinton violated legal limits on donations by paying staffers with funds from joint DNC-Clinton committee

POLLS
NY: Trump leading GOP field with 55%; Kasich gets 21%; Cruz 18%, Emerson poll finds
Clinton has 55%, Sanders 40%
NY: Gravis Marketing/One America News Network poll puts Trump at 57%, with Kasich at 22%, Cruz 20%
Clinton has 53% support, Sanders 47%
NATIONAL: Clinton's lead over Sanders has shrunk to 2 ppts over last month from 9 ppts; she leads him 50%-48%, according to NBC/WSJ poll

ETC.
 Trump and his campaign manager Corey Lewandowski are being sued by a GOP political strategist for allegedly inciting a "virtual mob" to bully her after she questioned Trump's readiness for office
Suit by Cheryl Jacobus, who claims Trump had tried to recruit her, was filed Monday in state court in Manhattan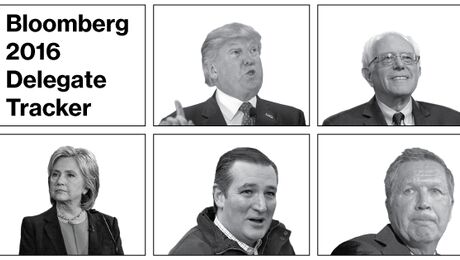 Before it's here, it's on the Bloomberg Terminal.
LEARN MORE