Trump Is Running 'Banana Republic' Campaign, Cruz Loyalist Says
by
Senator's ground game versus billionaire's popular uprising

Candidate says courting delegates part of `rigged' system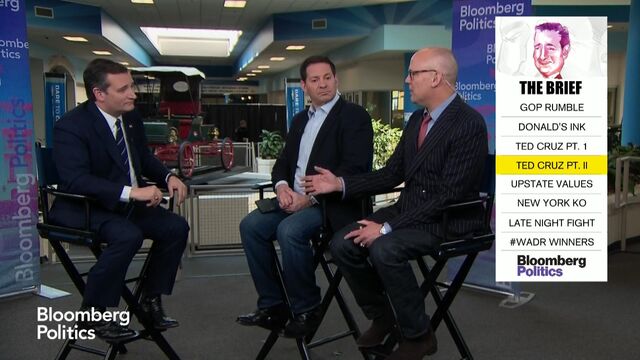 Donald Trump's presidential campaign has adopted "banana republic" tactics because it's getting "stomped" in the Republican ground game in states like Wyoming and Colorado, said the head of Ted Cruz's delegate-hunting team.
"When we win, Trump whines," Ken Cuccinelli, the former Virginia attorney general, said on ABC's "This Week" on Sunday. "We're playing within the rules established years ago."
The war of words continues between the Trump and Cruz campaigns as each prepares his strategy for a contested Republican convention if neither candidate assembles the 1,237 delegates needed to automatically clinch the party's nomination to compete in the November general election.
Cuccinelli, delegate operations manager for Cruz, responded to a suggestion last week by Paul Manafort, his counterpart on the Trump campaign, that the Texas senator was using "Gestapo" tactics to round up delegates.
"How about calling for riots in the street? How about threats: We're going to go to the hotel rooms of delegates; death threats to the Colorado Republican chairman?" Cuccinelli said. "This is a banana republic approach by the Trump team because they're getting beaten on the ground."
QuickTake How the U.S. Elects Its Presidents
Inappropriate Threats
Reince Priebus, chairman of the Republican National Committee, also responded to suggestions from Trump ally Roger Stone that the campaign will make public the room numbers of any delegate who has pledged to Trump on the first ballot at the convention but later switches. "It's not helpful and I don't find it to be an appropriate threat," Priebus said today on CBS's "Face the Nation."
Cruz won all 14 Republican delegates in Wyoming on Saturday, a week after sweeping Colorado's 34 delegates with a strong grassroots organizational effort. The wins have narrowed Trump's lead in delegates to 744 against Cruz's 559, according to an Associated Press count.
Manafort said the Trump campaign is "confident" of reaching 1,237 delegates before the convention in Cleveland in July, which would make the former reality-TV star the presumptive nominee and end speculation about what might happen on a second or third ballot to pick the winner.
"If there's no second ballot, it's much ado about nothing," Manafort said.
'Rigged' Process
Campaigning in Staten Island on Sunday, Trump told reporters that the system of courting delegates at the convention was a "rigged" process of "basically buying people."
"Nobody has better toys than I do. I can put them on the best planes and bring them to the best resorts anywhere in the world," Trump said. "You're basically saying, 'Delegate, listen, we're going to send you to Mar-a-Lago on a Boeing 757, you're going to use the spa, you're going to do this, you're going to do that, we want your vote.' That's a corrupt system."
Cruz "wins the reddest of red states with voterless primaries," Trump aide Manafort said of the outcomes in Colorado and Wyoming. "Trump wins in states where we have to win to win the presidency."
New York Primary
Trump's home state of New York holds its primary on Tuesday, offering the second-biggest delegate haul of the Republican race so far. Recent opinion polls suggest Trump, with support of 50 percent to 57 percent, may pick up most or all of the state's 95 delegates.
Of the total, 81 are allocated according to voting in each of New York's 27 congressional districts. A candidate with 50 percent of the vote in a single district earns three delegates. The remaining at-large delegates are tied to a "winner takes most" formula, in which a candidate with more than 50 percent of the state's total vote gets all 14.
"Donald Trump will add an additional 200 delegates to his total" by the end of April, Trump campaign manager Corey Lewandowski said on "Fox News Sunday." After New York will come five northeast primaries on April 26: Connecticut, Delaware, Maryland, Pennsylvania and Rhode Island, with a total of 172 delegates on offer.
Red Zone
Trump has about 43 percent support in Pennsylvania, with Cruz and Ohio Governor John Kasich slipping the rest of the votes, according to RealClearPolitics. A similar outcome is predicted for Maryland.
Trump well may come into the convention ahead on delegates but short of the magic number needed to clinch, said Cuccinelli. "Football teams don't get to get in the red zone and then demand a touchdown and then cry about it when you don't give them one. But that's what we're dealing with with the Trump campaign."
The idea has been floated for a fresh candidate to be considered -- outside of Trump, Cruz and Kasich -- if no one clinches the nomination before Cleveland. Republican voters overwhelmingly reject the idea of delegates choosing a nominee who hasn't run in the 2016 primaries, a Wall Street Journal/NBC poll showed.
Before it's here, it's on the Bloomberg Terminal.
LEARN MORE