Sanders in Vatican Praises Popes—But Francis Sends Apologies
by and
U.S. presidential candidate fails to get meeting with pontiff

Sanders quotes popes, targets `financial criminality'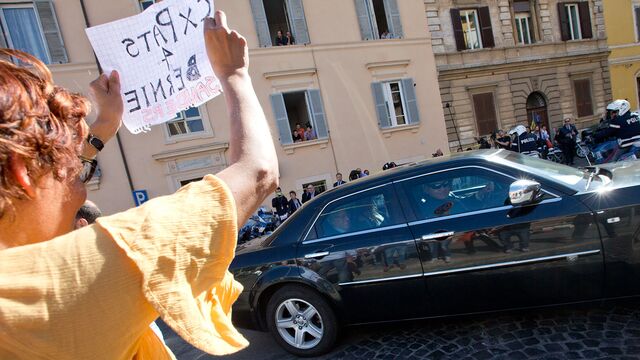 U.S. Democratic presidential candidate Bernie Sanders, speaking on an ultra-brief visit to the Vatican, quoted several popes at length and praised the Catholic Church's moral teachings on the market economy. But he failed to have his much-desired meeting with Pope Francis.
Sanders, attending an international conference on Friday, targeted "financial criminality" on Wall Street and quoted Francis's denunciation of the "worship of the golden calf."
"There are few places in modern thought that rival the depth and insight of the Church's moral teachings on the market economy," Sanders said.
With just days until New York's Democratic primary, Sanders left the state Thursday night to spend less than 24 hours in Rome for the speech.
He's making the side trip at an unusual time for a candidate trying to pull off a political upset. While Hillary Clinton is set to depart the state on Saturday to raise money in California, she also has a substantial lead, both in delegates and in polling ahead of Tuesday's vote. A Wall Street Journal/NBC News poll released Thursday showed Clinton with a 17 percentage point lead over Sanders.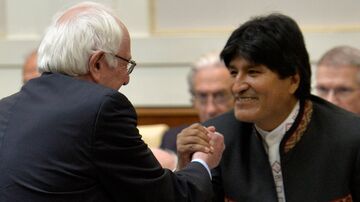 Clinton Debate
Sanders left for the airport directly from his debate with Clinton in Brooklyn. He arrived in Rome Friday afternoon and will return to campaigning in New York by Saturday afternoon.
The Vermont senator traveled across the Atlantic for a speech entitled "The Urgency of a Moral Economy" to the Pontifical Academy of Social Sciences. The trip brought the candidate to the heart of the Roman Catholic Church, led by a pope whose views are especially admired by the political progressives who play an outsized role in Democratic primaries.
Quoting several popes in his speech, Sanders said John Paul II's warnings about "the excesses of untrammeled finance" were deeply prescient. "Financial excesses, indeed widespread financial criminality on Wall Street, played a direct role in causing the world's worst financial crisis since the Great Depression," Sanders said.
'New Idols'
Sanders repeated Pope Francis's words: "We have created new idols. The worship of the golden calf of old has found a new and heartless image in the cult of money and the dictatorship of an economy which is faceless and lacking any truly humane goal."
Ahead of his visit, Sanders said repeatedly that he hoped to meet Francis. But the Vatican is always wary of being seen as intervening in a political election campaign. In a letter which was read out at the conference just before Sanders spoke, the Pope said he had planned to come to greet participants when Friday's session ended.
"Yesterday I realized that today was going to be very complicated because of my trip to Lesbos," Francis wrote in a reference to his trip due on Saturday to meet migrants on the Greek island. "Today I confirm this situation and would like to apologize for not being able to attend."
The Pope added that he would keep all those at the conference -- thus including Sanders -- "in my prayers and good wishes, and send them my heartfelt thanks for their participation." He also blessed them "fraternally."
Sanders told his audience that wealth and income inequality was "the great economic issue of our time, the great political issue of our time, and the great moral issue of our time."
Sanders pointed to Francis as a sign that "a truly moral economy" was not beyond our reach, saying: "Pope Francis himself is surely the world's greatest demonstration against such a surrender to despair and cynicism. He has opened the eyes of the world once again to the claims of mercy, justice and the possibilities of a better world."
Again quoting Francis -- this time a letter to bishops which the pope wrote on climate change and other issues last year -- Sanders said the world had the technology, and know-how to solve its problems.
Sanders continued: "We also have the vast wealth to do so, especially if the rich pay their fair share of taxes rather than hiding their funds in the world's tax and secrecy havens -- as the Panama Papers have shown." Sanders added: "Our challenge is mostly a moral one, to redirect our efforts and vision to the common good."
In an interview with Italian newspaper La Repubblica on Friday, Sanders was asked what he had in common with Francis. "Look, I believe that the reason for which I was invited to participate in this conference is that many of the issues which the Pope tackles are similar to mine," Sanders replied.
Asked whether he had the support of the Vatican for his presidential bid, Sanders said: "No, it's not like that. The Vatican is not involved in this. And the scheduled conference is not a political event." The conference is hosted by the Pontifical Academy of Social Sciences, a Vatican body which advises the Pope on economic and social issues.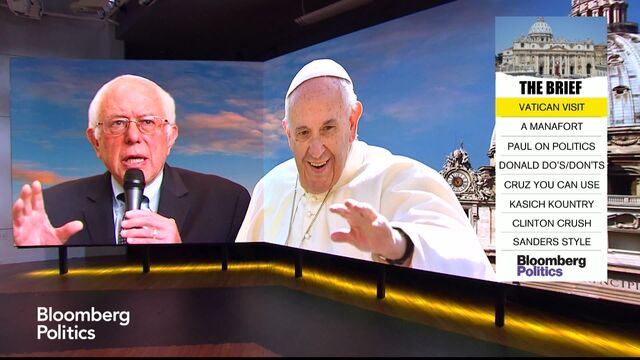 Before it's here, it's on the Bloomberg Terminal.
LEARN MORE