Clinton, Sanders Clash Over Judgment, Records in New York Debate
From the first question, Sanders and Clinton both made clear they were primed for an adversarial two hours.
by and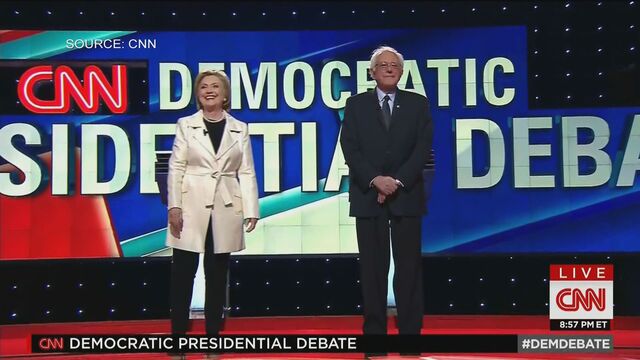 Bernie Sanders and Hillary Clinton quickly went on the attack as they faced off for a debate in Brooklyn on Thursday night, questioning each other's judgment and record as they revived the rancorous and often personal squabbling that has marked the campaign leading up to next week's New York Democratic primary.
From the first question, Sanders and Clinton made clear they were primed for an adversarial two hours and both were far more aggressive than in their last encounter five weeks ago in Miami. They tussled over an array of topics that spanned regulating the financial industry, bolstering Social Security, addressing climate change. and U.S. policy in the Middle East.
Neither presidential candidate staked out any new ground on the issues that they've been debating for months. When provided an opportunity to give a fresh rebuttal or explain a past statement, they mostly fell back on established replies.
Sanders returned to a theme he's been hammering on in New York. While saying he believed Clinton is qualified to be president, Sanders said her votes in favor of the Iraq war and some trade deals and her willingness to accept the support of super-political action committees that have raised millions of dollars from Wall Street and other corporate interests raise call into question her judgment.
"I don't believe that is the kind of judgment we need to be the kind of president we need," the Vermont senator said.
'A First'
Clinton shot back that Sanders hasn't been able to fully answer questions about how he'd carry out his proposals on the economy and foreign policy. She also said Sanders' efforts to suggest that the campaign contributions and speech fees she's received from the financial sector have affected her policy positions are "not just an attack on me, it's an attack on President Obama," who raised more from Wall Street during his two White House campaigns than Clinton. 
Clinton, who served as a U.S. senator from New York for eight years and as secretary of state during the first four years of the Obama administration, also chided him for calling her unqualified.
"I've been called a lot of things in my life. That was a first," she said.
The debate at the Brooklyn Navy Yard was the first face-to-face meeting since the campaign moved into the state for what will be a pivotal primary on April  19.
Sanders returned to criticizing Clinton over her paid speeches to banking groups and her support from special interests and big donors. Asked to come up with an example of Clinton being influenced by the financial industry, Sanders gave her an opening to defend herself when he couldn't point to a specific instance.
"He cannot come up with an example because there is no example," Clinton said. "It may be inconvenient, but it's always important to get the facts straight."
Clinton repeated earlier statements when asked if she would release transcripts of her paid speeches to banks: only if everyone else, including Republican candidates, agreed to do so. She also countered that releasing transcripts of paid speeches is not a standard practice for presidential hopefuls, but that releasing tax returns is, and that neither Sanders nor her most likely general-election opponent, Donald Trump, have done so. Sanders said his campaign planned to release one recent tax return on Friday and countered that he's given no speeches to release. 
The two also clashed over how much to raise the federal minimum wage, gun control, and criminal justice. Clinton, who has accused Sanders of standing in the way of gun control legislation while serving as the senator from Vermont, said he rails against Wall Street, but "what about the greed and recklessness of gun manufacturers?"
Sanders defended his record, saying he got poor marks from the National Rifle Association, and his vote against a measure that would make firearms manufacturers and dealers liable for gun crimes.
Environment Clash
On the environment, Sanders and Clinton had an extended exchange on fracking, a national issue that has particular resonance in New York. New York has banned hydraulic fracturing for extraction of natural gas. Sanders supports a nationwide ban on the process and said Clinton, who backs a ban only on a local basis, helped expand fracking around the world while secretary of state.
Clinton said there are strategic and environmental considerations in encouraging the development of fracking to get countries to move away from coal and from suppliers like Russia that might use energy as a weapon. As she did on several other issues, she framed her stance as an extension of the policies of the Obama administration.
New York, with 247 Democratic delegates, has become a crucial proving ground for the two Democrats. Sanders has been arguing that he has momentum after a string of wins in predominantly white states that hold primaries and caucuses open to independent voters. But in New York, with a Democrats-only primary, he's hitting resistance. Clinton held a lead over Sanders in New York ranging from 10 percentage points to 18 points in polls taken since the beginning of the month. 
She is is seeking a decisive win next Tuesday, by 10 points or more, that would shift public perceptions of the race as the campaign moves into its final phase.
From her opening statement, Clinton highlighted her experience and her ties to New York and her service as its senator.
"We faced some difficult challenges together," Clinton said, citing New York City's recovery from the Sept. 11 attacks. "We worked hard to keep New York values at the center of who we are."
Delegate Lead
Clinton already has a commanding lead in delegates needed to claim the Democratic presidential nomination, with 1,758 of the 2,383 required to be the nominee, according to an Associated Press tally. That includes superdelegates, who aren't bound by caucus or primary results. Sanders has 1,069 delegates and anything short of a surprise blowout victory over Clinton in New York won't help him begin to close the delegate gap.

Just a week after New York votes, five other states in the northeast hold primaries. Pennsylvania is the largest prize with 210 delegates and is a closed primary, as are the votes in Connecticut, Delaware and Maryland. Only Rhode Island, with 33 proportionally awarded delegates, holds a Democratic primary in which independents can vote.
Clinton has been attempting to turn attention to the general election and has been laying rhetorical groundwork for a likely campaign against Trump. But Sanders has made clear he plans to stay in the race through the Democratic National Convention in July and has sharpened his approach toward Clinton as he tries to gain ground.
Sanders said he intends to win the nomination and has the ability to do so with an enthusiastic base of supporters. Questioned on why he hasn't raised money for the Democratic National Committee and party members running for the House and Senate, Sanders he was drawing young people to the party and that is more important in the long term.
"The future of the Democratic party is not simply by raising money from wealthy campaign contributors," he said.
Clinton, noting that she's collected more votes than anyone in either the Democratic or Republican race, made a pitch for bringing the  party together for the November election.
"I applaud all of those who are applauding you, Senator Sanders," Clinton said.  "But, let me also say it's going to be important that we unify the Democratic Party when the nomination process has been completed."
In an unusual move just days before the primary, Sanders is set to leave New York immediately after the debate to attend a Vatican-sponsored conference on economic and social issues in Rome.
Sanders will travel back and forth across the Atlantic for what is on paper at least a 10-minute speech entitled "The Urgency of a Moral Economy." The visit is about far more than that, as it brings the candidate to the heart of the Roman Catholic Church, led by a pope whose views are especially admired by the political progressives who play an outsized role in Democratic primaries.
—With assistance from John Follain, Margaret Talev, and Sahil Kapur.
Before it's here, it's on the Bloomberg Terminal.
LEARN MORE