U.S. Has Upper Hand in Fight Against Islamic State, Obama Says
by and
President declares 'momentum' in conflict after CIA meeting

Fighters from the group are appearing in Libya, Obama says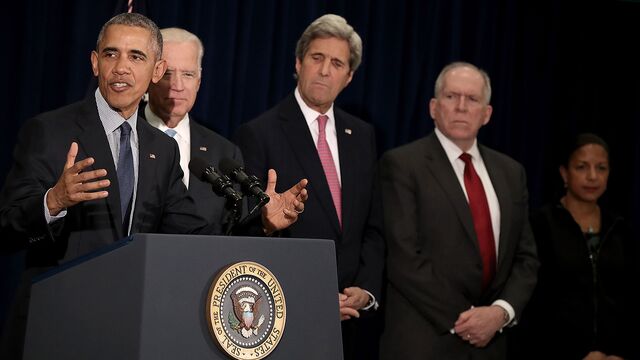 Countries fighting the Islamic State militant group are on the offensive and have the upper hand in the conflict, President Barack Obama said on Wednesday after a meeting with his national security advisers.
"We have momentum and we intend to keep that momentum," the president said at the Central Intelligence Agency's headquarters in Langley, Virginia. Islamic State hasn't mounted a successful offensive since last summer, he said, and he ticked off the names of several top leaders of the group who have been captured or killed.
"For ISIL's leadership it's been a bad few months," Obama said, using an acronym for the group. "Every day, ISIL leaders wake up and understand it could be their last."
White House Press Secretary Josh Earnest described the meeting as a routine review of the Obama administration's military campaign against Islamic State, but it comes after top Pentagon officials said they planned to recommend that the White House increase the U.S. military's footprint in Iraq.
Marine Corps General Joseph Dunford, chairman of the Joint Chiefs of Staff, told reporters last month that he and Defense Secretary Ash Carter would suggest sending more troops to support an offensive against Islamic State militants in the city of Mosul.
"We have a series of recommendations that we will be discussing with the president in the coming weeks to further enable our support for the Iraqi security forces," Dunford said.
Earnest said he wouldn't comment on private recommendations to the president. Obama didn't say whether the request was discussed in the meeting, and didn't take questions afterward.
Nimble, Opportunistic
"One of the keys to our success is going to be our ability to be nimble and to look for opportunities, and to detect opportunities early for investing more in certain elements of our strategy to try to yield additional progress," Earnest said.
The meeting also comes a week before the president plans to travel to Saudi Arabia for a meeting with leaders of Persian Gulf Arab nations, where the White House says the countries will discuss strengthening security cooperation and intensifying the fight against Islamic State. Syria's future will be on the agenda, Obama said.
Obama said some Islamic State fighters have fled to Libya after being pushed out of parts of Syria and Iraq.
"The ISIL core in Syria and Iraq continues to shrink," Obama said. "The ranks of fighters are estimated to be at the lowest level in two years."
Obama has recently held meetings of his national security team at the Pentagon and the National Counterterrorism Center. among other locales outside the White House, before the trip to CIA headquarters. On Sunday, CIA Director John Brennan told NBC's "Meet the Press" that he would refuse a future president's orders to use waterboarding or other "enhanced interrogation techniques" against suspected terrorists.
"I will not agree to carry out some of these tactics and techniques I've heard bandied about because this institution needs to endure," Brennan said.
Obama has ordered the agency to cease such practices, but Republican presidential candidates Donald Trump and Ted Cruz have called for their return.
Before it's here, it's on the Bloomberg Terminal.
LEARN MORE