Puerto Rico Bill Stalls in House Amid Objections by Both Parties
by and
Treasury official warns `lost decade' unless debt restructured

Cancellation of Thursday meeting delays action until next week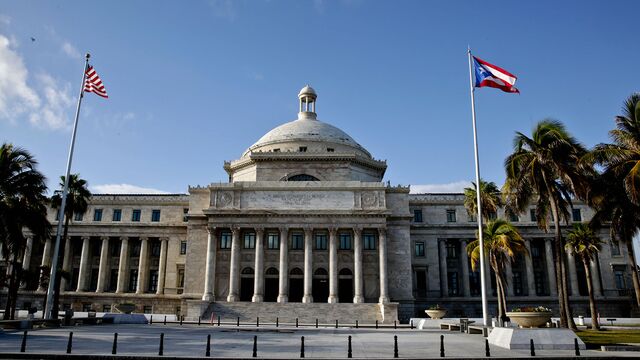 A U.S. House committee abruptly scrapped plans to finish writing a bill by Thursday to help Puerto Rico cope with its $70 billion debt, as its members battled over the powers of a federal oversight board and other key provisions.
The House Natural Resources canceled a planned meeting Thursday to address the bill, delaying action until next week at the earliest, said Raul Grijalva of Arizona, the panel's top Democrat. This marks the latest setback in what has been the broadest effort so far in Washington to help Puerto Rico emerge from a debt crisis that has been steadily escalating over the past year. 
House Republican leaders have been urging swift approval of the measure, but neither Democrats nor conservatives say they can sign on yet to the current version.
"My side of the aisle, there is no support for this bill unless there is meaningful, reasonable debt reduction," Democrat Pedro Pierluisi, Puerto Rico's non-voting delegate, said Wednesday evening. "On the Republican side, there are members who do not want any kind of debt restructuring."
A public three-day notice is needed before a new markup can be held.
Senior Obama administration officials made clear Wednesday that the bill, H.R. 4900, needs more work, even as Antonio Weiss, counselor to the Treasury secretary, warned that Puerto Rico faces a "lost decade" if Congress doesn't act promptly.
"While the committee has made progress, there is additional work to do," he said.
Puerto Rico is veering closer toward major defaults in May and July, while Governor Alejandro Garcia Padilla signed a law this month allowing the government to temporarily suspend debt payments.
Significant Obstacles
The challenges to completing a bill by Thursday -- the stated goal of committee chairman Rob Bishop of Utah -- are significant. Many Democrats, including those in the Senate awaiting the House bill, argue the proposal as now written still would give a new federal control board excessive power over the island's finances and debt restructuring decisions.
They also argue that the Republican-led committee has included partisan riders that include land transfers, a weakening of worker protections and other provisions. Under the proposed House measure, Puerto Rico would be allowed to lower its minimum wage in some cases to as low as $4.25 an hour for up to five years. The current minimum wage is $7.25 an hour.
Many Republicans, meanwhile, are unhappy with provisions that would allow some of the territory's debt to be restructured and that could force creditors to accept less money for their claims. Bishop has insisted this is not a "bailout" for Puerto Rico.
Cram-Down Provisions
Bishop said that bondholders who criticize the so-called cram-down provisions, which would allow for a court-ordered restructuring of debt, are worrying about something that is unlikely to happen.
"Before there is ever a cram-down, there are so many steps you go through that can be done voluntarily," he said. Such a scenario "is so illogical and so unlikely" based on past experience.
But several of his Republican colleagues on the committee, such as Representative John Fleming of Louisiana, say it is "the framework for a bankruptcy," and would amount to a bailout.
"Let's be very clear. This is bankruptcy," Representative Tom McClintock of California said at the panel's brief Wednesday's business meeting, before it was adjourned abruptly.
Puerto Rico should pay its bills or work with creditors to reach an agreement rather than change existing laws to reduce its debt, McClintock added.
"This would be a powerful signal to bond markets that the U.S. stands by its promises even when they're inconvenient," McClintock said.
'Bizarre' Request
Internal Republican tensions over the bill broke out in the open after the hearing, when Fleming said that he would reject a "bizarre" request from Bishop that panel members keep silent about their opposition to the bill and allow it to move to the House floor on a voice vote. 
"When it was clear they were seriously asking members of the committee to stand aside so the bill could pass without amendment or vote, I strongly objected along with some other members," Fleming said in a statement. 
A spokesman for Bishop, Parish Braden, said that Speaker Paul Ryan and other top House Republican leaders were not present at that meeting, but acknowledged that Bishop had asked for panel members to allow a voice vote. Braden added that Bishop ended the meeting by saying they were free to ask for a recorded vote.
Ryan's office on Wednesday called the bill "good, conservative, commonsense legislation that protects American taxpayers and gives Puerto Rico hope of economic revitalization."
Collective Action
In a hearing Wednesday morning, the Treasury Department's Weiss told the committee he had concerns about the bill's collective-action language, which he said would complicate and delay comprehensive debt restructuring.
"Under the proposed approach, all of Puerto Rico's numerous debtors would have to complete a complicated process before any single entity could begin to restructure," the Treasury official told the committee.
The draft of the bill unveiled by Bishop would allow restructuring on an unprecedented scale in the $3.7 trillion municipal market. 
'Vulture Funds'
But Grijalva contended that wealthy hedge funds are trying to block congressional action by spreading misinformation.
"We have to decide tomorrow who comes first -- vulture funds and others who steadfastly refuse to join other investors in a good faith, compromise solution, or the American people in Puerto Rico," Grijalva said.
Hedge funds hold about one-third of Puerto Rico securities, Weiss said. That's as much as $24 billion of the island's debt, with hedge funds potentially buying more of the island's debt, he said.
John Miller, who manages $110 billion in municipal bonds for Nuveen Asset Management, told the panel that fewer traditional municipal-bond investors hold Puerto Rico securities.
"Much of the investor base of Puerto Rican securities has shifted from traditional mutual funds to non-traditional or opportunistic hedge funds," Miller said, predicting that a restructuring law for Puerto Rico wouldn't set a precedent for states under fiscal stress.
"Even lower-rated states such as Illinois do not need and would not benefit from a restructuring of their bonded debt," Miller said.
'Right Framework'
A creditor-rights lawyer, Susheel Kirpalani, chairman of the bankruptcy and restructuring group at the law firm Quinn Emanuel Urquhart & Sullivan LLP, called the proposed measure the "right framework" for debt reduction.
The No. 2 House Democrat, Steny Hoyer of Maryland, said Wednesday that he was worried the debt restructuring scheme did not offer an efficient enough path to a solution.
"The bill's attempt to provide a voluntary path for debt adjustment remains convoluted and potentially too cumbersome to be an effective tool," he said in a statement. "There is more that must be done before this bill is ready to come to the floor."
Creditor Lawsuits
A provision putting creditor lawsuits on hold until Feb. 15, 2017, should be extended, Weiss said. "As drafted, there is a risk the stay may terminate prior to commencement of a restructuring, resulting in a chaotic race to the courthouse," he said.
He questioned the decision-making process for a seven-member federal oversight board that would supervise the territory's restructuring, budgeting and finances.
"The process for entering restructuring should not require a super-majority vote of the board. A minority of the board should not have veto power," Weiss said.
Private Hospitals
Puerto Rico's debt crisis is affecting its residents, Weiss said. The island's largest private hospital system plans to reduce its staff by 500 workers, about 10 percent of its workforce, Weiss said during his testimony.
Under the proposed House measure, Puerto Rico would be allowed to lower its minimum wage in some cases to as low as $4.25 an hour for up to five years. The current minimum wage is $7.25 an hour.
Weiss said that instead of reducing the minimum wage, "a locally administered Earned Income Tax Credit is a more powerful and effective way to stimulate the economy and encourage work."
He said the Obama administration also opposes language that he said would undermine the protection of the Vieques National Wildlife Refuge. The legislation also must ensure the retirement security of 330,000 citizens in Puerto Rico who depend on their pension benefits, Weiss said.
Before it's here, it's on the Bloomberg Terminal.
LEARN MORE