Campaign Wrap: Trump's New York Question Is Size of Likely Win
by
With a plethora of polls showing Donald Trump handily winning N.Y., the challenge facing him is to maximize his vote total to achieve a massive delegate haul and regain momentum in the GOP presidential race.
If Trump's vote tops 50%, he'll gain all 14 statewide delegates

And the larger his statewide total, the more likely he'll be in position to capture the lion's share of the 3 delegates at stake in each of the state's 27 congressional districts

The New York Times says that if Trump cleared 50% statewide, he'd win at least 75 of the 95 delegates available

NYT breaks down Trump's chances in different congressional districts, concluding he looks strong in upstate N.Y. and Long Island, but may face roadblocks in Manhattan

A Siena College N.Y. poll released today put Trump right at 50%; other recent surveys polls have his support higher

John Kasich has emerged as the rival with the best chance of keeping Trump below 50%—the Siena survey shows the Ohio governor with 27% support
Ted Cruz at 17%

ON THE TRAIL
Bernie Sanders bashed the tax system after a Government Accountability Office study he commissioned found that about 1/5 of large, profitable U.S. corporations paid no taxes in 2012
Reasons for the lack of taxes paid included deductions for losses carried forward, depreciation allowances, according to GAO
"Large corporations cannot continue to get more tax breaks when children in America go hungry," Sanders said in statement
The Vt. Sen. was criticized by Verizon CEO Lowell McAdam, who said that Sanders' accusation that the company doesn't pay its fair share of taxes is "just plain wrong"

McAdam called Sanders' views "uninformed," "contemptible"
Hillary Clinton said Sen. Elizabeth Warren's bill to simplify tax filing "will help take the headache out of Tax Day, saving Americans both time and money"
Separately, she said Verizon must do the "right thing" and resume contract talks with its union workers amid a contract dispute
Trump aide Katrina Pierson scoffed at Facebook CEO Mark Zuckerberg's comment on border walls
"I'll take Mark Zuckerberg seriously when he gives up all of his private security, moves out of his posh neighborhood, and comes live in a modest neighborhood near a border town, and then I'm sure his attitude would change," she told CNBC



DELEGATES
FiveThirtyEight's Nate Silver details a state-by-state road map of Trump's path to 1,237 delegates
Silver says the most likely outcome is that Trump ends up with 1,155 delegates
Says he'd have to win almost everything in the remaining Northeast primaries, as well as in Ind., and take Calif. by a solid margin to reach 1,237
Cruz is "is close to ensuring" that Trump can't win the GOP nomination on a 2nd ballot at the party's July convention, according to a Washington Post analysis
The Texas Sen. stands to add at least 130 votes to his column on 2nd ballot
Trump adviser Paul Manafort responded: "There's not going to be a second ballot"

ADS
Cruz plans to air radio ad hammering N.Y. Mayor Bill de Blasio's "socialist policies" and alludes to reports of a federal investigation targeting de Blasio's campaign contributors, New York Times reports
"Cruz will instruct the Justice Department to hold corrupt politicians accountable. Maybe that's why de Blasio fears Ted Cruz," ad says

STAFF MOVES
Rick Wiley, campaign manager for Scott Walker's failed presidential campaign, has joined the Trump campaign as its national political director
Wiley is a former political director for the RNC

ENDORSEMENTS
Sanders, in first Senate endorsement, is backed by Sen. Jeff Merkley of Oregon
"Bernie Sanders is boldly and fiercely addressing the biggest challenges facing our country," Merkley says in New York Times op-ed
NYC transit workers union also endorsed Sanders today
N.Y. State Immigrant Action Fund and N.Y. electrical workers union endorsed Clinton

POLLS
MD: Trump leads with 47%, Kasich at 27%, Cruz 19%, according to Monmouth poll
Poll finds Trump on track to claim all 33 delegates available in Md. 

CAMPAIGN FINANCE
Cruz and his wife Heidi, who's on leave from her job as a Goldman Sachs managing director, will host a high-dollar fundraiser at N.Y.'s Harvard Club with "bankers, traders and Wall Street lawyers," Politico reports
Campaign is expected to have to spend heavily for expensive Calif. TV advertising ahead of state's June 7 primary: Politico
Sanders has started wielding his campaign-finance operation for other progressive candidates—his fundraising e-mails offer the opportunity to donate to N.Y.'s Zephyr Teachout, Nev.'s Lucy Flores, and Wash.'s Pramila Jayapal, Politico reports

ETC.
Nebraska rejected switching to winner-take-all system for its 5 Electoral College votes, according to New York Times
State currently gives 2 to winner of statewide vote, 1 each to winner of state's 3 congressional districts
President Obama won 1 vote—from an Omaha-area district—in Neb. in 2008; Republicans had sought to prevent that from happening again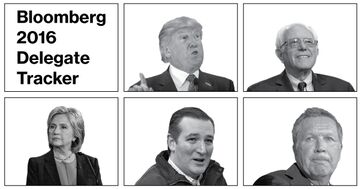 Before it's here, it's on the Bloomberg Terminal.
LEARN MORE