Grassley Won't Relent on Obama Court Nominee, Despite Breakfast
by and
The Senate Judiciary chairman met with Merrick Garland

Breakfast was `cordial and pleasant,' Grassley's office says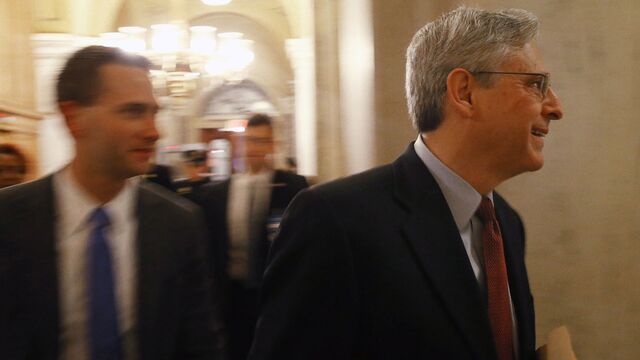 The chairman of the Senate Judiciary Committee, Chuck Grassley, said he remained firm that President Barack Obama's nominee to the U.S. Supreme Court would not receive a confirmation hearing or a vote, after a breakfast meeting Tuesday that Grassley's office called "pleasant."
Grassley, an Iowa Republican, avoided reporters after the hour-long breakfast with federal appeals court judge Merrick Garland, Obama's nominee, by exiting the Senate dining room via a back hallway. His office later issued a statement saying that the meeting was cordial and that Grassley "thanked Judge Garland for his service."
Garland offered reporters a smile but no comment as he walked past them after the meeting.
Fifteen former presidents of the American Bar Association issued a letter ahead of the meeting urging Senate Republicans to end their obstruction of any Obama Supreme Court nominee. The letter said the stance "injects a degree of politics into the judicial branch that materially hampers the effective operation of our nation's highest court."
Grassley and Mitch McConnell, the Senate majority leader, have said the next president should fill the seat on the court vacated by Justice Antonin Scalia's death in February. Grassley said in his statement that in the meeting with Garland he "explained why the Senate won't be moving forward during this hyper-partisan election year."
Carrie Severino, chief counsel of the Judicial Crisis Network, a conservative legal group, praised Grassley's handling of the nomination in a statement issued after the meeting.
"Senator Grassley understands that Merrick Garland will be the decisive fifth vote on the court to gut the Second Amendment right to keep and bear arms and the fifth vote to defer to unaccountable bureaucrats at federal agencies," Severino said. "We thank Senator Grassley for standing with us."
Before it's here, it's on the Bloomberg Terminal.
LEARN MORE