Campaign Wrap: Trump Campaign Troubles Coming to Forefront
by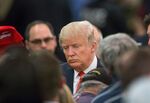 Despite a recent staff shakeup, internal issues within Donald Trump's campaign are harming him and he may have to further alter his strategy.
Over the weekend, Ted Cruz locked down all of Colorado's 34 pledged delegates

Trump's last-minute organizing in the state proved ineffective; for example, the leaflet his team distributed indicating the ballot positions of his delegates contained wrong numbers, Politico reports
In South Carolina, where Trump easily won the primary, his rivals are finding delegates who, while pledged to Trump on the first national convention ballot, aren't his supporters and can abandon him thereafter

FiveThirtyEight argues that Trump made a mistake by ignoring Colorado, since the math for winning the GOP nomination is tight enough that he needs to pick up delegates anywhere he can
Trump in an interview this morning called the delegate system "rigged" 

He told Fox that Cruz has offered trips to potential delegates in South Carolina
"You can buy all these votes. What kind of a system is this?"

Trump last week hired Paul Manafort to manage his delegate strategy, but his campaign may need more than a staff shakeup to battle its organizational failures
National Journal suggests Indiana as a bellwether for Trump's support going forward—the state has a significant blue-collar group that typically supports Trump, but a Midwestern "niceness" that works against him

ON THE TRAIL
Hillary Clinton said Queens-born Trump doesn't respect diversity
At campaign rally in the borough, Clinton said she is "deeply concerned about the incitement of violence" against "anyone who doesn't look like Donald Trump"
Clinton called rival Bernie Sanders out for not being able to answer questions about his Wall Street plan
Sanders criticized Clinton at a rally in Binghamton, N.Y. for promoting fracking when she was U.S. secretary of state and opposing practice with exceptions, AP reports
He said she uses fracking to reward companies such as Chevron, Haliburton, and Exxon Mobil
Trump said "it's fine" that his two of his children, Eric and Ivanka Trump, didn't register as Republicans in N.Y. in time to vote for their father in the state's April 19 primary
''They feel very, very guilty," he said
Cruz campaigned in delegate-rich California, showing he's looking past N.Y.; a Fox News poll released yesterday put him in 3rd in the state

ADS
Clinton released new ad in New York City invoking Trump directly
"With so much at stake, she's the one tough enough to stop Trump," ad says
Sanders begins airing an ad today that says he is the only candidate calling for a nationwide ban on fracking, according to the campaign

ENDORSEMENTS
Rep. Elijah Cummings, ranking Democrat on House Benghazi Committee, endorsed Clinton, Politico reports

POLLS
Clinton is trusted more than Trump on range of issues, such as immigration, health care, and nominating Supreme Court judges, according to an AP-GfK poll
On the economy, Clinton trusted by 38% of Americans, while 35% side with Trump
Trump is viewed negatively by 70% of married women and trails Clinton by double digits among those voters, according to Bloomberg Poll
Poll shows almost 60% say way Trump talks about women is offensive and embarrassing and makes him unacceptable as a presidential candidate
NY: Clinton leads Sanders 51%-39%, helped by a large advantage among minority voters, Monmouth University Poll finds

ETC.
Republican strategist John Feehery tells TPM it's a "fantasy land" that House Speaker Paul Ryan will wind up as party's presidential nominee
"This idea we are going to be able to pluck someone like a Paul Ryan and run him as a presidential candidate is a pretty big reach. I just don't see it happening"
Vice President Joe Biden said in interview with Mic.com that he'd "like to see a woman elected" president

Before it's here, it's on the Bloomberg Terminal.
LEARN MORE