Sanders to Visit the Vatican Ahead of New York Primary
by
Presidential candidate says he's a `big fan' of Pope Francis

Sanders' visit may inject the Pope into Democratic contest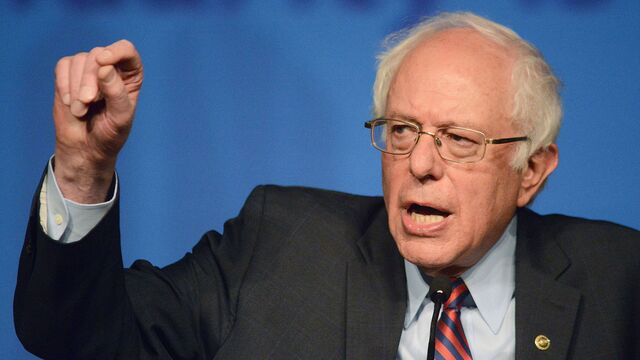 Democratic presidential candidate Bernie Sanders will travel to the Vatican later this month, a visit that would provide images of the candidate at a major international venue as his foreign policy qualifications are under attack by rival Hillary Clinton.
Sanders' visit to attend an April 15 conference on economic and environmental issues hosted by a pontifical academy will put him at the seat of the Roman Catholic Church just four days before the New York primary.
The visit also potentially injects into the Democratic nominating contest the agenda of Pope Francis, one of the most popular world leaders whose leadership of the Catholic church is especially admired by the political progressives who play an outsized role in Democratic primaries.
Francis has raised the Catholic church's emphasis on issues of poverty, environmental stewardship and aid to refugees. The Pope already has played a role in this year's election through criticism of anti-immigrant policies embraced by Republican candidates.
"I was very moved by the invitation," Sanders said on MSNBC Friday. "I am a big fan of the Pope."
Sanders praised Francis for "trying to inject a sense of morality into how we do economics."
Foreign Tours
Presidential candidates including Democrat Barack Obama in 2008 and Republican Mitt Romney in 2012 made tours of foreign capitals to respond to criticism of inexperience though in both cases they traveled to multiple countries and waited until after they had clinched their party's nominations.
The invitation was announced Friday by Sanders and by the Pontifical Academy of Social Sciences, which is hosting the conference. It was made public on the same day Francis released a document calling for the church to be more welcoming and less judgmental and signaling a path for divorced and remarried Catholics to receive communion.
The conference Sanders will attend marks the 25th anniversary of an encyclical by Pope John Paul II that criticized excesses of unfettered capitalism.
Foreign leaders including Ecuadorean President Rafael Correa and Bolivian President Evo Morales also will attend the conference, as will international development economist Jeffrey Sachs, according to a statement released by the pontifical academy.
'Not Christian'
Francis injected himself into the U.S. presidential campaign in February when he responded to a journalist's question about Republican Donald Trump's proposal to build a wall along the U.S. southern border to prevent immigrants from crossing illegally.
"A person who thinks only about building walls, wherever they may be, and not building bridges, is not Christian," the Pope responded. He demurred when asked if Catholics should vote for Trump.
"As far as what you said about whether I would advise to vote or not to vote, I am not going to get involved in that. I say only that this man is not Christian if he has said things like that," Francis responded.
Before it's here, it's on the Bloomberg Terminal.
LEARN MORE