Trump's Success Alarms Middle East Leaders, Graham Says
by
Leaders are `dumbfounded' by proposed Muslim ban, senator says

Republican says he told allies Trump doesn't represent party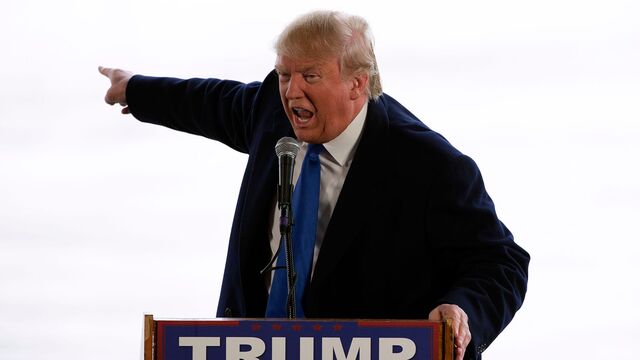 Senator Lindsey Graham said that the Middle Eastern leaders he met with last week on a swing through the region all raised the same serious concern: Republican presidential front-runner Donald Trump.
Graham, who has become one of the Republican Party's most outspoken critics of Trump, said that leaders have been particularly worried about the real estate mogul's proposal for a temporary ban on Muslims entering the United States.
"I can't tell you how much that one statement is unnerving" to Middle Eastern leaders, Graham said in an interview.
Graham didn't attribute specific remarks to individual leaders, but the delegation he led met with Egyptian President Abdel-Fattah El-Sisi, Saudi Arabia's King Salman and Israeli Prime Minister Benjamin Netanyahu, among others.
Leaders "are just dumbfounded that somebody running for president of the United States would propose the United States ban everyone in their faith. It's not helping them help us," said Graham, who has reluctantly endorsed Texas Senator Ted Cruz in a last-ditch bid to derail Trump.
Putin Problem
Middle Eastern leaders also aren't keen on Trump's remarks about working with Russian President Vladimir Putin in Syria.
"Nobody took it to the point that you can't rely on America, but they are very much bewildered by the election process like I am. And I tried to reassure them. I said look at the response in the Republican Party to some of these comments," Graham said.
"I told them to just hang in there," said Graham of South Carolina, who ran unsuccessfully for the Republican nomination and dropped out of the race in December. "This is the silly season. It will pass."
Trump currently holds a significant lead in delegates, but remains short of the majority needed to clinch the nomination. After suffering a major loss in Wisconsin on Tuesday, Trump is focusing most of his attention now on shoring up his support in New York ahead of that state's primary on April 19.
Not Republican
Graham noted that on Trump's proposed Muslim ban, most of the Republican Party's leaders have said "this doesn't make sense."
"I tell them that, in my view, his policy positions don't represent the Republican Party, they represent him. He's got a plurality of 35 to 40 percent," Graham said, pointing out that Trump has yet to secure a majority of votes in any primary or caucus.
Separately, Graham said that he plans to push for emergency spending -- "multiple billions" of dollars -- to help Egypt, Jordan and "probably Lebanon" fight the Islamic State terrorist group, as well as for a global "Marshall plan" to help those countries boost their economies.
Graham, who chairs the Senate Appropriations Committee's State and Foreign Operations Subcommittee, said he also wants additional aid for Israel.
"If you don't think this is an emergency, then you go yourself," Graham told reporters in a briefing discussing his recent trip to Middle East.
Before it's here, it's on the Bloomberg Terminal.
LEARN MORE