Homecoming
Trump Hits Cruz, Embraces New York in First Rally After Wisconsin Loss
The Republican front-runner made sure to remind his Long Island crowd where he was from on Wednesday.
by and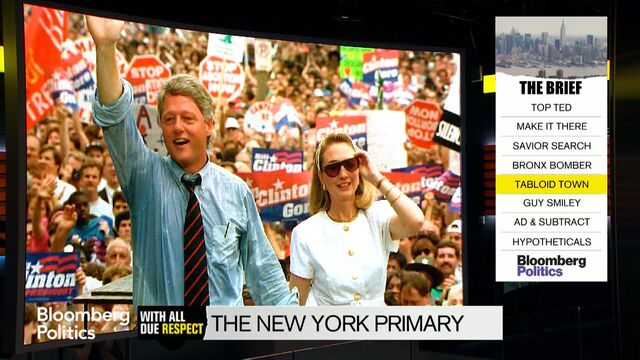 Donald Trump was back in his comfort zone on Wednesday.
One day after the Republican presidential front-runner suffered a double-digit loss in Wisconsin's primary to Texas Senator Ted Cruz, the billionaire delivered a fiery attack on the man who bested him during a sprawling rally in his home state.
"Lyin' Ted," Trump told a crowd of approximately 10,000 people at Grumman Studios in Bethpage, Long Island. "You have to spell it out: L-Y-I-N apostrophe Ted."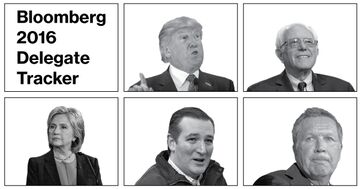 Cruz, meanwhile, had held a rally in New York City on Wednesday that Trump said "couldn't draw 100 people."
One of Trump's loudest applause lines of the night came when he recalled how Cruz, during a January debate, attacked Trump for having "New York values."
"When he started lecturing me on New York values, like we're no good. No good," Trump said, adding, "The worst attack in the history of the United States—the bravery that was shown was incredible—and I've got this guy standing over there, looking at me talking about New York values. The scorn in his face. The hatred."
Wednesday's crowd, many of whom had waited hours for the candidate, roared in approval. Medics had to carry at least three elderly people out of the venue, which is located about an hour's drive outside of Manhattan.
Trump seemed to relish being on his home turf, saying he was "a straight shooter like New Yorkers" who "know me the best."
Polls have him leading significantly in New York ahead of the April 19 primary. A Monmouth University poll released Wednesday put Trump at 52 percent. Ohio Governor John Kasich was in second at 25 percent, while Cruz trailed at 17 percent.
Trump's remarks were interrupted by protestors, though police kept a larger contingent of anti-Trump activists behind a barrier a few blocks from the venue.
Trump was introduced by his daughter, Ivanka, who touted her father's projects in New York and use of local employees.
"Many of those people live and work themselves in New York," she said to applause. 
Trump repeatedly found a way to weave his New York identity into his standard stump speech, as when he criticized the U.S. government's effort to combat terrorism.  
"We don't fight like people from Long Island," he said. "We don't fight like people from New York."
At another point, Trump warned that the Trans-Pacific Partnership trade agreement is "going to suck the blood out of New York, it's gonna suck the blood out of our country."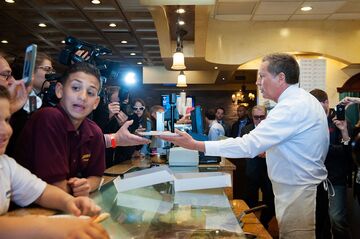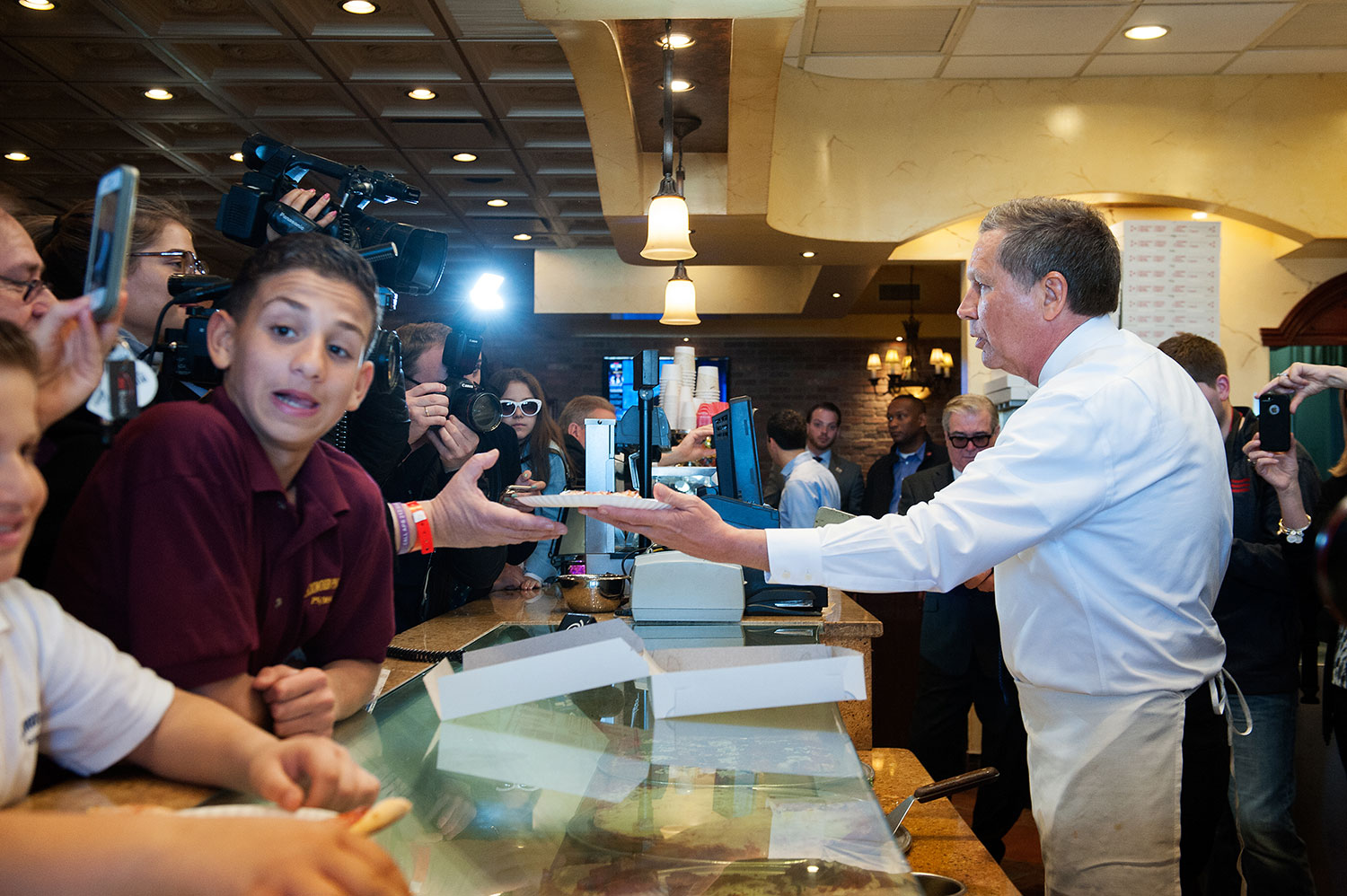 Laura Munroe, 58, of Long Island, called the event "fantastic."
"People are tired of what's going on," Munroe said. She said she wasn't going to attend because "of the traffic," but her three kids, aged 17, 24, and 25, insisted she go. "We've been fans on his since the day he got in," she said. 
Rose Santiopietro, 59, of Huntington, described herself as a moderate Republican. "I want change. I'm tired of all of them. They never do anything," she said. She said she is a first-generation Italian-American. "My parents learned English when they came here. They were so proud to be Americans. We've lost a little bit of that," she said.
Louise DeCicco, 75, of Long Island, said she believed Trump would take care of the veterans the most. She said her adult daughter served in the military. "They have all forgotten about our veterans," she said. "It's a farce—those other jokers we call presidents. I like Trump's method. He just take it to 'em all day."
Before it's here, it's on the Bloomberg Terminal.
LEARN MORE