Campaign Wrap: Democrats Sharpen Tone as Race Moves to New York
by and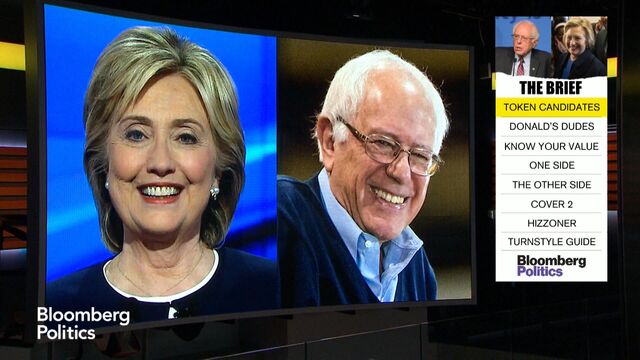 Democrats Bernie Sanders and Hillary Clinton sharpened their rhetoric in an increasingly hostile primary fight, questioning each other's readiness to be commander-in-chief.
The harsher criticisms underscore increased pressure for each candidate to win N.Y., a state where both Clinton and Sanders have deep ties, and one of the biggest delegate prizes remaining on the primary calendar
When asked yesterday if Sanders' interview earlier this week with the New York Daily News showed he wasn't qualified for presidency, Clinton said it "raised a lot of really serious questions"
Clinton also questioned his grasp of issues such as Wall Street oversight
Sanders later fired back during a rally in Philadelphia, saying outright that she wasn't "qualified" to be president
He doubled down on his remarks today, saying "I'm not going to get beaten up; I'm not going to get lied about. We will fight back," the Washington Post reports
Clinton ally and EMILY's List president Stephanie Schirock hit back—she said Clinton "is, objectively, one of the most qualified people ever to run for president"
White House Spokesman Eric Schultz told reporters President Obama "has said that Secretary Clinton comes to this race with more experience than any non-vice president" in recent memory

ON THE TRAIL
Clinton said she'd take her "New York values" to the White House at a rally outside Yankee Stadium
Said she'd take Sanders over Donald Trump or Ted Cruz anytime
Rode the subway in New York City today, according to New York Times; card took 5 swipes to let her through gate
Sanders criticized Clinton for "hustling money from the wealthy and the powerful" during an appearance at Pennsylvania's AFL-CIO convention, Politico reports
"I will not leave here this morning and go to a Wall Street fundraiser"
Cruz  receiving establishment support is "ironic," Ben Carson told Fox News
Former GOP candidate Carson is backing Trump
John Kasich's campaign thinks he can win N.Y. and take a plurality of the delegates left in the GOP primary, Politico reports, citing people present in a strategy meeting yesterday
Campaign manager John Weaver said in meeting that Kasich could win because delegates are allocated by congressional districts, and Kasich is running 1st or 2nd in most districts, according to report
Trump canceled his planned trips to Calif. and Colo. "to make sure that he can win" the N.Y. primary on April 19, MSNBC reports

ADS
Pro-Kasich super-PAC New Day for America released ad knocking Cruz for his criticisms of  "New York values"
 Ad, which is part of seven-figure ad buy, says: "New Yorkers aren't stupid and they certainly won't fall for Ted Cruz's lame soliloquies and flattery after he slammed their values"

CAMPAIGN FINANCE
Politico reports that a fundraiser for Cruz may have broken election law by suggesting that supporters give unlimited donations to an affiliated super-PAC

ENDORSEMENTS
Former NYC Mayor and GOP presidential candidate Rudy Giuliani said he's voting for Trump, N.Y. Post reports 

STAFF MOVES
Gearing up for a potentially complicated convention, the RNC is hiring two strategists, Chris LaCivita and Steve Muisteri, to help with preparations, New York Times reports

POLLS
MD: Clinton and Trump lead rivals ahead of the state's April 26 primary, according to a Washington Post-University of Maryland poll
CA: Trump leads Cruz 39%-32% in Field Poll, according to San Francisco Chronicle
State's primary will be held June 7
VA: Almost one-third of GOP voters in the state say they'd vote for Clinton, pick a third party candidate or not vote if Trump is their party's nominee, according to a Christopher Newport University poll, the Washington Post reports

ETC.
GE CEO Jeff Immelt said Sanders was "missing the point" when he told the N.Y. Daily News editorial board that GE is among the companies "destroying the moral fabric" of America
"It's easy to make hollow campaign promises and take cheap shots in speeches and during editorial board sessions"
Former Treasury Sec. Larry Summers called Trump an "American demagogue" in a category with George Wallace, Joe McCarthy and Huey Long
Said a Trump presidency would be "profoundly dangerous"
Utah GOP Sen. Orrin Hatch said there's "potential" for House Speaker Paul Ryan to be drafted at the GOP convention, The Hill reports

Before it's here, it's on the Bloomberg Terminal.
LEARN MORE