Sanders Wins Wisconsin Primary to Extend Streak, Slow Clinton
by
Clinton had downplayed race as not affecting delegate math

Democratic contest moves to New York and northeast states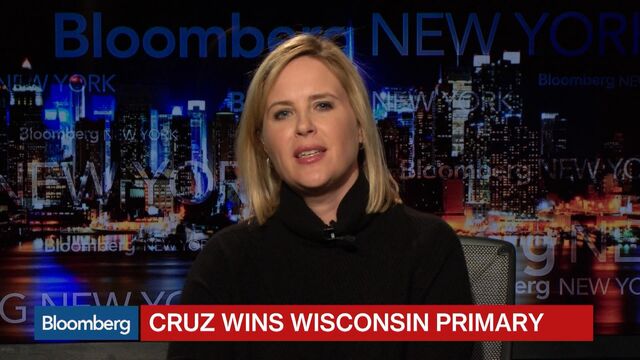 Bernie Sanders defeated Hillary Clinton in Wisconsin's Democratic presidential primary, bolstering his bid to slow the front-runner's march toward the party nomination and extending a string of victories.
Sanders, a Vermont Senator, was declared the winner of the primary by NBC and Fox News based on early returns and exit polls. With about 3 percent of precincts reporting Sanders had 56 percent of the vote to 44 percent for Clinton. It is his sixth victory in the past seven primaries and caucuses, with a showdown looming in two weeks in New York, where Clinton is favored as the state's former senator.
In the Republican race Senator Ted Cruz was leading Donald Trump 52 percent to 31 percent in the initial vote count.
Sanders campaigned hard in Wisconsin, which has a deep progressive tradition where any voter can take a Democratic ballot and first-time voters can register and cast ballots on primary day.  During the week ahead of the primary, the $2.1 million Sanders spent on broadcast television ads in Wisconsin was about twice as much as Clinton, according to estimates from Kantar Media's CMAG. He also held 15 events there since March 26 while Clinton moved on to New York in recent days. 
The Clinton campaign had sought to lower expectations about the outcome in Wisconsin, where polls showed Sanders leading before the vote. Because delegates are awarded proportionally, Sanders won't make a significant dent in Clinton's commanding lead, the campaign said.
Heading into Tuesday's vote, Clinton had a lead in pledged delegates of 1,243 to 980, according to an Associated Press tally. That advantage was 1,712 to 1,011 counting superdelegates, the party officials and leaders who are free to change their support, the AP said. To win the nomination, 2,383 delegates are needed.
Before it's here, it's on the Bloomberg Terminal.
LEARN MORE