Cruz, Sanders Win Wisconsin, Dealing Setback to Front-Runners
by and
Trump's loss makes delegate math for nomination more difficult

Clinton had downplayed contest as not affecting delegate math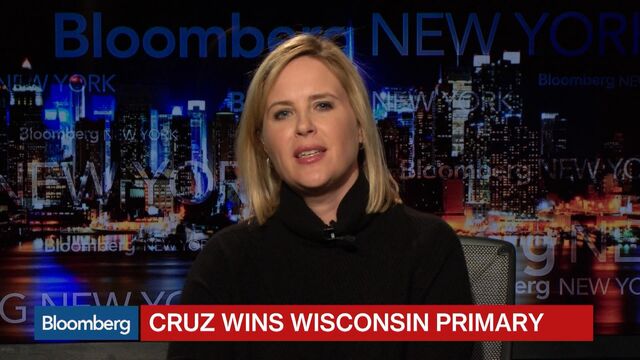 Texas Senator Ted Cruz beat billionaire Donald Trump in Wisconsin's Republican presidential primary on Tuesday, embarrassing the front-runner, extending an increasingly bitter nomination fight and boosting the odds of a contested national convention in July.

In the Democratic race, Vermont Senator Bernie Sanders claimed a win over Hillary Clinton, extending a string of recent victories as he tries to overcome her overwhelming lead in delegates.

Both of the underdogs went into the Wisconsin balloting looking to slow the front-runners before the race heads later this month to New York, the home of both Trump and Clinton.
"Cruz's victory means that the race will almost certainly go all the way to Cleveland, with a front-runner, perhaps, but no nominee-apparent," said Doug Heye, a Republican strategist and former spokesman for the Republican National Committee. "The Wisconsin results show how much damage Trump has done to himself in recent weeks. Now, he'll need New York to be his 'firewall,' a word we've never before used with Trump."
'Turning Point'
In his victory speech, Cruz said Wisconsin changed the race.
"Tonight is a turning point," he said in Milwaukee. "It is a rallying cry. It is a call from the hard-working people of Wisconsin to the people of America. We have a choice, a real choice."
There were no congratulatory messages from the Trump campaign. Spokeswoman Hope Hicks said in a statement that Trump "withstood the onslaught of the establishment yet again," and called Cruz a "Trojan horse, being used by the party bosses attempting to steal the nomination from Mr. Trump."
With all precincts reporting, Cruz had 48 percent of the vote to Trump's 35 percent, according to the Associated Press. Ohio Governor John Kasich had 14 percent.
The outcome marked perhaps the most consequential loss for Trump since Cruz beat him in the Feb. 1 Iowa caucuses that started the nomination race. Getting only a few of Wisconsin's 42 delegates may damage his prospects for surpassing the threshold to win the nomination outright -- 1,237 -- while also diminishing his pitch as the party's consensus candidate. 
Wisconsin Delegates
Wisconsin awards three delegates to the winner of each of its eight congressional districts, while the statewide winner gets an additional 18 delegates. A tally by the AP on Wednesday showed Cruz gaining 36, with Trump still leading the race with 743 delegates, followed by Cruz with 517 and Kasich at 143.
John Weaver, Kasich's chief strategist, argued that the results show that no candidate will reach the required number of delegates before the convention, meaning the nomination contest "is now wide open." He complained in a statement Tuesday night that both Trump and Cruz are blaming Kasich for stealing their votes even though Kasich "is the only candidate who can defeat Hillary Clinton."
Next Round
Whether Cruz's victory amounts to a brief high for him and the forces aligning to block Trump's nomination bid, or something more lasting, won't be determined until the race moves to primaries later this month in New York, Connecticut, Pennsylvania and other northeast states. Either way, the loss robbed Trump of momentum as the party's presidential nomination race extends further down the road.
Republican strategist Steve Grubbs, who advised Senator Rand Paul's failed presidential bid, said the Wisconsin vote marks a point at which "Trump's stall energizes a Cruz surge."
Groups aligned to stop Trump targeted Wisconsin as a proving ground because it's the only Republican primary on the calendar before New York votes on April 19.
Trump has a 31-point lead in New York, according to a CBS News poll released Sunday. He has a 9-point lead in Pennsylvania, which follows on April 26, according to a Quinnipiac University poll released Wednesday. Those states are the two biggest delegate prizes this month.
Bumpy Campaign
Trump entered Tuesday's balloting in the unusual position of underdog, trailing in Wisconsin polls and after suffering through the bumpiest two weeks of his presidential campaign after mocking his chief rival's wife, calling for punishment of women who have illegal abortions and standing by a campaign manager charged with misdemeanor battery.
Potentially reflecting the damage he'd done to his candidacy in recent weeks, Trump was beaten badly by Cruz among women voters in Wisconsin, exit polls published by CNN showed. The senator won 48 percent of the group's vote, compared to 35 percent for the businessman.
That was far worse than Trump did in Michigan's March 8 primary, where he tied Cruz for votes from women. The two states share some demographic and economic characteristics.
Democratic Contest
With all precincts reporting, Sanders held a lead of 57 percent to Clinton's 43 percent. Although Sanders has extended his winning streak in Democratic contests to six, he still confronts a daunting path to catching Clinton, the former secretary of state, in the delegate race by the time the last primaries are done in June.
Clinton now has 1,279 pledged delegates to Sanders' 1,027, according to an Associated Press tally. When including superdelegates, party officials and leaders who can back any candidate, Clinton's lead is 1,748 to Sanders' 1,058 with 2,383 needed for the nomination. 
Sanders would have to get 67 percent of the remaining delegates and uncommitted superdelegates to win the nomination, according to AP's calculations.
Sanders said during a rally Tuesday night in Wyoming, where Democrats hold caucuses on Saturday, that he thinks he can win there and in New York two weeks from now.
"This campaign is giving energy and enthusiasm to millions of Americans," Sanders said. "The facts are pretty clear: We have a path toward victory, a path toward the White House."
Clinton congratulated Sanders via Twitter and sought to rally her supporters for the primaries ahead: "To all the voters and volunteers who poured your hearts into this campaign: Forward! -H"
Broad Support
Early exit polls showed broad support for Sanders in Wisconsin. He won 73 percent of voters under age 45, 64 percent of men, half of women, and 72 percent of independents, according to figures published by CNN. Clinton won 56 percent of those 45 and older and 69 percent of black voters, the network said.
Sanders captured 59 percent of whites and all income and education groups except those with a high school degree or less, exit polls showed.
The Vermont senator campaigned hard in Wisconsin, which has a deep progressive tradition where any voter can take a Democratic ballot and first-time voters can register and cast ballots on primary day. During the week ahead of the primary, the $2.1 million Sanders spent on broadcast television ads in Wisconsin was about twice as much as Clinton, according to estimates from Kantar Media's CMAG. He also held 15 events there since March 26 while Clinton moved on to New York in recent days. 
The Clinton campaign had sought to lower expectations about the outcome in Wisconsin, where polls showed Sanders leading before the vote. Because delegates are awarded proportionally, Sanders won't make a significant dent in Clinton's commanding lead, the campaign said.
The reaction from the Clinton campaign is an effort to explain away an important state and outcome, and Sanders will get a major bounce from the win, said Barbara Lawton, a former Wisconsin lieutenant governor and Sanders supporter.
"He is getting more powerful as he moves across this country and as people hear him and meet him," Lawton said. "He's now going to head off to New York with another strong win, and for those people who love to support a winner, here we go."
Before it's here, it's on the Bloomberg Terminal.
LEARN MORE