Trump, Clinton Face Uphill Battles in Tuesday's Wisconsin Primaries
Trailing in recent polls, the Republican front-runner's march to the nomination could stall in the Badger State, while Vermont Senator Bernie Sanders looks to build on his recent momentum.
by and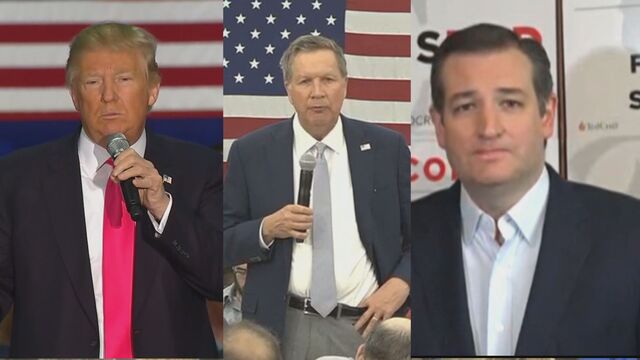 Wisconsin voters went to the polls Tuesday to decide whether Donald Trump's latest self-inflicted wounds are deep enough to deny him a win in the state's Republican primary, and, in turn, to diminish his hopes of winning the presidential nomination.
In the unusual position of underdog, the billionaire faces the referendum after the roughest two-week stretch of his campaign. He saw fallout for mocking his chief rival's wife, calling for punishment of women who have illegal abortions, and standing by a campaign manager charged with misdemeanor battery.

Texas Senator Ted Cruz, who has led in Wisconsin polling, has been assisted by a growing Republican establishment effort to block Trump from winning the 1,237 delegates he needs to secure the nomination.
If Trump is only able to win a few of Wisconsin's 42 delegates, it could seriously damage his prospects for surpassing the threshold to win the nomination outright, while also diminishing his pitch as the party's consensus candidate.
The groups that aligned to stop Trump targeted Wisconsin as a proving ground because it's the only GOP primary on the calendar before his home state, New York, votes on April 19. Tripping him up now could change the direction of a series of contests in the Northeast, including Pennsylvania and New York, where Trump is favored.
Whether the anti-Trump effort, which included attacks from outside groups and local conservative radio hosts, has found a formula for success remains to be seen.
Arguably the nation's most politically polarized state, Wisconsin has been a unique hotbed of Republican activism since the 2010 election of Governor Scott Walker and the local and statewide recall elections that followed, divisive events that acted to help organize and unify Republicans.
"The establishment has been lined up against Donald Trump for months, and he's repeatedly beat them," said Rick Wiley, a former executive director of the state's Republican Party who managed Walker's failed presidential bid. "But the establishment in Wisconsin is different. They've fought battles together since 2010 and banded together to get behind Ted Cruz."
Demographic Opportunity
On the Democratic side, Senator Bernie Sanders of Vermont is hoping strong turnout among college students and union workers might propel him to a win that would change the narrative that it's only a matter of time before Hillary Clinton secures the nomination.
At his final rally before Tuesday's vote, Sanders told an enthusiastic crowd of about 2,400 in Milwaukee that he'll win if there is record-breaking turnout. He's called Clinton "nervous" and "already under a lot of pressure" to win.
Among likely Democratic primary voters, Sanders held a 49 percent to 45 percent edge over Clinton, with 6 percent undecided, according to a Marquette Law School poll released last week. 

A Sanders loss in Wisconsin, a state with a deep populist tradition where Clinton was badly beaten in the 2008 primary, would be a major blow to his underdog bid. A win, like his surprise victory in Michigan on March 8, would give him much-needed momentum heading into New York's primary.
After the polls close at 9 p.m. Eastern Time, the results will say much about how long the nomination fights for both parties may drag on. For Republicans, the outcome will also offer insight into the chances of a rare contested national convention in Cleveland, Ohio, in July.
The state's electorate—heavily white and blue-collar—seems somewhat favorable for Trump, who said the race would be "over" if he did well there. But he acknowledged having a difficult week and boosted his schedule in the state during the closing days. 
"I think we're going to have a great day," Trump said Tuesday on MSNBC during a stop in suburban Milwaukee, brushing off the previous week's struggles. "I've had worse weeks on the campaign."
Trump's campaign says its manager, Corey Lewandowski, is innocent of the battery charge, which stemmed from an incident with a female reporter at a press conference. Asked by a Wisconsin woman on Fox News on Tuesday how he would "change and get the support of more women," Trump said his policies on issues including border security attract female voters who want "protection."
He's now proposing funding a border wall by blocking remittances until the Mexican government pays—an idea President Barack Obama, speaking to reporters Tuesday, called "half-baked."
"The notion that we're going to track every Western Union bit of money that's being sent to Mexico, good luck with that," Obama said.
Trump's also called Ohio Governor John Kasich a spoiler in the race. "He ought to get the hell out," Trump said Monday. "He hurts me much more than he hurts Cruz."
Kasich has conceded he won't win Wisconsin and campaigned on Monday in New York. He hopes to do well enough in some congressional districts to earn delegates, part of his strategy to have enough momentum entering the convention to win the nomination as the most electable and qualified candidate.
Numbers Game
Heading into Tuesday's voting, Trump led with 736 delegates, according to Associated Press estimates, followed by Cruz with 463 and Kasich at 143.
In Wisconsin's Republican primary, the state awards three delegates to the winner of each of its eight congressional districts, while the statewide winner gets an additional 18 delegates.
There are 86 delegates at stake in the Democratic primary, which are awarded proportionally. Going into Tuesday, Clinton had 1,712 of the 2,383 delegates and super-delegates needed to win, while Sanders had 1,011.

Sanders claimed momentum heading into Wisconsin after winning five of the six primaries and caucuses since March 15, when he lost all five contests. He campaigned aggressively in the state, holding 15 events there since March 26, including three on Monday.
Clinton's aides, while acknowledging trailing Sanders in recent polls, say that delegate math makes it all but impossible for him to win the nomination.
"The Sanders campaign's path forward relies on overturning the will of the voters," Clinton campaign manager Robby Mook said in a Monday statement, while the candidate herself stumped in New York. 
Cruz, speaking to reporters Monday in Kenosha, suggested that Trump is "afraid to debate" because he lacks the policy details that voters want.
"The momentum we're seeing is a result of the fact that the people of this state and the people of the country are looking for real, positive solutions, not simply someone to yell and scream and curse at them," he said.
Walker, who enjoys an 80 percent approval rating among the state's likely Republican primary voters, endorsed Cruz last week and appeared at his side in recent days. Besides Walker, Cruz benefited in Wisconsin from the support of party leaders including Assembly Speaker Robin Vos. 
But given Cruz's reputation in Washington for showmanship, inflexibility, and a lack of collegiality, supporting him has been a bitter pill for some Republicans. 
"They just swallowed hard and said, 'We just can't have Trump, and we have to go for Cruz,'" said Brandon Scholz, a veteran Republican strategist in Madison who isn't aligned with any candidate.
Some Wisconsin political observers have billed the primary as the most consequential since 1960, when John F. Kennedy won the state's Democratic race. Heavy media coverage and high-profile local and state races are expected to boost turnout.
The Wisconsin Government Accountability Board has projected overall turnout to be around 40 percent, which would be the highest in a state presidential primary since 1980.
"We expect Donald Trump to bring new voters to the polls—for and against," Kevin J. Kennedy, Wisconsin's chief elections official, said in a statement.
—With assistance from Jennifer Epstein in New York, Arit John and Kevin Cirilli in Wisconsin, and Ben Brody and Angela Greiling Keane in Washington.
Before it's here, it's on the Bloomberg Terminal.
LEARN MORE