Pfizer Deal Looks Like Shire Sequel as Treasury Strikes Back
by
Threat of action may be enough to block Pfizer-Allergan deal

Analysts consider ways company could skirt punitive measures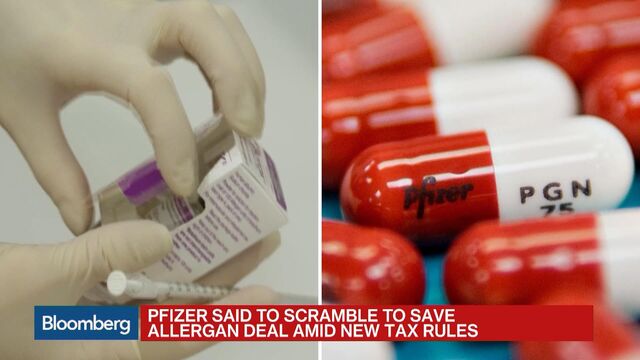 If the U.S. Treasury Department's newest tax proposal derails Pfizer Inc.'s $160 billion deal for Allergan Plc, it won't be the first time in recent history that the government has upended a record pharmaceutical acquisition with policies designed to block so-called tax inversions.
Eighteen months ago, a similar U.S. proposal was successful in halting AbbVie Inc.'s $52 billion cross-border takeover of Shire Plc, after the Treasury Department released a proposal designed to limit the benefits of U.S. companies shifting their tax addresses overseas for a lower rate.
The parallels are striking. Like Pfizer now, AbbVie in 2014 was poised to become the biggest American company ever to move its legal address abroad in a tax-avoiding maneuver known as an inversion. The U.S. issued proposals to crack down on such transactions in September of that year, and a month later AbbVie pulled its support for the deal, killing it. The question now is whether the latest regulatory move by the Obama administration will do the same thing to Pfizer and Allergan.
"This is creating a significant amount of uncertainty," said Sam Fazeli, a Bloomberg Intelligence analyst in London. "It's a bit like AbbVie and Shire. They gave all the talk, saying it's about the profile of the company, the pipeline and innovation, but the reality is they walked away when the deal wasn't positive from a tax perspective. I think the same thing may happen here."
Allergan shares fell 15 percent to $236.55 at the close in New York, and Pfizer rose 2.1 percent to $31.36.
U.S.'s Record Tax Rate
Pfizer has said it has strategic reasons for pursuing the acquisition, though it would also help the company escape the U.S.'s 35 percent tax rate, which applies to profits made anywhere in the world. The merger has drawn rebukes both Democratic presidential candidates, and President Barack Obama on Tuesday told reporters that inversions make "hardworking Americans feel like the deck is stacked against them."
"It is fair to say the administration would be pleased if corporate inversions that happened solely so corporations don't pay their fair share won't go through," Josh Earnest, a White House spokesman, said Tuesday during a press briefing following the president's remarks.
Pfizer and Allergan said Monday that they're reviewing the Treasury Department's announcement and wouldn't comment on the impact until that assessment is completed. Pfizer is said to be scrambling to try and save the deal, potentially by challenging the U.S. action in court or restructuring the transaction, according to people familiar with the matter. The company declined to comment on those efforts.
The threat of U.S. government action may be enough to stop the companies. It was the possibility of change that ended the deal between Shire and AbbVie 18 months ago, and now the Treasury seems to have Pfizer squarely in its sights, said Mark Schoenebaum, an analyst at Evercore ISI in New York.
Going After Deal?
"Take a step back and think about what they are effectively doing here," he said. "They are going after Pfizer/Allergan as best they possibly can," he said. If the companies find a way around the latest Treasury proposals, "I have got to believe Treasury will find new stuff to go after them regardless."
Adelle Infante, a spokeswoman with AbbVie, wasn't immediately available to comment.
The Treasury Department said Monday that the rules would limit companies' ability to participate in inversion transactions. Ever since a tax-law change in 2004, the main way that U.S. companies have been able to claim a foreign address has been to buy a smaller company abroad and adopt its domicile. The law requires the foreign company to be at least one-fourth the size of the U.S. one. Monday's proposed rule tightens that restriction by saying that if a foreign company has bulked up through mergers with other U.S. companies in the last three years, as Allergan has, that additional bulk isn't counted toward its size.
U.S. officials took pains to say they weren't targeting specific companies. Treasury Secretary Jacob Lew and senior department officials refused to identify any acquisitions they found troubling and didn't respond directly to questions about how the new rules might affect the Pfizer-Allergan combination.
Blame the Government
In 2014, AbbVie pinned the blame for ending its deal on the U.S. government.
The 2014 tax proposals "reinterpreted longstanding tax principles in a uniquely selective manner designed specifically to destroy the financial benefits of these types of transactions," AbbVie said in a statement at the time.
The Treasury's moves may make it harder for non-U.S. domiciled companies that have completed numerous recent transactions, including Endo International Plc, Valeant Pharmaceuticals International Inc. and Mylan NV, to buy or merge with American companies in the future and still keep their offshore addresses and lower global tax rates.
Before it's here, it's on the Bloomberg Terminal.
LEARN MORE