Math Problem
Trump, Cruz Declare Victory in First State Delegate Test
This weekend, state officials in North Dakota and Tennessee selected delegates for the Republican convention.
by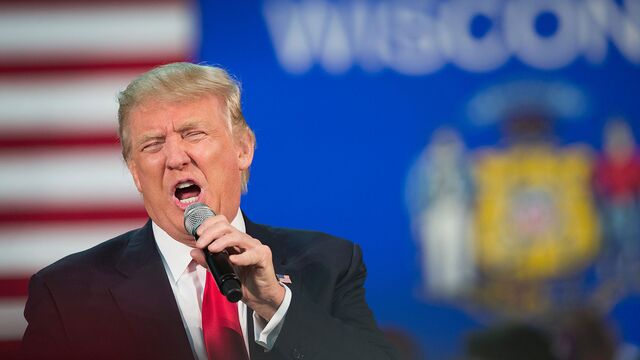 Republican presidential candidate Donald Trump's delegate team sought to portray strength and legitimacy following state party conventions in North Dakota and Tennessee this weekend. But so did Trump's rivals.
Party officials in both states held contests to elect delegates whose votes have become all-important heading into July's Republican National Convention in Cleveland. Trump is poised to enter the convention as the front-runner, leading both in votes cast and in pledged delegates but coming just short of the 1,237-delegate majority needed to clinch the nomination outright.
On Sunday, Trump senior adviser Barry Bennett declared victory after officials in North Dakota elected the state's delegates. "It's the first time that our ground delegate operation went head to head with Senator Ted Cruz and we won," Bennett said in an interview.
Yet the Cruz campaign also claimed a win. "I'm thrilled," Cruz said in a statement, dubbing the results a "resounding victory."
"Whether we defeat Donald Trump before the convention or at it, I'm energized to have the support of the vast majority of North Dakota delegates," said Cruz, who spoke at the state's convention on Saturday.
The 25 Republican delegates elected in North Dakota didn't have to specify whom they'll support at the national convention, which is what allowed both Trump and Cruz's camps to claim advantages in the murky process.
Meanwhile, on Saturday, Republicans in Tennessee elected 14 at-large delegates, who are not required to vote for Trump despite the fact that he won the state's primary.
For the next several months, more states will hold conventions to elect delegates to send to the national gathering. Each state has differing rules, with some delegates not bound to vote at the national convention for the candidate who won the state's primary. 
The complexity of the delegate process comes at a time when Trump is facing questions about the competence of his political team. Trump dubbed the entire system "crooked" while campaigning in Eau Claire on Saturday night.
"You've got all of these people against me, that's why it's important that I win. I don't want to go in there looking at the second ballot because probably with the way the thing is, it's crooked as hell," Trump said. "It's not fair, folks. It's not fair because I'm the outsider and what they do is they want to knock out the outsider, is they want to keep their little party going."
Trump raised similar concerns about the complexity of the process in a meeting last week with Republican National Committee Chairman Reince Priebus in Washington. In a separate meeting that same day, Trump also met privately with Ed Brookover, the Republican strategist who formally advised Ben Carson's presidential campaign, as well as his political team.
Inside of the Old Post Office Building in Washington, which Trump is converting into a luxury hotel, the Republican front-runner and his political team plotted their strategy for the upcoming state conventions where the delegates will be selected.
"We've got to be able to fight five or six battles at exactly the same time," Bennett said in the Sunday interview.
The strategy that has emerged for Trump involves utilizing his massive social-media presence to pressure state party officials from tilting the favor toward any one candidate while sending top surrogates like Carson to speak on his behalf at state conventions. Meanwhile, Trump has hired veteran political strategist Paul Manafort to helm his convention strategy, Bennett said. 
(
Corrects deck headline that misstated date of Tennessee selection.
)
Before it's here, it's on the Bloomberg Terminal.
LEARN MORE