Sanders Says Fundraising Jab Shows Clinton 'Getting Very Nervous'
by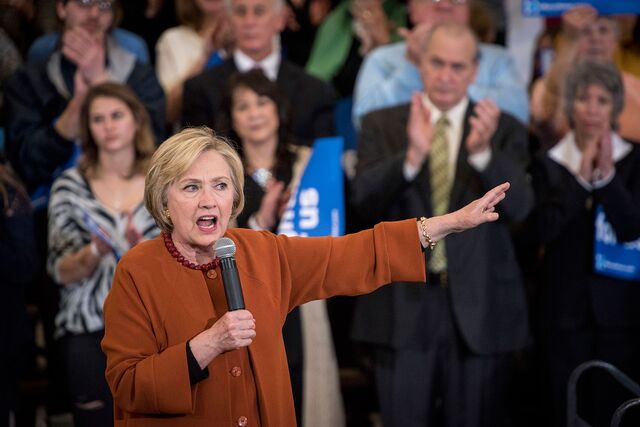 As the race for the 2016 Democratic presidential nomination heats up, Hillary Clinton made a rare jab at Bernie Sanders for not being a longtime member of the party and for not fundraising for other Democrats—and Sanders said the comment suggests the former secretary of state is getting nervous. 
"I am also a Democrat and have been a proud Democrat all my adult life," Clinton said at a campaign event in Eau Claire, Wisconsin, on Saturday. "And I think that's kind of important if we're selecting someone to be the Democratic nominee of the Democratic Party."
Clinton added that being a strong candidate for president also means "I know how important it is to elect state legislators, to elect Democratic governors, to elect a Democratic Senate and House of Representatives." 
The Hillary Victory Fund, which raised almost $27 million in 2015, divides up cash between Clinton's campaign for the White House, the Democratic National Committee, and nearly three dozen state Democratic parties. 
Sanders' small-donor-driven campaign raised $44 million in March after bringing in $43.3 million in February, according to filings with the Federal Election Commission.  
Asked this week on MSNBC if he would begin fundraising for other Democrats, Sanders said "we'll see," adding that he's focused on winning the Democratic nomination. 
"My response is, I think the secretary is getting very nervous," Sanders said about Clinton's comment on ABC's This Week on Sunday. "Poll after poll shows us doing much better against Trump than she is," he said, referring to the Republican front-runner. 
Sanders represents Vermont in the U.S. Senate as an independent who caucuses with Democrats. Clinton generally hasn't raised the issue of his party affiliation, yet as the two campaigns spar on fossil fuel fundraising and scheduling a debate in New York, she took the plunge.
Sanders filed with the Federal Election Commission last spring for the Democratic presidential nomination. A self-described democratic socialist, he initially was reluctant to use the word '"Democrat" to describe himself on the campaign trail, although he's gradually embraced it more.
"I am running as a Democrat obviously, I am a Democrat now," Sanders said in November when he submitted paperwork to be on the New Hampshire primary ballot. 
In March, Sanders said during an MSNBC town hall that he had chosen to run as a Democrat rather than as an independent because "in terms of media coverage—you have to run within the Democratic Party." 
"I think we can get virtually all of the Democratic vote," Sanders said on Sunday. 
Clinton's early politics, growing up in suburban Park Ridge, Illinois, were influenced by her Republican father. Then Hillary Rodham, she backed conservative Republican Barry Goldwater for president in 1964, an election that took place when she was 17. 
During her time at Wellesley College, near Boston, Clinton went from leading a campus Republicans group to identifying as a Democrat and supporting anti-war presidential candidate Senator Eugene McCarthy in 1968.   

Before it's here, it's on the Bloomberg Terminal.
LEARN MORE