Snyder Defends Emergency-Manager Law Despite Flint Water Crisis
by
Michigan governor puts blame on state environmental officials

'Total lack of common sense' as lead tainted municipal supply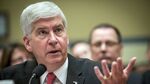 Though Flint's municipal water supply was poisoned under the watch of a state overseer, the disaster is no reason to scrap Michigan's emergency-manager law, Governor Rick Snyder said.
"There's ways to improve" the legislation, which allows governors to appoint officials who take over the functions of local government, Snyder, a 57-year-old Republican, said Friday in an interview at Bloomberg News headquarters in New York.

"In the future, I'm happy to look at it," he said. "I encourage the legislature to look at it. Fundamentally, it's worked in many other places."
Snyder, an accountant and co-founder of an Ann Arbor venture-capital firm, spent much of his first term leading Detroit from the largest U.S. municipal bankruptcy. Re-elected in 2014, he had planned to showcase the city's turnaround, with lessons for other troubled municipalities. The Flint crisis, though, challenges the image he has promoted as a technocratic problem-solver applying the lessons of business to government.
State Hands
Snyder, in the interview, said state environmental officials -- one with 28 years on the job -- were to blame for the poisoning in the ravaged and impoverished industrial center, attributing their actions to "a total lack of common sense." He declined to speculate on whether a mayor and city council governing structure would have detected trouble sooner than an emergency manager: "That's a hypothetical."
"I'm an old-fashioned guy," Snyder said. "The value system I was raised on is if someone's working for you that makes a mistake, even if it's three or four people out of 47,000, I'm still responsible because they work for me."
Voters in 2012 rejected the governor's power to place financially troubled schools and municipalities under state control, rendering local government powerless. Snyder signed a replacement measure allowed managers to cancel union contracts, and elected councils to develop alternatives if they object to proposed cost savings.
Manager Quit
Three school districts, and no towns, are under state auspices, down from a high of 11, Snyder said. He's trying to do away with the oversight in Detroit public schools, where the manager, Darnell Earley, quit in February after a year.
Earley, the schools' fourth appointee in six years, earlier had been assigned to Flint, where he was part of a team in charge as residents publicly complained about cloudy, foul-smelling water.
Flint's supply was tainted starting in April 2014, when the city, in a money-saving move, switched its source to the Flint River from the Detroit River. Anti-corrosives weren't added to the Flint River supply, causing lead to leach from pipes and make its way into homes. From the start, ratepayers complained, but nothing happened.
Public documents show that the switch was authorized by Ed Kurtz, a state-appointed Flint emergency manager who resigned in 2013. Earley, in testimony before the U.S. House of Representatives Oversight and Government Reform Committee on March 15, said he wasn't involved in the initial decision to switch, and continued to tap the water source with guidance from local advisers.
Brain Damage
An estimated 8,700 Flint children are believed to have ingested the heavy metal, which causes irreversible damage to developing brains and nervous systems. Snyder has introduced a 75-point plan to replace the damaged infrastructure and combat the health effects, at a cost to top $230 million.
In recent months, Newark, New Jersey's largest city, has detected high lead levels in schools' drinking water, as have towns in Ohio and New York.
Flint, whose population largely is black and poor, has been economically stressed since General Motors Co. closed plants starting in 1978, triggering 30,000 job losses. Residents, who had begun complaining about undrinkable water in April 2014, didn't get a potable supply, in bottles, until January.
"What is inexplicable and inexcusable is once people figured out that there was a problem there, and that there was lead in the water, the notion that immediately families weren't notified, things weren't shut down," President Barack Obama told CBS News in January. "That shouldn't happen anywhere."
Before it's here, it's on the Bloomberg Terminal.
LEARN MORE