Trump Heads Into Home-Turf New York Primary Heavily Favored
by
Based in a city bedecked with his name, he seeks 95 delegates

The importance of the state's Republican primary is a first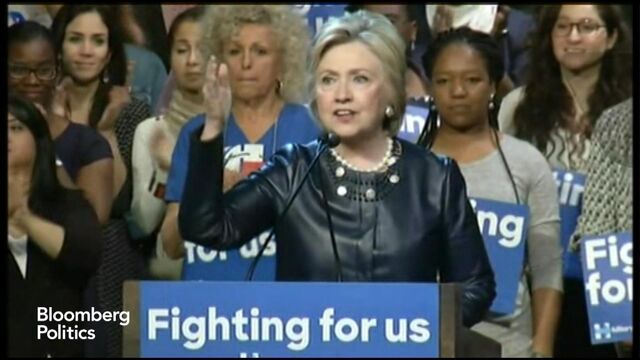 New York's primary could be Donald Trump's stepping stone or stumbling block toward the Republican presidential nomination, making what has been an empty electoral exercise suddenly relevant.
Should Trump win 80 percent of New York's 95 delegates in his home state's April 19 vote, it would greatly increase his odds of victory over Senator Ted Cruz of Texas and Ohio Governor John Kasich. Should those two impede Trump's path toward a first-ballot victory, the July nominating convention in Cleveland could become a free-for-all.
"No one can remember a time when the New York primary made a difference, but this time we are going to be as important as any," said state Republican Chairman Edward Cox, who can trace his presidential campaigns back to 1972 when his father-in-law, Richard Nixon, ran for re-election.
Cox says the state party is scrupulously neutral, and he's invited all three candidates to its fundraising gala five days before the election. Yet it's not a level field. Trump, a lifelong New Yorker who grew up in Queens, has allies across the state who say they are ready to campaign for the billionaire real-estate developer.
While Kasich and Cruz are scheduling appearances in New York, their campaigns don't have Trump's organizational reach yet. Carl Paladino, a former gubernatorial candidate and Trump backer, said he's secured pledges of support from about 30 of the state's 62 Republican County chairmen.
The candidate is a literal fixture: Trump's name appears on buildings, Central Park's skating rink, a public golf course in the Bronx and even on a sign overlooking a stretch of Manhattan's West Side Highway that touts his donation to maintain it litter-free.
Trump's Template
"He's going to blow everyone away," said Paladino, a Buffalo-based developer who says he created Trump's New York template in 2010. He beat Rick Lazio, a former congressman favored by the party establishment in the primary, only to be trounced by Democrat Andrew Cuomo, 63 percent to 33 percent.
The lopsided nature of that defeat hasn't daunted Paladino and other Trump supporters. They disregard his combative language, the violence at some of his rallies and the vagueness with which he has discussed domestic and foreign policy.
Paladino compared voters' fervor to that of a homeowner desperate to get rid of vermin in his basement. 
"It doesn't matter if he swears; it doesn't matter if he uses coarse language or insults reporters or talks about body parts," Paladino said. "They don't care if the exterminator stinks. They just want the raccoons out."
Trump leads among New York Republicans with 56 percent, followed by Cruz at 20 percent and Kasich with 19 percent, according to a Quinnipiac University poll released Thursday. At the same time, only 30 percent view Trump favorably.
Joseph Mondello, the Republican chairman for Nassau County, a suburb of 1.3 million people on Long Island, said he endorsed Trump even though he disagrees with the candidate's signature issue -- building a wall between the U.S. and Mexico to keep out undocumented immigrants. He also said that at times he's been appalled at Trump's opprobrium toward opposing candidates, reporters and foreign leaders.
"I don't agree with everything he says," Mondello said in an interview. "But when I talk to veterans, people at my church, they are angry and they don't want the same old, and that's what's driving Trump's candidacy."
The Republican Party holds a one-vote majority in the state Senate, yet its percentage of the electorate has been dwindling for decades. Republicans represent about 24 percent of registered voters, down from 30 percent in 1996. Democrats represent almost half.
The fact that New York as a whole hasn't voted for a Republican presidential candidate since Ronald Reagan in 1984 doesn't diminish the importance of the nominee because an unpopular figure atop the ballot could affect elections for local offices, said Gerald Benjamin, a professor of politics at the State University at New Paltz. Benjamin, like Cox, said that a New York primary has never mattered as much. 
New York, New Relevance
Trump needs to win more than half of the remaining delegates to clinch the 1,237 required for the nomination.
The rules for awarding the state's 95 delegates are byzantine. Eighty-one are pledged to contenders based on results in each of 27 congressional districts. Three delegates from each are awarded to the candidate who wins 50 percent or more of the vote. In districts where no one wins 50 percent, the leading candidate gets two and the second-place finisher receives one. Another 14 at-large delegates must vote for the first-place finisher on the first ballot.
Benjamin said Trump embodies a shift that once would have been unthinkable in the state where former Governor Nelson Rockefeller held office from 1959 to 1973, and spawned the term Rockefeller Republican to signify bipartisan consensus, government financing to spur economic development, support for civil-rights protections, and liberalized divorce and abortion laws.
"This whole thing is depressing to me and has been for a long time," said Richard Rosenbaum, 84, who was state Republican chairman from 1973 to 1977, when the party held all statewide elected offices and majorities in both legislative houses. "Trump says the craziest things. Why do you need to say things like that for?"
Some longtime New York Republicans are just sitting this contest out.
"Trump's a joke, he doesn't stand for anything, he makes things up," said Michael McKeon, a political consultant who was a top aide to former Governor George Pataki, the last Republican to win a statewide election. Yet, McKeon said, Trump has "a populist message that will play upstate and in the suburbs. You have to take him seriously."
Before it's here, it's on the Bloomberg Terminal.
LEARN MORE