Obama Hosts Abe, Park as Trump Puts Alliance Under Spotlight
by and
Summit with Japan, South Korea signals stronger partnership

Trump argues Japan, South Korea are too reliant on U.S.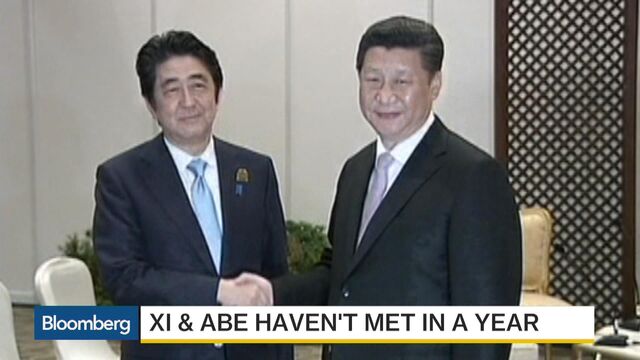 President Barack Obama met today with the leaders of Japan and South Korea in Washington, two of the closest U.S. allies in Asia whose hosting of American troops has come under the spotlight in the Republican presidential race.
The three-way relationship has strengthened after Obama brought Japanese Prime Minister Shinzo Abe and South Korean President Park Geun Hye together at a previous nuclear security summit two years ago. Abe and Park have since settled a historical spat blocking better ties and pledged to increase cooperation with the U.S. to confront the growing nuclear threat by North Korea's Kim Jong Un regime.
"We are bound together by trade and the enduring bonds between our people," Obama said after the meeting.
Demonstrating the difficult cross-currents involved in U.S. diplomacy in Asia, however, the strengthening relationship between the U.S. and its Asia allies may unnerve China, which is critical to the Obama administration's strategy to ratchet up economic pressure on North Korea. China has pushed back against efforts to consider installing a ballistic missile defense system known as Thaad in South Korea that is being presented as a way to deter a North Korean missile attack.
The three leaders made no direct mention of China in their public remarks, presenting only a united front against North Korea. Abe said the country is a "great threat" to the entire world, and that the international community must quickly implement additional sanctions against its government that were approved by the United Nations Security Council in March.
Obama said they seek to "restore a sense of stability and peace to the region."
Abe said the leaders discussed Middle East issues and Obama's so-called "moonshot" plan to research cancer cures, and Park said they discussed climate change as well.
Trump's Plans
The improving relationship between the U.S., Japan and South Korea could face a challenge if Donald Trump, the front-runner for the Republican presidential nomination, were elected in November. He has said Japan and South Korea should consider exiting the U.S. nuclear umbrella and build their own arsenals, and that the two countries should pay more to host U.S. forces on their soil. His remarks give Obama greater incentive to demonstrate his commitment to the alliance.
"It's hard for me to imagine why it would be a good idea to give the North Koreans any justification or any incentive to further accelerate their nuclear weapons program," White House press secretary Josh Earnest said Wednesday, referring to Trump's remarks. "It doesn't make any sense."
Japan and South Korea together host more than 70,000 American troops and remain the backbone of a united front against a range of regional security challenges, including China's growing territorial ambitions as demonstrated by its construction of artificial islands in the disputed South China Sea.
The two U.S. allies have backed the Obama administration's efforts to shift its strategic focus to Asia. China views those moves with suspicion.
"China loves to complain about anything alliance-related and is especially concerned about a Thaad deployment to Korea being part of a U.S.-South Korea-Japan early warning network, which could impact China's ability to threaten Japan or the U.S. or Taiwan," said Ralph Cossa, president of the Pacific Forum CSIS in Honolulu.
Chinese President Xi Jinping is also attending the two-day nuclear security summit this week and plans to meet with Obama after Park and Abe. The U.S. has reassured China that greater American unity with Japan and South Korea would not undermine the ability of the world's two biggest economies to work together. Still, it acknowledges its missile defense talks with South Korea may cause unease among China's leadership.
"We realize China may not believe us and also proposed to go through the technology and specifications with them," U.S. deputy Secretary of State Antony Blinken said Tuesday at the Brookings Institution. The U.S. is "prepared to explain to what the technology does and what it doesn't do and hopefully they will take us up on that proposal," he said.
Before it's here, it's on the Bloomberg Terminal.
LEARN MORE